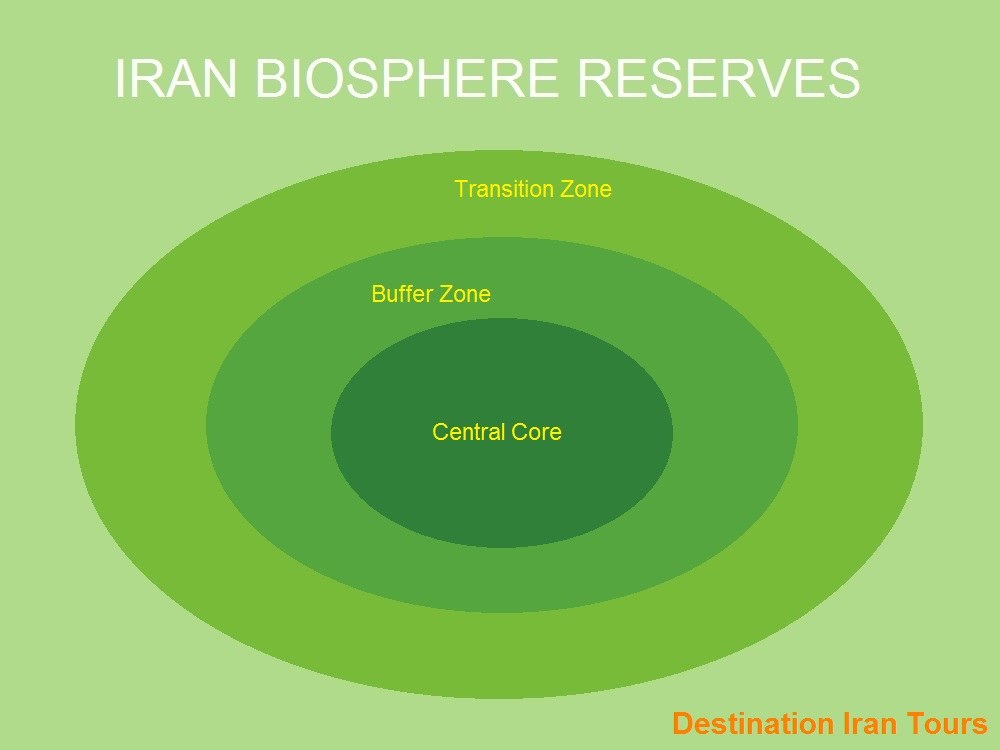 To learn more about Iran Biosphere Reserves, you have to have some general information learning about such areas first. Then, you can see why UNESCO has recognized these areas as such. So, here is more to learn about it:
The Prelude to the Recognition of Iran Biosphere Reserves
The protective program of UNESCO, known as the Biosphere Reserve, is one of the leading and effective programs in environmental protection. The program is a combination of human activities, research, and protection of the natural environment and sometimes tourism, run by UNESCO.
Biosphere reserves, often have human habitats, which are well-organized with a purpose. Land use patterns in biosphere reserves are in place in a traditional but safe and controlled manner. Biosphere reserves are unique in location and landscape. However, the people living there continue their traditional lifestyle at the same time.
There are 651 biosphere reserves in 120 countries, 15 of which are transboundary. By definition, transboundary biosphere reserves are the areas whose importance has been recognized and announced by UNESCO on a global scale.
Historical Background of Biosphere Reserve
In the 1960s, environmentalists and top experts agreed on a new and modern idea: Biosphere Reserve. The initial idea was to announce certain areas as "Biosphere Reserves" and to identify them as the areas for both protection and sustainable development.
The idea came up in 1968 at the UNESCO World Conference on Biosphere. The conference was the first gathering and exchanging views of governments in the world on how to take advantage of nature while protecting it. Later, the other global sources and agreements registered this issue as "Sustainable Development".
Since then, UNESCO has seriously pursued the establishment of the biosphere reserve. In this way, UNESCO was accomplishing the protection and management of ecosystem-rich areas of high plant and animal genetic richness. Biosphere reserves were also effective by considering local communities and their participatory role in the process of sustainable management and development.
What distinguishes biosphere reserves from other protected classes is the proper manner implemented in its planning and management. The manner is based on multifunctional uses and entrusting a vital and constructive role to local communities.
The planning considers the interconnection of human beings, natural resources, and sustainable use. Consequently, the conservation and protection of plant and animal genetic resources provide continuous environmental research, monitoring, and control.
Since years ago, Iran has provided different divisions to protect its natural resources, biodiversity, and landscapes with its biodiversity. For example, national parks, national natural monuments, wildlife sanctuaries, protected areas, and hunting prohibited areas are part of this category. In addition to the said areas, Iran has identified and registered 9 areas as biosphere reserves in 1976. Now, Iran has expanded the number of these areas.
Objectives and Actions of the Plan
According to the UNESCO Conference Documentation, the primary purpose of the Biosphere Reserve Plan was conservation, research, capacity building and genetic reservations as a program of cooperation between governments and the world. The program was later called MAB (Man and Biosphere).
In addition, UNESCO established a special organization in 1970. After the creation, MAB set the agenda to introduce the biosphere reserves worldwide.
The first practical step in implementing this plan was to provide a model for selecting areas and ecosystems in a way that would allow biodiversity and geographical coverage of the world.
In 1975, UDVARDY provided bio-geographical regions or provinces to the whole world in a global division. This classification was the base of the selection of biosphere storage plans.
Based on the UDVARDY classification accepted by UNESCO and the IUCN, since 1976, there have been some areas in the world declared and registered as biosphere reserves. Later, in 1979, HENKE completed UDVARDY classification.
In 1983, in collaboration with FAO and IUCN, UNESCO and UNEP, organized the first World Conference on Biosphere Reserve in Minsk. One of the valuable achievements of this conference was the presentation of an International Action Plan for Biosphere Reserves.
The action plan became operational at the eighth session of the ICC in 1984. Other important approvals of this conference were the formation of the World Network of Biosphere Reserves that all participants approved.
The World Network of Biosphere Reserves, run by six regional MAB organizations, has provided widespread coverage to coordinate, facilitate exchange information and share experiences among different countries around the world.
Regional Organizations of World Network of Biosphere Reserves
Before we get to know Iran Biosphere Reserves, we need to find out which organizations are in charge of such reserves.
The first regional organization of MAB was established in 1987 as "EURO-MAB". This regional organization comprises 42 European and North American countries. Today, the regional organizations of the Global Network of Biosphere Reserves are as follows:
AFRI-MAB: Includes African countries formed in 1996.
ARAB-MAB: Includes Arab countries formed in 1997.
EABRN: The East Asian Biosphere Reserve Network, including China, South Korea, Japan, Mongolia, and the Russian Federation, established in 1994.
EURO-MAB: Consists of 42 European and North American countries formed in 1987.
IBERO-MAB: Is a network focusing on the northwest African Coast, Atlantic Ocean, Canary Islands, Morocco, and Senegal.
According to the approvals of the conference of Minsk in 1995, the third international congress of Biosphere Reserves was held in Seville, Spain. The congress approved the general policy of biosphere reserves for the next 10 years.
UNESCO World Classification of Biosphere Reserves
Here is the global segmentation of Biosphere Reserve:
67 Biosphere Reserves in 28 African countries
28 Biosphere Reserves in 11 Arab countries
137 Biosphere Reserves in 24 Asian and Oceanic countries
297 Biosphere Reserves in 36 European and North American countries
122 Biosphere Reserves in 21 Latin American and Caribbean countries
Features and Purposes of the Biosphere Reserves
The most important features and purposes are:
Achieving three interconnected functions: protection, development, and support,
Passing through the traditional protected and restricted areas by designing appropriate zoning plans,
Providing zoning plans to combine the core of protected areas with sustainable development by local people,
Cooperating with companies that have an innovative and collaborative environmental management system,
Focusing on multi-stakeholder approaches with particular emphasis on local community participation in management,
Finding solutions for the conflicts using natural resources,
Integrating cultural and biological diversity, especially the role of traditional knowledge in ecosystem management,
Presenting detailed sustainable development practices and policies based on research and monitoring,
Existing as places for education, and
Participating in the World Network.
Periodic Classification of Biosphere Reserves
It consists of three levels of classification:
The vast biogeographical regions
The biogeographical provinces
The biome types or biome complexes
The vast biogeographical regions include major continents or subsets of major continents that share common and interconnected geographical features.
The biogeographic provinces are subdivisions in which a large biogeographical region is subdivided into separate parts based on its different plant and animal species. In the third subdivision, each biogeographical province is again subdivided into smaller based on its biome-type.
Geographical and Natural Location of Biosphere Reserves
Iran Biosphere Reserves follows the same divisions you will find anywhere in the world. So, it will be useful to see how zones are allocated to such reserves.
At the center of the Biosphere Reserve, there is a central core highly protected. Another area, playing the role of a protective shield, called the Buffer Zone, surrounds the central core. In the Buffer Zone, experts monitor carefully traditional human activities such as gathering edible plants and preparing firewood for home use. At the same time, the researchers and experts can do some non-destructive research in this area.
Around the Buffer Zone, there is another area called the Transition Zone. In this latter, people implement some forms of sustainable development such as small-scale agriculture. In addition, it is possible to extract natural resources such as selective cutting and experimental research.
The overall strategy suggesting that there is a series of buffer zones and transitional zones around the core is important, as it encourages locals to support the purposes of protected areas.
General Conditions for Selecting and Designing Biosphere Reserves
Belonging to one of the important bio-geographical divisions of the world.
Including genetic resources, plant or animal species, special ecosystems and landscapes needing protection.
Providing an appropriate opportunity for achieving sustainable development across the region.
Supplying appropriate extent for features and purposes of the Biosphere Reserves (including conservation goals, sustainable development, and research)
Providing the possibility to design the area with particular properties.
Iran Biosphere Reserves
The following are the biosphere reserves that UNESCO has recognized in Iran:
Kopeh Daq Biosphere Reserve (located in North Khorasan Province)– 2018.
Hamoon Biosphere Reserve (located in Sistan and Baluchestan Province)– 2016.
Tang Sayyad Biosphere Reserve (located in Chaharmahal-o-Bakhtiari Province) – 2015.
Dena Biosphere Reserve (located in Kohgiluyeh-o-Boyer Ahmad Province) – 2010.
Turan Biosphere Reserve, with an area of 1,000,000 hectares (located in Semnan Province) – 1976.
Miankaleh Biosphere Reserve, with an area of 68,800 hectares (located in Mazandaran province) – 1976.
Urmia Lake Biosphere Reserve, with an area of 462,600 hectares (located in West Azarbaijan Province) – 1976.
Hara Biosphere Reserve (also known as Mangrove Biosphere Reserve and Khur-e-Khuran International Wetland) with an area of 85,868 hectares (located in Hormozgan Province) – 1976.
Kavir Biosphere Reserve, with an area of 700,000 hectares (located in Semnan province) – 1976.
Golestan Biosphere Reserve, with an area of 125,895 hectares (located in Golestan and North Khorasan Provinces) – 1976.
Geno Biosphere Reserve, with an area of 49,000 hectares (located in Hormozgan Province) – 1976.
Arjan and Parishan Biosphere Reserves, with an area of 65,750 hectares (located in Fars Province) – 1976.
Arasbaran Biosphere Reserve, with an area of 52,000 hectares (located in East Azarbaijan Province) – 1976.
Indicative Measures to Protect Iran Biosphere Reserves
Conservation Goals: Include goals and activities focused on protecting genetic diversity, species, ecosystems, and landscapes. Increasing human pressure on land and water resources has reduced genetic diversity, plant and animal species, ecosystems and natural landscapes.
Continuity of these pressures will destroy non-renewable resources more and more for future generations. Therefore, conservation goals have become more and more popular in recent years.
Sustainable Development Goals: This section focuses on economic development and on providing the conditions for the development of human societies by relying on social, cultural and ecological sustainability.
Threats against the Biosphere Reserves in Iran
Although the Iranian governments have developed detailed zoning plans in the past decades for tourism and conservation alongside local communities, we can see a downward trend in these areas. The pattern of sustainable exploitation of local people and the conservation of biodiversity now has changed and overgrazing in habitat, hunting, etc. has transformed the situation.
The fact is that human populations will continue to grow dramatically in the coming decades, and resources such as firewood, medicinal plants, and hunting meat will become increasingly difficult to find. Conflicts will inevitably increase as the density of agriculture and habitat increases near protected areas.
Visit of Biosphere Reserves in Iran
You can make a visit to any of the Iranian biosphere reserves introduced above. However, the best will be to arrange for special permits from the related organizations to enter these areas beforehand. In practice, the Iranian tour operators that are active in ecotourism can obtain such permits for you before you arrive in the country.
As it can be time-consuming to obtain such permits, it is highly important to make sure you have them before you start traveling to Iran.