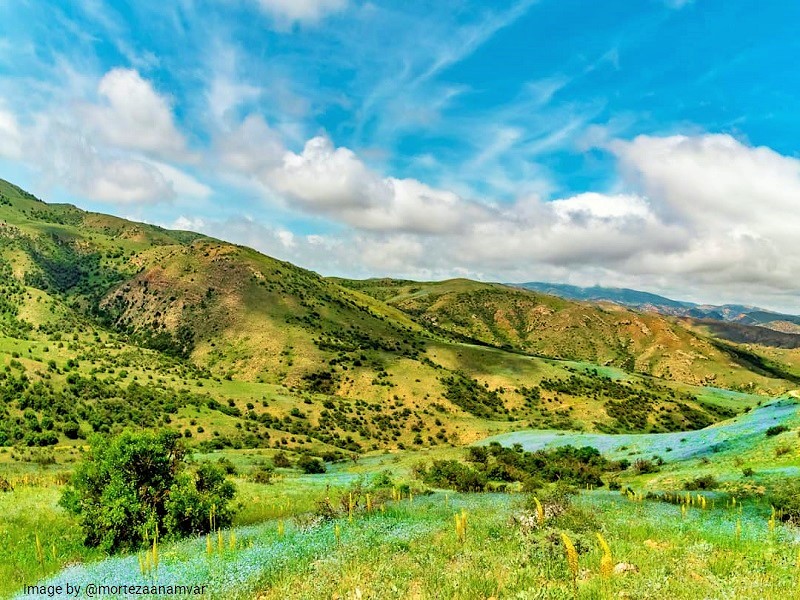 Golestan Biosphere Reserve is one of the major areas in terms of vegetation and animal diversity in the north of Iran. This biosphere reserve is located 115 kilometers west of Bojnourd and 30 kilometers east of Galkish City, a district of Minoodasht. It is also a pinch point of Golestan Province. UNESCO has inscribed the area as one of the biosphere reserves in Iran.
It is possible to visit this area every season. Local people call it an area of four seasons. Various species of wildlife such as red deer live in Golestan Biosphere Reserve. Different medicinal and ornamental plants grow in this area in different seasons.
History of Golestan Biosphere Reserve
The "Hunting Center of Iran" began to protect the biosphere reserve in 1957 under the name of "Almeh Vaishki Protected Area". In 1963, it was renamed "Mohammad Reza Shah Park" and in 1964 to "Park-e Vahsh" (Wildlife Park). In September 1971, Iran added an area of 34,000 hectares to the east of the park, known as Qorkhoud. Finally, in 1974, the name of Park-e Vahsh was changed to "National Park".
In 1975, it became the first Iranian national park inscribed on the UNESCO Biosphere Reserve List of Iran as one of the fifty global biosphere reserves then.
Golestan National Park is also the 15th national monument listed on the Iran Cultural Heritage List by the Iranian Ministry of Cultural Heritage, Tourism, and Handicraft.
Geographical and Natural Location of Golestan Biosphere Reserve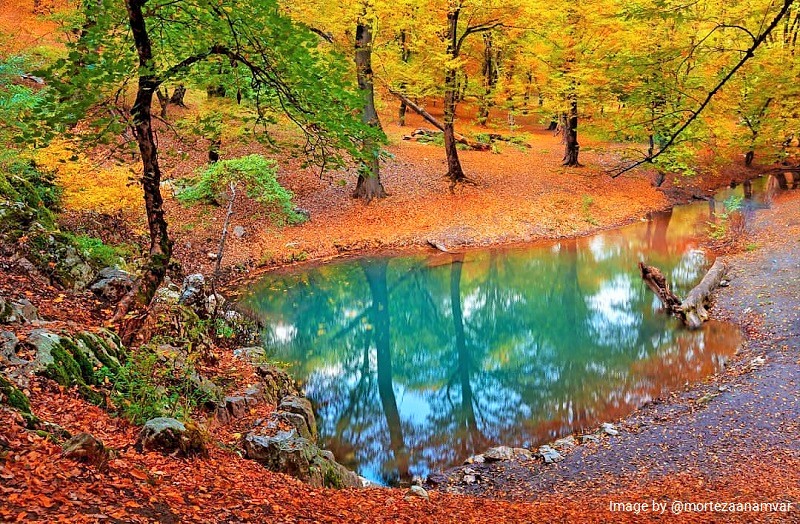 This area is the largest natural park in Iran. Some sources estimated its area over 91,000 hectares and some others mentioned it 87,402 hectares. The perimeter of the park is about 198 km. The western boundary of Golestan Biosphere Reserve starts from Tangrah Village in Golestan Province and its eastern boundary ends in Robat-e Qareh Bil Village in North Khorasan Province.
The majority of the area of Golestan biosphere reserve is located in Golestan Province, about 34% in North Khorasan Province and a small part in Semnan Province.
The main communication route of north of Iran and Khorasan Province (and one of the Tehran-Mashhad communication links) passes through this forest. Iranians have built this road exactly in the longest and deepest valley of this mountainous region.
In fact, the abovementioned area starts from Tangrah Village in the west of Golestan Biosphere Reserve and extends to Dasht-e Momas Village, with the southern boundary to the forest, and reaches to Bojnourd City. Madarsou River (Douq River) flowing through the valley and eventually ends at Gorganrood.
Less than a quarter of Golestan Biosphere Reserve is located at the south of the road, covering an area of about 20,000 hectares from Dasht Strait to Dasht Village. The rest is located at the northern part.
The major mountains and valleys of Golestan Biosphere Reserve are the heights of Qareh Qon, Tangeh Gol, Shakha, Yekeh Qadam, Almeh, Qareh Qashli, Qufi Qurchi and Alma Valleys, Ansar, Qorqoun, Aq Su, Ali Dali, Adens, Jamshidabad, Qez Qaleh, Aloubaq and Khoshk.
There are numerous rivers and more than 21 springs in the area the majority of which are Madarsou, Zav, Qartu rivers and Golshan, Golestan, Jano, Sardarkhaneg, Dushan, Aq Su, Karkuli springs.
Topographic Characteristics of Golestan Biosphere Reserve
Topographically, Golestan Biosphere Reserve is composed of lime rocky cliffs to low sloping rough mounds. Climatically, it is located between the Caspian Sea and the arid eastern regions. Thus, this biosphere reserve encompasses regions ranging from very humid to semi-arid.
The range of altitude variations in this area varies from 450 to 2,411 meters above sea level. The minimum height of Golestan Biosphere Reserve is in Tangrah and the maximum is 2,411 meters at Divar Kaji Summit.
The altitude difference in this area is about 2,000 meters (varying from 2,411 meters to 400 meters above sea level). This elevation range has created a variety of habitats and microcosms. Average rainfall in different areas of this forest varies from about 700 to 150 mm a year.
Its temperature varies from -25⁰C to +35⁰C depending on the months. The natural conditions of Golestan Biosphere Reserve have created suitable habitats for wild mammals. It has also increased the diversity of this kind of animal. Rainfall in this area varies according to regions and ranges from 1,000 mm to less than 200 mm per year.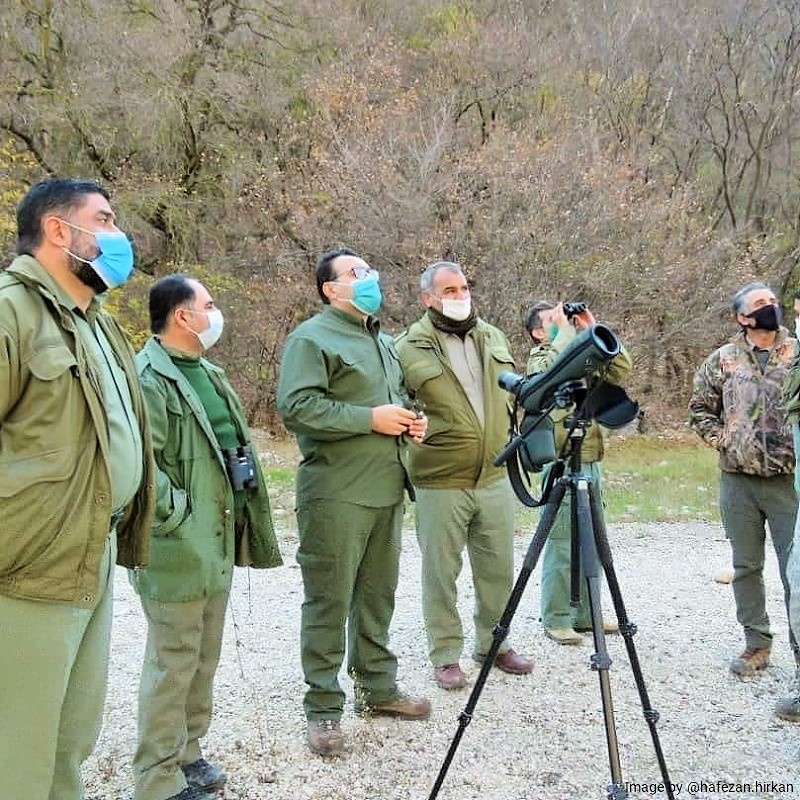 Inside Golestan Biosphere Reserve, there are 12 environment police stations, of which four are inactive due to lack of workforce. The entire staff of the district is 53, of which 32 are executive officers, and 20 staff protect the area per shift.
Social and Economic Characteristics of Golestan Biosphere Reserve
There is no village inside this biosphere reserve. Thus, the surrounding villages confine its economic and demographic characteristics.
According to the extent of Golestan Biosphere Reserve, there are more than 100 villages on its margins and their economies are based on commerce, agriculture, animal husbandry, handicrafts, horticultural products, fishing, beekeeping and other local services.
Flora of Golestan Biosphere Reserve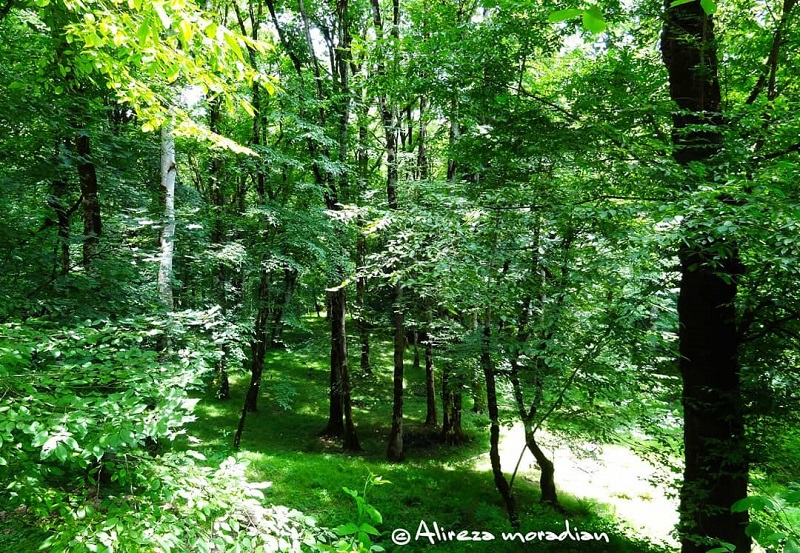 This biosphere reserve is located between two semi-hydrophilic and semi-arid areas. By moving gradually to the east, its natural appearance changes to a stepped condition. Therefore, there are plant elements of the triple zones in Golestan Biosphere Reserve.
Famous species of alder, fig, mulberry, wych elm, honeyberry, medlar, hawthorn, walnut, raspberry, wild pomegranate, wild pear, etc. are among the different plant species of Golestan Biosphere Reserve.
In the forest floor, there are numerous plant species such as fern, Tutsans, etc. In the driest areas, there are barberry, Haloxylon, Tamarix, Atraphaxis, milkvetch, alhagi shrubs and other steppe plant species. In the highlands, we can find the juniper scattered here and there.
Fauna of Golestan Biosphere Reserve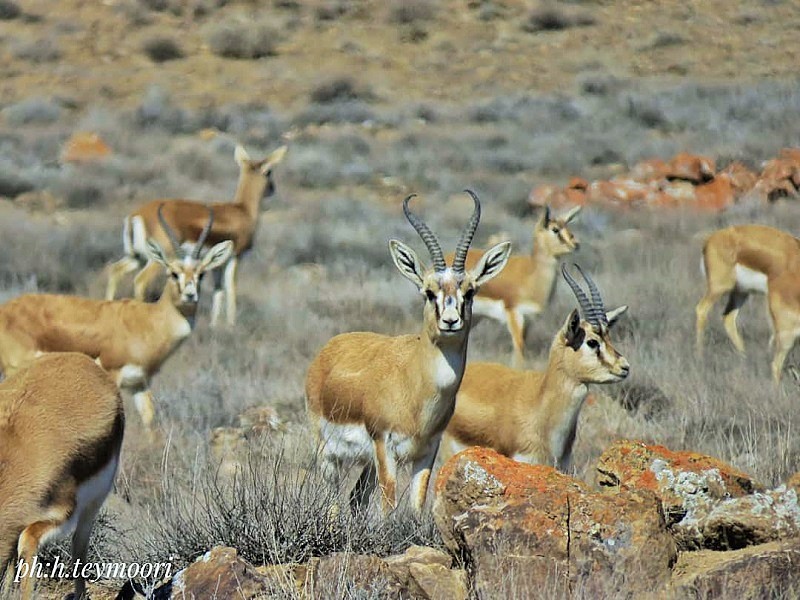 The forest areas of this biosphere reserve are home to different animal species such as red deer (Cervus elaphus, the largest deer in Iran) and roe deer. Various animals live in the steppe regions such as gazelle, urial, wild goat, and cheetahs.
One-eighth of the plant species, one-third of the bird species, and more than 50% of the mammal species of Iran live in Golestan Biosphere Reserve.
Researchers have identified 69 mammal species belonging to 6 orders, 21 families and 50 genera in this biosphere reserve. Leopards and brown bears are great carnivores in this area. Pine marten is one of the carnivores that probably lives only in Golestan Biosphere Reserve and has added to the genetic value of the park.
Other important mammals living in the forest include Red deer, roe deer, wild boar, goitered gazelle, wild sheep (urial), goat (wild goat), red fox and corsac fox. The researchers have identified 18 species of bats in the park so far.
This area is one of the largest and oldest habitats of urial wild sheep in Iran. It also houses one of the purest populations of urials. In the 1970s, the population of this animal in Golestan Forest was about 150,000, equivalent to about three-quarters of the total urial wild sheep population in the world. Now, though their populations have definitely decreased, they are still easy to find, especially in the southern highlands of the park, and have become a symbol of Golestan Biosphere Reserve.
A unique feature of the park for international travelers is the presence of large numbers of wild boars, who don't fear humans, and cross the road through the center of the park.
Researchers have identified 149 species of birds belonging to 15 orders, 42 genera and 89 genera in Golestan Biosphere Reserve, of which 48 species are in the area in spring and summer and 62 species are native to the National Park.
Potentials of Golestan Biosphere Reserve
The tallest seasonal waterfall (Ocher), 110 meters high in spring, is one of the most beautiful peaks in Bily Mountain in the area. Sulukli, the largest natural wetland at a height of 1,358 meters, along with a dozen other natural wetlands, are the other major potential for Golestan Biosphere Reserve. The well-known waterfalls of the area are Aq Su and Abshar of 70 meters high and a discharge of 30 liters per second.
It is possible to set up camps, research on plant species and wildlife with the permission of the relevant authorities.
Threats against Golestan Biosphere Reserve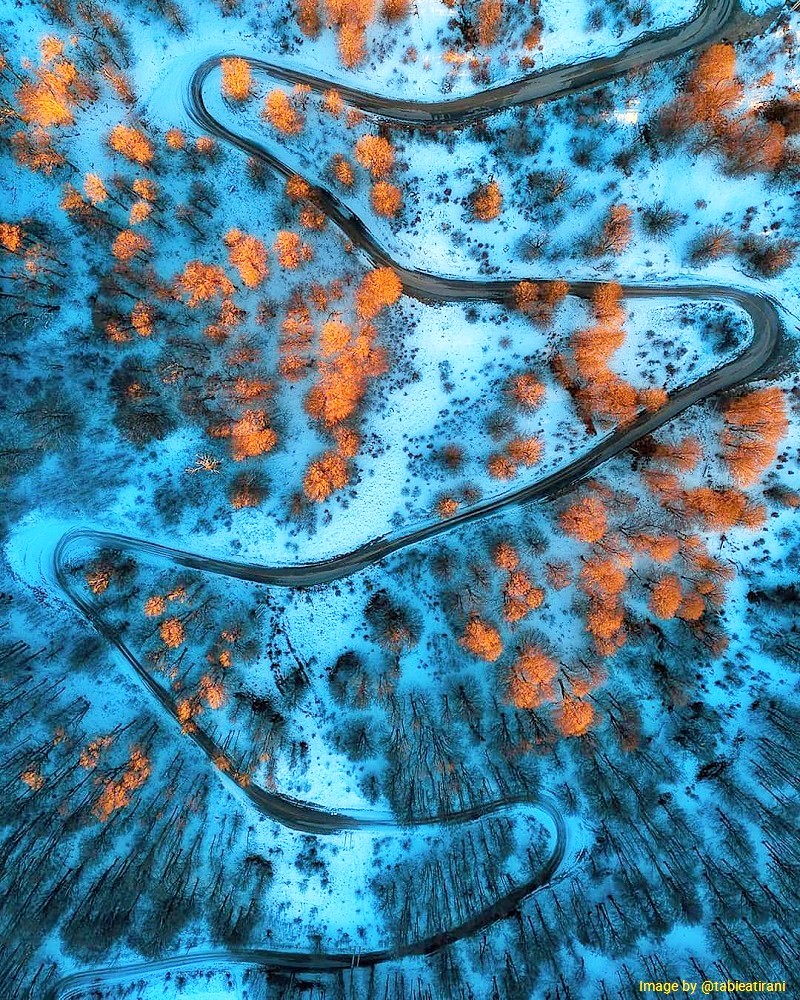 One of the major environmental threats in this area is the presence of roads and the high volume of regular passenger traffic. The number of mammals of Golestan Biosphere Reserve dying on this road is very high.
Since 1971, Iran has had the plan to transfer the road from the center of Golestan Forest to another location, which has not been executed up until now, 2021.
The next danger is the risk of flooding. Subsequent floods have resulted in the destruction of some parts of the forest in addition to human and animal casualties and financial losses.
The third danger is fire. One of the major causes of conflagration is the presence of illegal hunters who set up fire to mislead environmentalists, causing fire in the area.
Among all the animals of this forest, there are 19 endangered species including bearded vulture, saker falcon, slender-billed curlew, and corsac fox. Red deer, roe deer, urial, and wild goat are also some of the species hunted most commonly.