Destination Iran has planned a particular small group tour to Iran, which offers unique experiences you won't find in other Iran tours. If you would like to join such tours or learn about them, please consider joining this tour!
How to Get into a Small Group Tour to Iran:
Small Iran group tours can be formed in three ways:
If you're just some individual(s), you can join a small group tour to Iran! (coming soon)
If you're a tour operator and would like to order high-quality group tours, contact us for more info.
If you are a few friends, colleagues, relatives, etc, you can ask us to form a tour consisting of you only.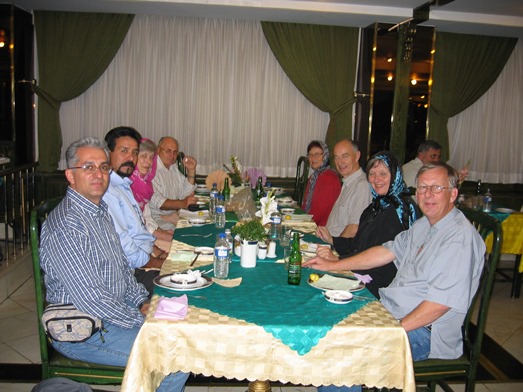 We believe that groups could easily lose their quality if they grow very large. So, our ideal tour groups will be from 7 to 10 people. The vehicle we use for such trips is quite comfortable, air-conditioned and well-equipped to serve you.
Benefits of Small Group Tours to Iran
This will be a group tour, but it won't have those strict limitations in large groups you may dislike. Although it won't be like a private tour to Iran, it will get you through unique experiences of meeting with locals that are impossible even with private tours!
Yes, we mean it! There are certain experiences in our exclusive small group tours that can only be arranged for groups of 7-10! You must read the itinerary of these tours to believe us!
If you apply for small group tours to Iran, you'll reap the following benefits:
You will socialize with a few people, not several, within your tour group,
You will get price reduction by sharing common costs,
Your tour will proceed with more flexibility than large groups,
You will make closer contact with your guide, local people, etc,
You will be able to ask more and get involved in cultural contacts,
etc.
And most importantly, if you join the unique small group tour we've designed for you, you can go to places and experience meeting with locals that even individuals cannot. Those experiences cannot be arranged for group tours of larger sizes (+10) either!
Small Groups Tour Packages
When you decide to travel to Iran on such tours, your tour package could be any of those ones introduced on our tour page or other itineraries we plan or customize together.
Regarding the services, you can receive all the tour services introduced for our other packages. If you prefer other services included in your package, which aren't listed on our website, just let us know and we will arrange them for you if possible.
So, you can have your unique small Iran group tour specially catered to your needs and interests. We're here to help you with what you prefer. You can simply send us an email and we will take it from there.