Join a Small Group Tour to Iran
Featured Offer for Winter of 2019: People & Places Tour
Destination Iran has planned "People & Places" package in form of a small group tour to Iran for you. To sign up for this featured cultural tour, you can choose to fill out a form at the bottom of this page!
Major Cultural Attractions:
You can find some of the cultural activities of "People & Places" tour below here:
Naqqali (storytelling) performance

Traditional Henna-making workshops

Zoorkhaneh traditional sports rituals

Unique pottery-making style

Educated Iranians hangout
Traditional skills of baking Lavash bread

Traditional skills of nomadic cooking

Persian night of poetry, music, etc

Reading poems and singing songs

Writing Persian calligraphy

Traditional skills of carpet weaving

Mourning rituals and practices in Shiism

Traditional gardening & farming
Traditional Iranian dishes

Iranian musical instruments
A local family and dine with them

A globally recognized artist
In the historical city center of Tehran

In ancient residential areas of Yazd

Iranian musical instruments

In parks along the river in Esfahan
Major Historical Attractions:
You can find some of the major historical sites of "People & Places" tour below here:
Golestan Palace in Tehran

Pasargadae near Saadat Shahr

Dolat Abad GArden in Yazd

Chehel Sotun Palace in Esfahan

Imam Khomeini Square in Esfahan
Traditional fruit gardens
Chehel Sotun Palace in Esfahan

Aliqapoo Palace in Esfahan

Grand Jame Mosque in Yazd
Bazaar of Tajrish in Tehran

Traditional Bazaar in Esfahan
People & Places Tour Itinerary

Please go through the itinerary below to find out what sort of experience is awaiting you:
The tour begins with a short introduction in the lobby and learning more about the nature of the tour and its requirements. Then, the group goes to the National Museum of Iran to have a general look at the abundant wealth of artifacts from 10s of 1000 of years ago until early 2oth century covering both pre-Islam and post-Islam eras.

After this visit, a walking tour begins in a quite interesting street in Tehran where you will visit a Fire Temple and a Church and continue to the old and famous Nadery Cafe for lunch. After lunch, you visit the unique carpet museum of Iran and head to the north of Tehran for a change so that you can see Iran today in Bagh Ferdows to enjoy some refreshment in a beautiful garden where young and more modern people hang out.
You start the day by walking around Golestan Palace garden and visit a few of them to get an idea about how Qajars and then Pahlavi kings ruled in Iran. After a traditional lunch and a modern art gallery, you walk in a famous neighborhood of Tehran to see several bookstores the iconic Cite Theater Hall.

After a quick early dinner, you will go to a traditional sports club called Zoorkhaneh to watch Pahlevani Sports and rituals.
Watch Tehran from the top of Milad Tower before you go to the vegetarians' heaven, fruits and Veggie Bazaar of Tajrish at the north of Tehran. Then, visit a museum to see the instruments used for playing this ancient Iranian art followed by a meeting with some musicians. There you learn about Iranian music more deeply and play some instruments.

At the end of this surface touching of Iranian culture in Tehran, you will be transferred to the domestic airport to fly to Shiraz for an enthralling tour of the Persian Empire, Persian Gardens, and more.
Probably one of the main reasons many people travel to Iran is to visit Persepolis and learn about the Persian Empire. This is what you will do first and continue to see their fantastic tombs.

You go back to Shiraz to witness how Iranians love their poets in the tomb of Hafez where you would also try the local specialty of Shirazi people, Faloodeh. Later in the afternoon, you're invited to a local family's home to learn about Iranians cuisine and have a home-made dinner.
Today you will experience a certain tradition that had been faded out very much: Going to an Iranian Hammam. When ladies go there, men visit a modern bodybuilding gym and when men go to the Iranian bath, ladies will go to a beauty hall to see how Iranian women style their hair and get a makeup.

Later in the day, you visit a fortress in the city center, Arg-e Karimkhani followed by part of the 18th century Royal Complex including Vakil Bazaar and Vakil Mosque. You deserve a reception in a traditional teahouse in the bazaar where herbal tea is served.

At the end of the day, you will visit a breathtaking shrine to learn more about Shiites mourning rituals and eye-catching architecture of such places of worship in Iran.
Drive across Zagros Mountains to reach Saadat Shahr to learn about traditional gardening and farming. Visit Pasargadae where the first capital city of Persian Emperors was founded and the tomb of its founder is located. After having a unique nomadic lunch served nowhere else, spend the rest of the day with Persian nomads to learn how Lavash flatbread is baked, nomadic food is made, Fars carpets are woven and nomadic lifestyle is lived.

Tonight you will have the opportunity to stay in a traditional accommodation in Saadat Shahr.
Today, you see various landscapes of low deserts and high mountains, pistachio trees and well as vernacular architecture to survive in the desert. You cross flatlands to get to the desert town of Abarkouh to see the oldest tree of the world, a Cypress tree. You also notice different architecture like an icehouse, windcatchers, houses with cupolas, water reservoirs, etc.

Then, after refreshing a bit, you watch an ancient traditional storytelling ritual performed for you. You leave this town to go toward Mehriz where the ancient underground water supplement system called Qanat is still in use. You see how it works and you learn about it.

Tonight you stay in Yazd, a city inscribed in UNESCO because of its unique architecture and desert identity.
Yazd is an ancient city where traces of ancient life can be found. Zoroastrianism is one of them. So, you start the day by visiting the place where dead bodies were exposed to the cultures on the Towers of Silence at the outskirt of Yazd. Then, you can see how henna is traditionally made in some old workshops.

After that, you walk in the past by crossing the ancient labyrinth-like alleys of Fahadan residential quarter. It's surprisingly still inhabited. At the end of your excursion there, you reach Yazd Grand Jame Mosque where the tallest minarets of Iran has been built 700 years ago.

During midday, when it's warm or hot, the best is to go to Dowlat Abad Garden and enjoy the beauty of the place and experience the ancient cooling system of windcatchers in practice. And at the end of the day, you're invited to a private home for a private Persian Night party where you listen to Persian poems and songs while Persian music is played for you.
You drive to Esfahan today. En route, there are several amazing structures, landscapes, and experiences waiting for you. In Meybod, you visit Narin Fortress, an ancient motel (a Safavid caravansary where very old Zilu rugs are showcased), a water reservoir, and an ancient mailing station (Chaparkhaneh) are waiting for your exploration itchy feet.

Then, you proceed to Aqda village to see its gardens and have some tasty lunch before setting off for Nain. The Friday Mosque of Nain is a small building, but a must-see as it's very unique as far as its history and exclusive architecture are concerned. Adjacent to this mosque, you can stroll a bit to see another fortress and several monuments.

Crossing some high mountains, when you arrive in Esfahan later in the afternoon, it's time to stretch your legs and go for a walk where every local Esfahanies go at that time: in the parks and along Zayandeh River.
The Sun shines from the East and Chehel Sotun Persian Garden boasts of its Palace facing it. You start the day's sightseeing here and walk through the gardens to Naqsh-e Jahan Square where the major Esfahan monuments and bazaar is located. You visit two world-class mosques here that are 400 years old and at their best shapes: Imam Khomeini Mosque and Sheikh Lotfollah Mosque. You visit the residence of this magical square's builder: Aliqapoo Palace and go up to its balcony to see the glory of Shah Abbas capital city main square.

Esfahan is also today's capital of lots of Iranians traditional arts and crafts. Therefore, visiting some workshops and meetings some artists are arranged for you this afternoon: a globally recognized miniaturist, a block-printing workshop craftsman, and a collection of fantastic Iranian carpets.

A walk in the bazaar when it cools down later in the day is the most enjoyable experience you can have. So, the best is to stay there until you see how the day comes to an end.
Have you ever imagined to go through all pages of a book by visiting a monument? It's Jame Mosque of Esfahan that you start your day there. You'll be blown away by the beauty of its details and the evolution of Islamic architecture at this complex. Then, go for photographing Sio-Se-Pol and Khajou bridges in daylight before you attend a private session of Persian calligraphy where you learn how to write Persian!

Then, you go to the Armenian quarter of Esfahan called New Jolfa. In this quarter, you see how a religious minority lives alongside others in its own area and how their lifestyle is. You see several coffee shops and try one of them to taste their coffee. You visit Vank Cathedral to explore the arts and embellishments used to decorate this fantastic monument.
This is the last day of the tour and you cross the high local range of Karkas mountains to get to Natanz. There you meet a unique potter who is the only one left from an old tradition of making ceramics with stone, not clay! Then, you continue to Kashan to explore a Persian Garden (Fin) and an old house with exclusive architecture. This will show you how people lived in their houses in Iran before modern life was imitated from outside Iran.

Eventually, when you finish sightseeing in Kashan, you drive toward Tehran, but stop 30km before the capital city to stay at its International Airport hotel before your departure. This is where you stay for the last night and prepare to say farewell to Iran. The tour ends here and hopefully, you've had plenty of experiences that have made:

IRAN, THE JOURNEY OF YOUR LIFE!
Choose Your Tour and Sign Up for it!

Finally, if you're interested in the "People & Places" small group tour to Iran, please proceed to secure your place in it by filling out one of the forms below according to your nationality!
Group A: Feb 13 – Feb 24, 2019
To Sign up in Group A, with American, British, Australian, or Canadian nationality, click here!
Sold out!
Please wait for the next dates.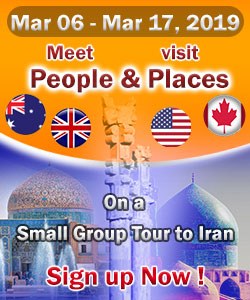 Group B: Mar 06 – Mar 17, 2019
To sign up in Group B, with all the nationalities except the ones in Group A, click here!
Sold out!
Please wait for the next dates.