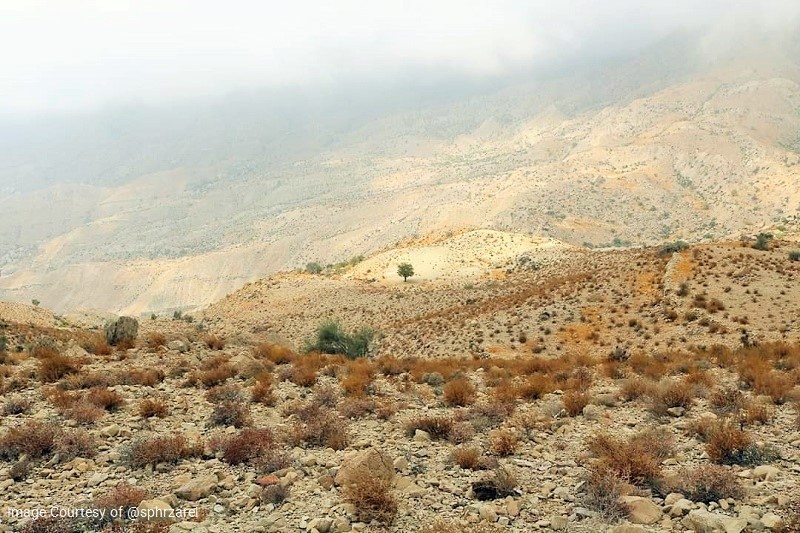 Geno Biosphere Reserve is located in Hormozgan Province in southern Iran inscribed in the UNESCO's List of the biosphere reserves. The geographical location of the province has made most of the region mountainous. The climate of Hormozgan Province is warm and humid, but there are mountains and highlands with cool, mountainous climates.
These mountains have a great impact on the rainfall in the province. Geno Mountain in Bandar Abbas is one of the highlands, with a height of 2,347 meters. The best season to climb Geno Peak, especially for non-native climbers, is from late autumn to early spring. Geno and Bandar Abbas regions have temperate climates during this season.
In these seasons, when climbing conditions in other parts of Iran are not so easy and it requires special equipment and fitness, Geno is a good option for hikers who choose autumn and winter for climbing.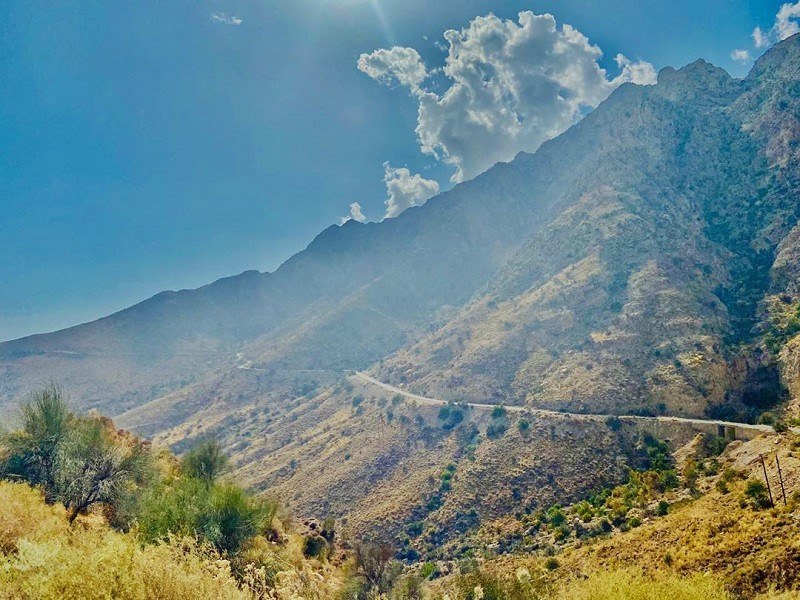 Historical Background of Geno Biosphere Reserve
The 49,000-hectare area is one of the biosphere reserves in Iran that has varying weather conditions, but still, it is not famous among people. In 1973, Geno Area entitled as a national park and became the biosphere reserve in June 1976.
Unfortunately, due to the devastation and conflicts in 1983, it declined to a protected area. A few years later, it was renamed to the Biosphere Reserve and is now one of the biosphere sites in Iran.
The variability of elevation in the Geno Area, varying from 50 to 2,374 meters, has a great impact on the unique vegetation diversity in the area.
Geographical and Natural Location of Geno Biosphere Reserve
This biosphere reserve is located 29 km northwest of Bandar Abbas County. This mountain is relatively temperate compared to the warm climate of Bandar Abbas and is therefore of particular importance. Its vegetation is very interesting and remarkable.
Geno Mountain is one of the typical examples of the Zagros Mountains. This mountain is located southeast of Zagros. Geno Mountain is the sixth highest mountain in Hormozgan Province after the following mountains:
Homag (3,267 meters)
Siro Mountain (2,972 meters)
Shab Mountain (2,731 meters)
Nyan Mountain (2,642 meters)
Baz Mountain (2,437 meters)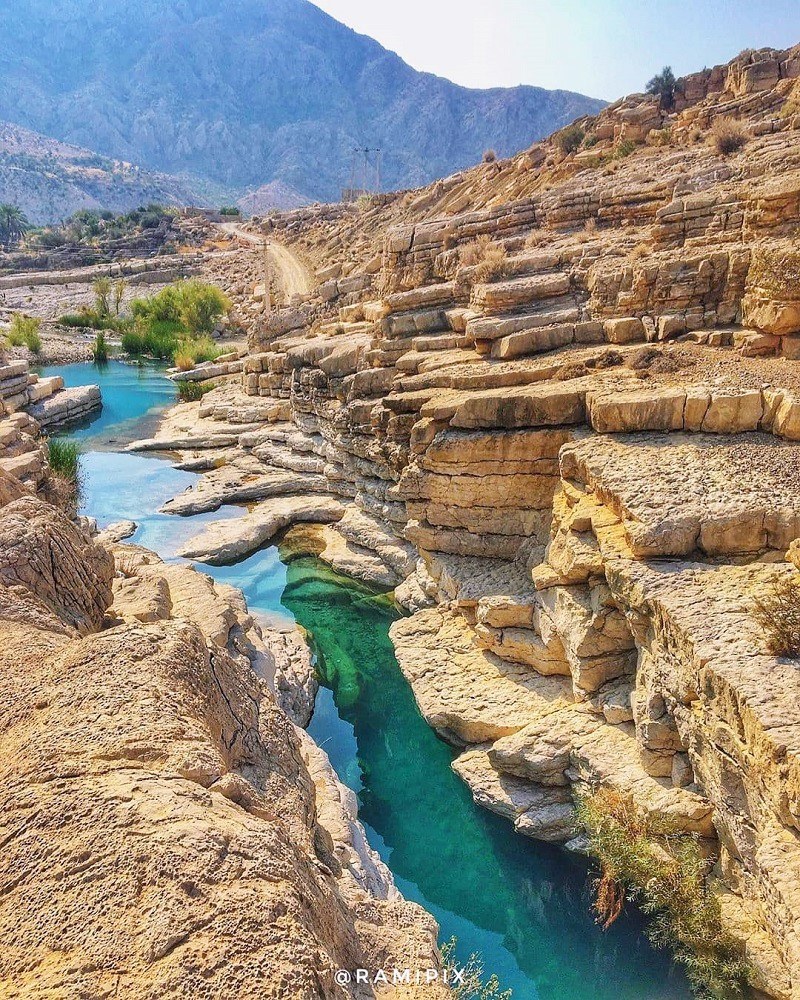 The Eastern side of Geno is located on the main road from Bandar Abbas to Sirjan and the southern side of Geno in on the Bandar Abbas-Bandar Lengeh road.
Geno Mountain covers an area of 34 kilometers long and 5 to 15 kilometers wide measuring approximately over 350 square kilometers. The ways to reach Geno Peak are different. Here are four ways to access the Geno Biosphere Reserve:
1. South Front:
Via Bandar Abbas Road to Bandar Lengeh (Isin and Tazian villages) and Television Station Mountain Road (32km), Environment Station of Geno Border, Ramr Spring, Sarcharbeh Spring, Sang-e Qarar – Qaleh Nasiri.
2. Eastern Front (Spa Front or Yal-e Abegarm):
About 25 kilometers from the main road of Bandar Abbas to Sirjan – Geno Spa – Anaroon Spring – Kahnooj Defile – Upper Kahnooj Village – Sarjuton Peak – Asphalted Road of Television Station – Westward of Bazgard Peaks- Dobarar – Zendan Zard – Qaleh Nasiri.
3. Northeast Front (Tang Baq):
About 30 Km from Bandar Abbas Main Road to Sirjan – 12 Km West of dirt-road – Tang Baq Village – Kahnooj Bala Village – Sarjuton Peak Asphalted Road of Television Station – Westward of Bazgard Peaks – Dobarar – Zendan Zard – Qaleh Nasiri.
4. Western Front (Salkooh):
Via Bandar Abbas Road to Bandar Lengeh (Isin, Tazian villages) – Qalat Bala Village – Along the railroad – Salkoo Village – Salkooh Spring – Western Ridge Climb (Peaks: Salavaro, Qalat-e Sarpahn, Qaleh Nasiri)
Famous Peaks of the Area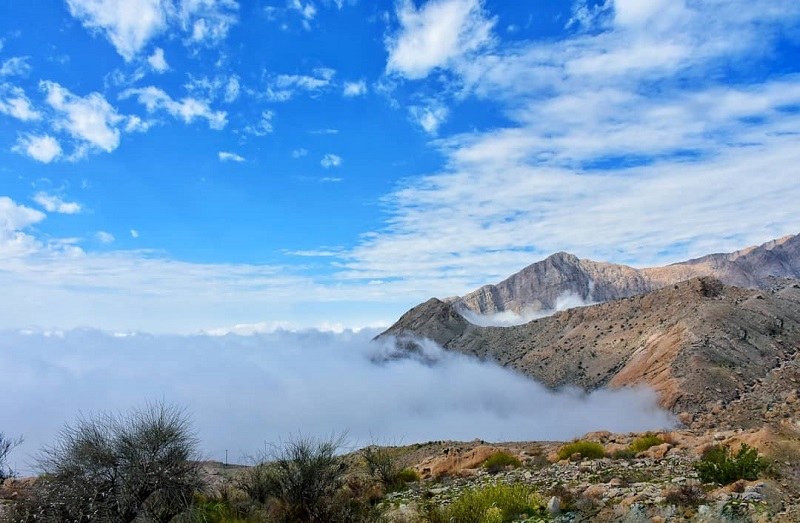 Famous peaks in Geno Biosphere Reserve include:
Qalat-e Nasiri 2349 meters, Estiri 1546 meters, Qalat-e Sarpahn 2175 meters, Dobarar 2282 meters, Bazgard 2233 meters, Zendan Zard 2309 meters, Tasisat-e Seda-va-Sima 2330 meters, Sarjuton 2254 meters, Kahnooj 1813 meters, Seh Sorkh 1122 meters, Godbouni 1895 meters
Biological Centers in and around Geno Biosphere Reserve
Here are these biological centers:
South Slope:
Isin, Hermodraisin, Patal-e Isin, Darbeho, Dargir, Tazian-e Bala, Tazian-e Paeen, Banuband-e Pasang, Patal-e Banuband, Pas Riq, Banuband, Poshteh Mola, Pakam, Dar Souznag, Chahno, Moq Kamal, Darmoq, Qalat-e Bala, Qalat-e Paeen, Kenaro, Lavar Misho, Paband, Ramr, Parkooh, Pahneh Golkoo, Hobir, Chahoo villages.
Western Slope:
Tikooh and Salkooh villages
Eastern slope:
Tahlou, Dezak, Genp (Spa), Anaroon villages
Northern Slope:
Fin, Siaho, Sarzeh, Rezvan, Tang-e Bagh, Kahnooj, Gashtkaran, Poshtang, Bandaragah Jungan, Gerd-e Genow, Kalamo, Homerq, Hermodargeno
Topographic Characteristics of Geno
Since a long time ago, Geno Mountain has been an area for escaping from the heat for the local people of Bandar Abbas as it has snowy and cold weather and, as a result, the lush slopes. The summer highland pastures of Kahnooj, Baq-e Kashan, and Chaho are some examples.
Due to the interstitial position of Geno Mountain and the rapid elevation changes, different microclimates exist in different geographical directions. The valleys and slopes of the Geno Biosphere Reserve have experienced impressive features and varieties in terms of phytogeography.
Social and Economic Characteristics of Geno Biosphere Reserve
The rural population is scattered in Geno Area. The majority of the population is in the valleys. Most of the people are actively involved in limited agriculture, animal husbandry, and dairy processing. In Geno Area, we can see a small population of Qashqai Tribe migrating in winter. Geno Biosphere Reserve is located in Isin Rural District. According to the 2016 Iranian Census, its population has been 296 (72 households).
Flora of the Area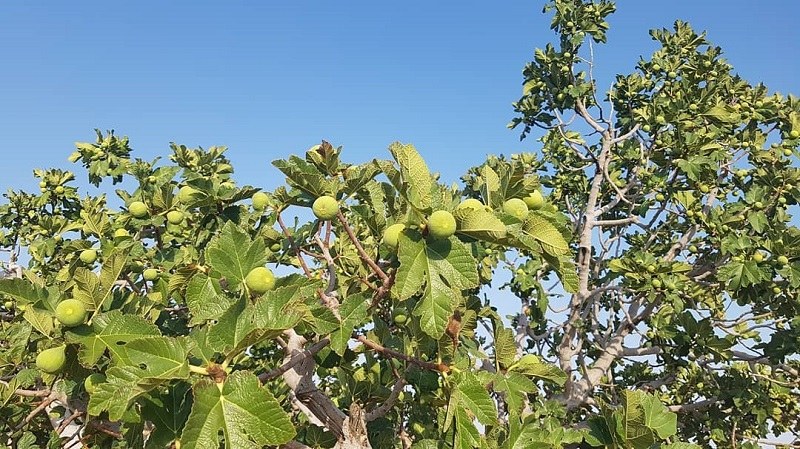 The vegetation of this biosphere reserve consists of more than 360 species of vascular plants. Few of them are ferns and gymnosperm and most of them are flowering plants. As it is common in arid and desert regions, the two groups of woody plants and shrubs and annual short-lived plants are the most diverse.
Annual short-lived plants are able to grow rapidly and complete their life cycle during the short wet and rainy periods, and they usually spend long periods of drought as a seed. Shrubs and woody shrubs are also able to absorb deep soil moisture and withstand the dry season by creating a deep wide-spread root network.
Geographically, the vegetation of the Geno Biosphere Reserve belongs to Saha-Rasandi and Irano-Turani vegetation zones. However, there are sometimes one or more elements from other vegetation zones among Geno plants.
Geno Area is home to a number of Iranian exclusive plants, some of which are limited to Geno Mountain. Iran's exclusive herbs found in Geno Mountain include:
Wendelboi, Onobrychis, Rechingerorum, Kickxia, Chamophytica, Isat, Raphanifolia, Fortuynia, Garcin, Donysia, Revolute, Andrachne, Amygdalus, Merxmmuelleri, Mentha, Mozaffariani, Zhumeria, Majdae, Rosularia, Modesta, Pterocephalus, etc.
The vegetation of Geno Biosphere Reserve ranges varies from slopes to mountain peaks, including a variety of tropical trees, desert steppe, foothill steppe, and cold region vegetation species.
The different species of bushes have grown at the foothills among which there is a variety of Grasses, Astragalusgenus, and Acacia nubica.
Further up the slope, the species of plants change so that the wild almonds form the dominant species at a height of 1,800 meters. However, there are other species at a height of 2,300 meters.
Due to lower temperatures, cold trees such as pine, cedar, wild olive, and wild box have grown massively. It is surprising to see the pile of these trees in Hormozgan Province located in a warm and humid climate. Lightning burns the trees occasionally in this area. Other plants of the Geno altitudes are the different kinds of medicinal plants that attract researchers' interest.
Fauna of the Area
Among the invertebrates of the area, living especially around springs, we can mention the aquatic snails, terrestrial snails, and some kinds of worms. Most of the invertebrates in the area are arthropods, especially insects.
The researchers have identified and introduced several species of false scorpions and scorpions among the arthropods of Geno Mountains. There are also various kinds of orthopterans, coleopterans, Lepidoptera, bees, and Diptera in the area.
The vertebrates of this reserve include fish, amphibians, reptiles, birds, and mammals. Aphanius guinois is the only fish in the Geno area and is a unique fish of the Geno warm water in the world.
Five species of toads and frogs, mostly found in still waters around rivers and springs, form the amphibians of this biosphere reservoir, in the area.
Reptiles of this area are more diverse than amphibians and belong to two groups of lizards and snakes, including braid snake and echis.
The birds of Geno Biosphere Reserve live mainly in trees and shrubs. They are usually Passeriformes. However, there are also a number of predatory birds among the Geno birds. Today, as the extent of the area and the plain region has decreased, the previously reported birds living in the area such as grey francolin, francolinus, and bustards do not exist anymore.
The mammals of this area are not exceptional species and we can generally find in other natural habitats. But these species are remarkably diverse.
The accessible mounds and highlands of the Geno Area and the surrounding down-and-ups have been the perfect habitat for urials. But today, as a sheep habitat, Geno has not the same safety as the past. The rocky and inaccessible mountains of the area contain the last remnants of goats and bezoar ibex.
Other species of mammals in the region include leopard, hyena, wolf, fox, jackals, porcupine, and rabbit.
Significant Measures to Protect the Biosphere Reserve
Transmission of 3 chinkaras from Geno Biosphere Reserve to Nayband National Park in August 2012
Imaging of the Persian of Geno for the first time in January 2013
Release of a Eurasian eagle-owl by park rangers in January 2013 at Geno Biosphere Reserve
Potentials of Geno Region
The possibility to climb the summit through various routes
The possibility to hike in winter for amateur and professional climbers
The possibility to take bath in the hot springs containing sulfur, chlorine, and sulfate in Geno Biosphere Reserve
Here are the names of these springs:
Geno, Anaroon, Tang Baq, Kahnooj, Pashang, Chahoo, Hobeir, Posht-e Bongeru, Ramr, Sarcharbeh, Parkooh, Merdouw, Tang-e Siah, Ho Talkh- khergow, Salkooh spas.
Threats against Geno Biosphere Reserve
Existence of conflicts in the private and public sectors
Drought
Lack of sufficient awareness of local people
Illegal Hunting
Lack of efficient environment experts in the region
Expansion of Hormozgan province
Existence of mines, resources, and development of marginal and intra-region villages
The multiplicity of roads, gas and electricity lines and the simultaneous development of the province along these axes
Conflagration
Floods and erosion
Some wrong customs among local people (especially the nomads)
Traditional animal husbandry in the province
Unstable natural tourism