If you are promoting your online business and looking for a powerful marketing platform, we are here to help you. You can submit travel guest posts or any other guest posts to us. We publish them with backlinks to increase your position on the web in addition to several other benefits.
The Price Table for Guest Posts
Here are the details and price for publishing guest posts on Destination Iran:
Features
Single Guest Posts
Cost-Effective Pack
Topical Cluster Pack
No. of Guest Posts
1
5
5
Place of Display
Homepage (Temporarily)
Particular Category (Permanently)
Homepage (Temporarily)
Particular Category (Permanently)
Homepage (Temporarily)
Particular Category (Permanently)
Content
Provided by you
Provided by you
Provided by you
Length
800-2000 Words
800-2000 Words
800-2000 Words
Display Duration
Permanent
Permanent
Permanent
Number of Links
1-3 (Up to You)
1-3 (Up to You)
1 in 4 Cluster Posts
1 in 1 Pillar Post
Link Type
dofollow
dofollow
dofollow
Image
1-4 Pictures
1-4 Pictures
1-4 Pictures
Image Sizes
Featured Image:
Min. 1200 X765
Other Images:
Min. 800 width
Featured Image:
Min. 1200 X765
Other Images:
Min. 800 width
Featured Image:
Min. 1200 X765
Other Images:
Min. 800 width
Video (Link or Embedded Code)
1 (provided by You)
1 (provided by You)
1 (provided by You)
Sponsored/Guest Post/Paid Tag
None
None
None
Value
25,500,000/- Rls
127,500,000/- Rls
127,500,000/- Rls
Discount
10%
18%
25%
Payable Price in RLS
22,950,000/- Rials
104,550,000/-Rls
95,620,000/- Rls
Payable Price in USD

$ 46.00




Order

$ 210.00




Order

$ 192.00




Order
Please don't hesitate to contact us for clarifications if you need any!
Practical Steps of Placing an Order for Guest Posting
If you are confident that we will accept your guest post, you can proceed to the linked URL above and pay first. Then, you can submit your content to us for publishing.
If you prefer to make sure first, please contact and explain what your post is about. Then, submit your content if we agree on the topic. Upon our approval, you will be able to make the payment and send us your post.
Once we receive your payment, we will publish your post in 48 working hours. We work from Saturday to Wednesday. We have some national holidays in Iran too. So, you can ask us to make sure when you want to see your guest post up and running on our website.
Why You Should Submit Guest Posts to Us
If you introduce your online business via a website or a blog, you need to promote your services on other websites too. If you do this on a previously well-grounded tourism blog, you will reap the best results. Our website has got such a blog that accepts guest posts from all travel and other websites no matter where you are located in the world.
We have a section in our blog called "World Destinations". Your posts will be published there. Destination Iran is a website that has
published content in English since 2002,
obtained a relatively high domain authority,
gained a good reputation in Google with a very low spam score (1%),
attracted search engines to index its new content very quickly,
and so on.
Therefore, when you submit your guest posts to us, our audience will see your content. In addition, search engines will index your content and give you credit too.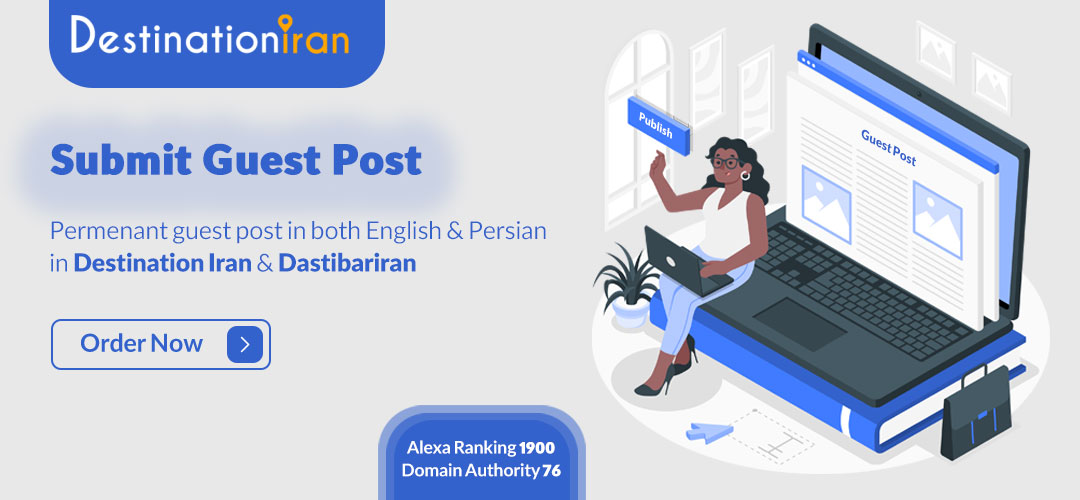 SEO Takeaways of Publishing Your Guest Posts Here
There are several SEO benefits to guest blogging on our platform. A quick review of them is:
You can choose your desired title, keyword, meta description, etc for your posts,
You get your posts optimized by us before publishing,
You get your content published on a site already ranked highly for 360+ keywords,
You get permanent links from us helping you effectively with your ranking,
and so on.
We Accept Travel Guest Posts & Other topics
We almost accept all kinds of guest posts, either in tourism categories or other ones. Your posts could be in any field from any part of the world. If there is any restriction, it will be what our country's laws don't approve of.
To make it more clear and simple, let us tell you what guest posts we can accept and admire.
The list of guest posts we accept isn't limited at all. In fact, you can reach out to us and explain what you want to write about. Then, you submit your guest posts' ideas and we take it from there. Those who have done this before understand that we're quite flexible with various topics.
You Pay When Your Guest Post Is Approved
Some people are reluctant to contact guest post publishers as they think they have to pay first and discuss their topics later. Our website isn't like that.
First of all, we're happy to hear from you. Send us a message and explain what your content will be about. We will talk about it together. When we both agree on it, you submit your guest post to us. We will review it and approve it when we see it complies with the good practices of online marketing practices.
Once your content is approved for publishing, you will proceed to pay when we finalize the optimization and reach the point of publishing it for you.
Why We Accept Travel Guest Posts?
We have found out by our 20+ years of experience in the travel business that,
our clients read about various destinations before they travel there,
Iran potential travelers like to travel to various destinations across the world,
Destination Iran website viewers spend several minutes reading our content,
We love to provide more information to our world readers,
Your travel guest posts turn to be new content for our website,
etc.
As a result, it's a win-win deal for both of us. Each side will have its own benefits. That's why we invite you to submit travel guest posts to us.
It's Very Affordable for You
Now, here's the final word on such a service for you. Our currency has lost its value against the USD very much in recent years. We know that our website is a powerful platform for our clients no matter where they live in the world. As long as you're in the travel business, you can use our platform.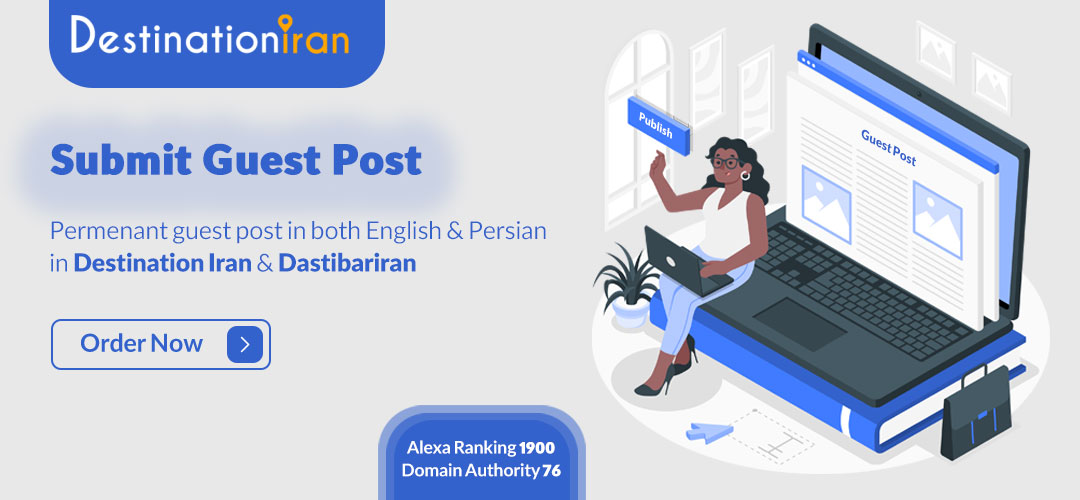 What you pay for a guest post on a travel website featuring similar powerful details in Europe or northern America is much higher than what you pay here.
For us, it's affordable to accept guest posts and obtain a smaller fee.

For you, it's affordable to submit guest posts and reach the desired result.
So, contact us today, and let's talk about the service beyond your expectation!