"Iran Travel Newsletter" is a way to stay in touch with us and with Iran. You have found a unique source of information about Iran that explains "ancient Iran" and "Iran today" via various topics. You may find news about culture, history, archaeological discoveries, tourism news, and more tourism articles. It's main goal is to inform you of "Iran Tourism News". We'll be happy to meet you there and stay in touch.
Subscription to Iran Travel Newsletter Is Easy!
Just fill out the newsletter form below here:
Destination Iran Newsletter Content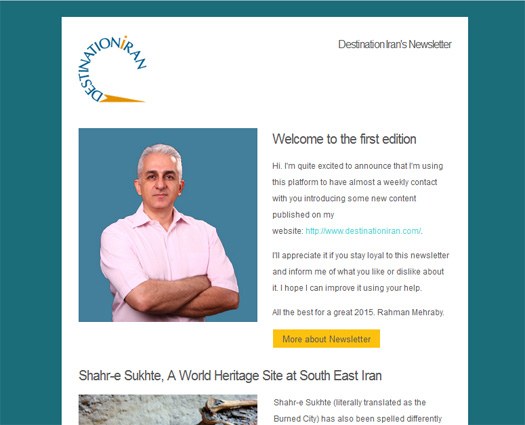 "Destination Iran Travel Newsletter" offers you interesting topics in different fields. We introduce the latest blog posts published on our blog, some tourism news as well as a few words from the publisher.
You will see photos, videos, and slides explaining our content. You will be able to go directly to our articles, videos, etc, and leave your comments, reply to other people's comments, discuss things, etc. In this process, you learn more about Iran, about others, about us, etc.