You may wonder what kind of surprise Destination Iran can present to its fans. In recent years, we have noticed an increase in Iranians' interest in tourism in Iran.
Well, apart from that, we've found out quite a lot of our website readers are Iranians. Although the majority of our readers are from other countries, it's likely that some Iranians follow our website content from outside Iran as well.
It's another reason why we have thought to supply our fellow citizens with an unexpected surprise:
Destination Iran Launched its Persian Version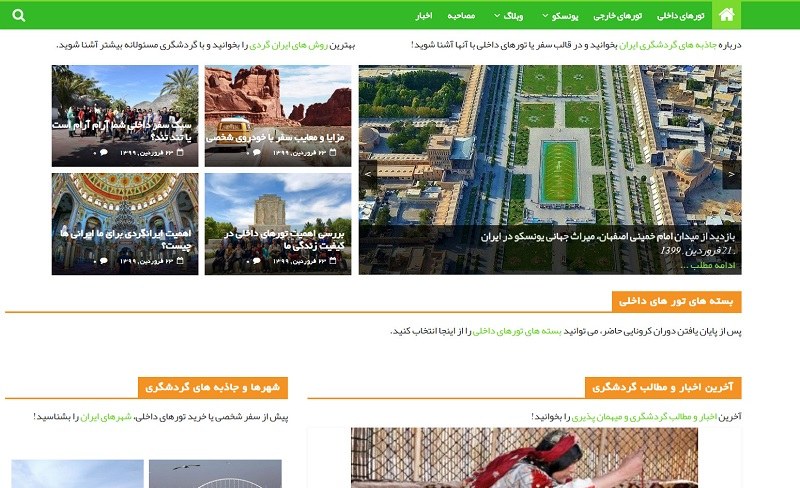 The Persian section of our website is called "Dasti bar Iran" (دستی بر ایران), almost meaning "hands-on Iran"! It sounds like "Destination Iran" too, but the present English name of our website cannot be easily understood by the majority of Iranians. Therefore, a new name was required.
There are several reasons why another website is needed to be published in the field of tourism in Iran. The one and most important one is to promote "Responsible Tourism". We've planned to do this by creating awareness about sustainable tourism and conscious tourism.
"Dasti bar Iran" will publish the translation of most of the content you find on "Destination Iran" plus several other posts concentrated on "responsible tourism". It will aim at enhancing the idea of taking responsibility for our travels and the services we offer to travelers.
"Dasti bar Iran" to Offer Unique Content about Tourism in Iran
So far, travel agents and tour operators have focused on providing lower prices, better services, unique experiences, etc. By themselves, those features are valuable and travelers need them too. We will try to add another dimension to it: Taking responsibility for what we do in our travels and for other travelers.
Let me explain a bit more! If we want our country to take more benefits from tourism in Iran and for a longer time, we must make sure this industry is sustainable. We have to behave responsibly and help our beloved country flourish in nature, culture, and more. Host communities should take benefits from tourism. As travelers, we should consider many people's lives depend on how we behave. The nature in Iran should be protected so that we can survive!
On the other hand, we should look at our journeys as experiences opening our eyes to lots of facts existing around us. We should get to know our country better and value its history, culture, arts, architecture, etc. We need to learn how to be responsible for local communities, nature, other travelers, the next generations, etc. This will bring us to conscious tourism in Iran.
At that level, we will take more responsibility as "responsible travelers" and "responsible travel service-providers". This is what we have in mind for "Dasti bar Iran" to accomplish in Iran.
"Dasti bar Iran" Will Be Independent on Social Media
Although Destination Iran has been promoting tourism in Iran, "Dasti bar Iran" is a completely different realm as it will focus on Iranians traveling inside and outside Iran. Therefore, it requires independent social media accounts and pages.
If you are an Iranian and would like to follow us in Persian, please make sure you follow us on the Persian social media accounts and pages created for "Dast bar Iran"!
The last, but not the least, "Destination Iran" will continue its work as it used to be. This surprise news was for Iranians who like to read in Persian and appreciate the idea of promoting "responsible tourism" we have suggested.
See you here and see you on the other site!