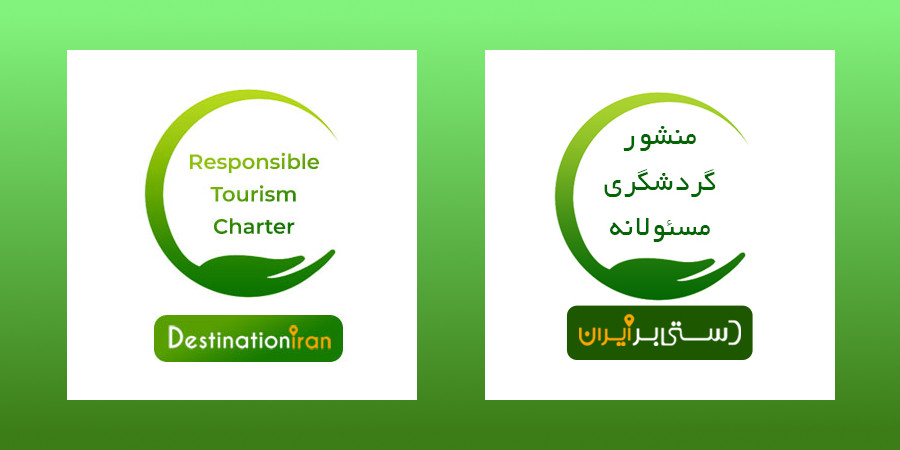 Regardless of the Coronavirus pandemic, our world needs smarter people to know how our planet, our home, is doing. By that, we mean our environment, local communities, and inherited heritage. Therefore, as the necessity already existed and the pandemic hits our world, we need to wake up and take action. That's why Destination Iran decided to offer a charter for Responsible Tourism in Iran that could be implemented anywhere in the world.
What you read is news about what we have done since the pandemic broke out and COVID-19 swept through nations.
In May 2020, we started the Persian section of the Destination Iran website called "Dasti bar Iran"! Apart from introducing Iranian cultural heritage and natural heritage, we have focused on responsible tourism in Iran. We have written and offered a charter for it. Since then, we have heard more people talk about this vital need, which is good news for everyone.
Now, you are being informed of the content inside this charter of responsible tourism in Iran that can be used anywhere.
Check out the Responsible Tourism Charter
You can easily get access to this page of our website by using the menu as indicated below here: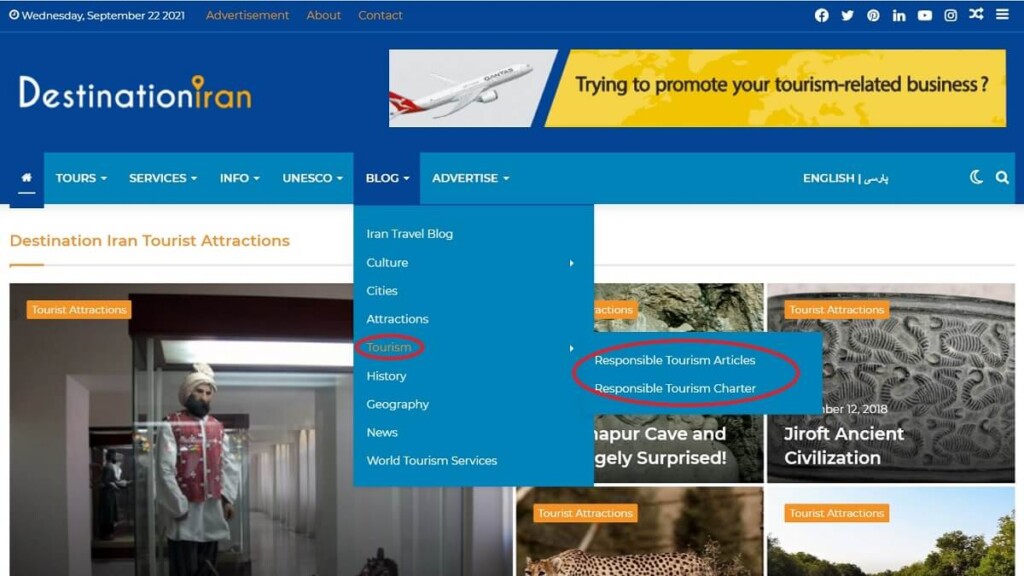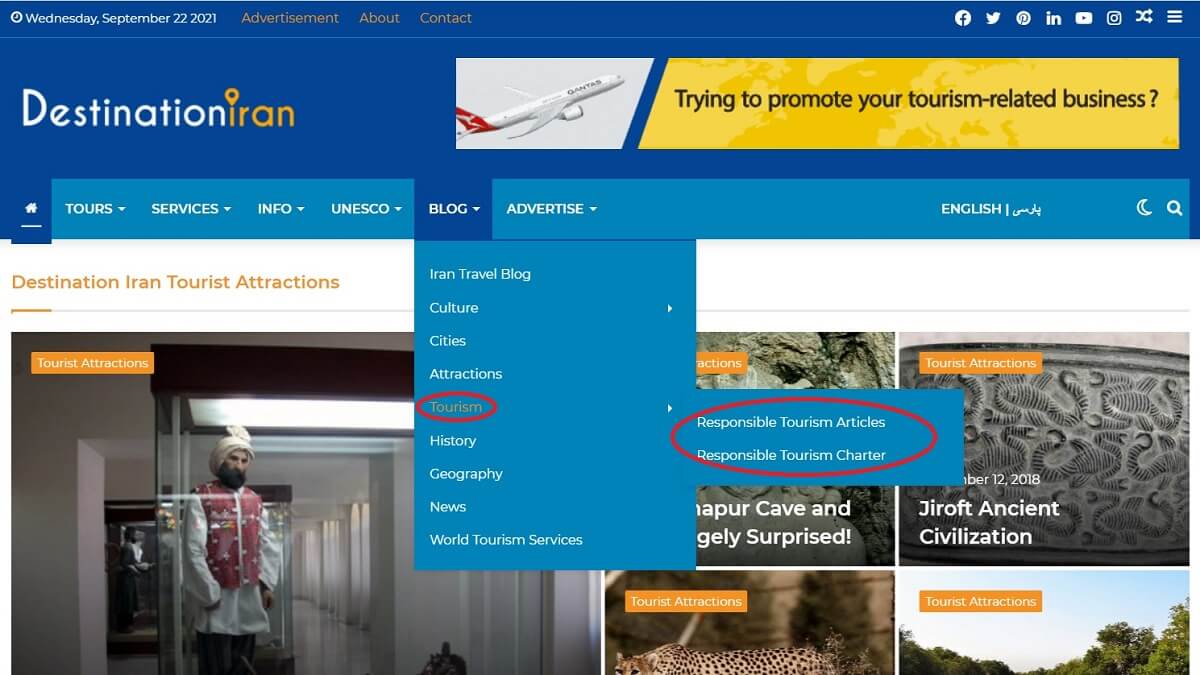 You can find this charter under Blog > Tourism > Responsible Tourism Charter. This is accessible throughout the entire website.
Also, if you are reading any content on our website, you can find the logo designed for this charter on the sidebar as indicated below: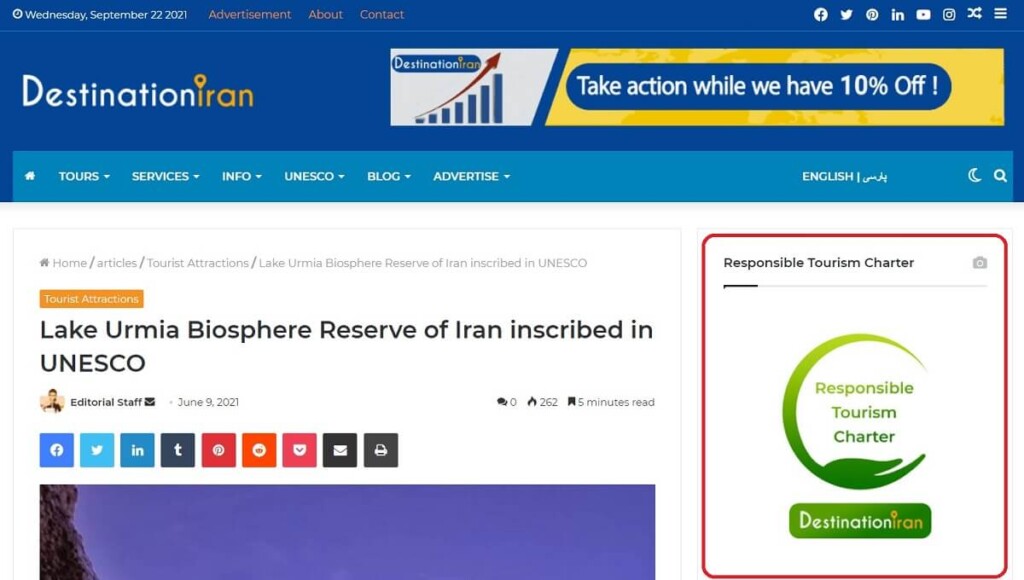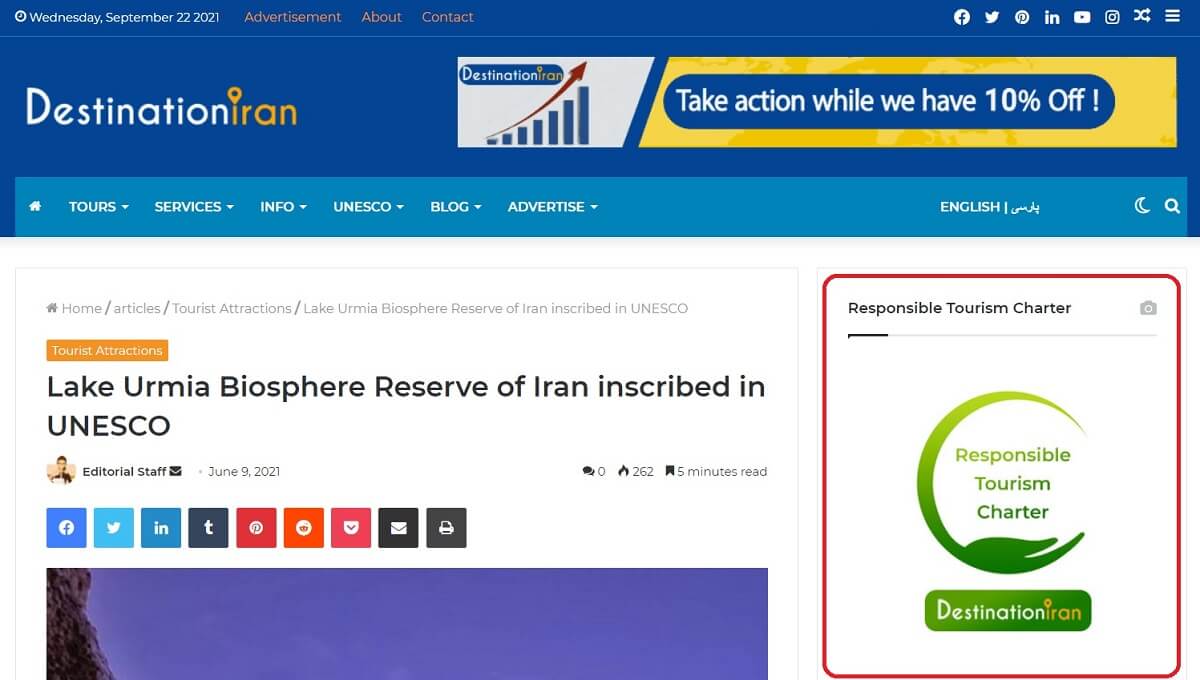 All you need to do is to click on the logo and go to the page where you can find the content of this charter.
What's in It for Everyone?
This is an ethical code of conduct for responsible tourism in Iran and beyond. Everyone can and, we believe, should follow its guidelines. It consists of two main sections:
What travelers should do while traveling
What tourism service providers should do
We are living in a world where the environment is overwhelmingly being polluted and local communities are being neglected. The big powers are struggling to beat each other at any cost. They know they are destroying our planet, but they think about moving to Mars after they ruin our home, the planet earth.
There are several objections going on right now across the world including Greta Thunberg environmental movement! This courageous Swedish activiest talks about climate change and the need to stop producing more heat and pollution. What a nation does inside its borders could spread all over the region and beyond its geographical or political border.
If world travelers follow the guidelines of the Responsible Tourism Charter in all destinations they travel to, tourism will have a different implication. Nature begins to heal itself. We must help it too. The local people love to see visitors in their communities. You will have a better feeling bringing some bread to the table of those who deserve it more.
Why Responsible Tourism in Iran Is a Must?
The wake-up call for responsible tourism in Iran is a vital warning. Apart from the way garbage is disposed of, nature is littered, etc, our local communities should have a share of tourism as well. If this charter is observed, the local people living in remote pristine tourist destinations of Iran could earn a living as well. They are the guardians of our ancient culture, heritage, and more.
Why should they be just watching how big hotel chains and investors make money in their hometowns, villages, etc? They are the ones who should harvest the benefits of the visitors in their villages. Travelers love to stay in genuine traditional accommodations.
The authorities have the greatest responsibility of all. They are the people in charge of training tourism professionals and educating local people among other responsibilities. They should create more awareness of the need for responsible tourism leading eventually to sustainable development.
You should read the content of the Responsible Tourism Charter and find out what we mean by these words.
What You Will See in Destination Iran
In addition to the charter referred to above, you will read articles about responsible tourism and how we could stick to conscious tourism. You can find the list of the responsible tourism articles we have published so far in the menu under tourism.
Please stay tuned and let us know what you think about the points mentioned in those articles as well as the charter itself. Your feedback means a lot to us.