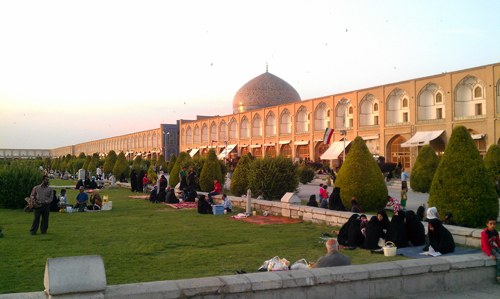 A lot of foreign travelers had started sending inquiries and booking hotel rooms with tour operators. Many have been from the countries whose international travelers had ceased choosing Iran in the recent years. Some new countries have joined to the list of Iran tourism fans. All of them had decided to visit Iran for its historical sights as well as hospitable people.
Many of the historical monuments are world heritage sights or waiting to be documented or registered ones. Many people show how happy they are to see international travelers have chosen to take a journey across their countries.
Tourism Growth in Spring of 2014
As a national tour guide who travels to the cities and visits sights, I can tell you from my first-hand experience. It looks like the doors are just opened. All the hotels were fully packed in Tehran, Shiraz, Yazd and Esfahan with foreign travelers. Museums were so largely occupied by cultural heritage fans that I'd preferred to recommend my groups not to waste time in the lines for the museums' lockers and leave their stuff in the buses instead.
The presence of tourists has been so tangible in the cities of Iran once again that local people asked me for confirmation to make sure their observation had been correct, "A lot of tourists have come to the city this season it seems. Don't you agree?" Of course, they would probably know better than me because they could see how traffic was going on at their cities and how more tourist buses had parked in their neighborhoods. However, it's a reality that many have started choosing Iran as their travel destination.
Anyway, there are several signs that indicate Iran tourism is on the rise these days and the situation of tourism is improving in the country. Some of these signs are:
1. More Inquiries Are Coming from World Travelers
Those who are involved in tourism marketing, tour operators, travel advisors, etc, are totally aware of the situation and completely agree that many more inquiries are coming these days and world travelers understand that Iran is waiting with wide-open arms to receive them.
2. Hotels Are Running out of Vacancy
This is a fact although not very much satisfying to the tour operators or travelers. Hotel rooms are getting totally booked so much ahead of time that we have faced difficulty here at Destination Iran and had to recommend the inquirers to postpone their trips or change their traveling dates.
We seem to need a lot more hotels to be built in Iran, particularly in major cities like Tehran, Shiraz, Yazd and Esfahan with a higher emphasis on the last city mentioned here. Other cities of Iran will soon face such a challenge.
3. Iran Foreign Policy Eases Tension Regionally & Internationally
More active involvement at the negotiation tables here and there has led to the feeling of higher security among world travelers. Many who had been led to think that Iran wasn't sufficiently a safe destination to travel to are now of a different opinion because they see the intention of the Iranian government to eliminate any ambiguities in the way of entanglement with the rest of the world.
4. Foreign Travelers Explain it All
You can read Lois Pryce's story of traveling to Iran to find out more about her impression. There are more similar stories featuring the realities of Iran on the ground.
5. Booking Hotel Rooms for 2015 Hotel Rooms Started
These days tour operators report the challenges in booking a hotel rooms for the Spring of 2015. Foreign tour operators have realized that Iran has entered a new era facing an increasing influx of international tourists willing to spend time in Iran and learn about the history and culture of this country.
A Word of Recommendation for Foreign Travelers to Iran
Please make up your mind and proceed to book with a tour operator before it's too late. We're not in a state of receiving millions of tourists in Iran yet, but the number applying for tours to Iran is beyond the available accommodation available in our major cities. Therefore, your trip may be compelled to get postponed if you ask for a tour late.
Mid-March till mid-May and mid-September till mid-November are the peak of our Spring and Fall high seasons. Finding a hotel room in October of 2014 is already a highly challenging task. We would love to see you in Iran learning about our nation soon. So, we invite you to make up your mind and visit Iran soon.
Also, you can learn more about the typical one-week tour package to Iran and a typical two-week tour package to Iran at DetinationIran.com.
See you soon in Iran!