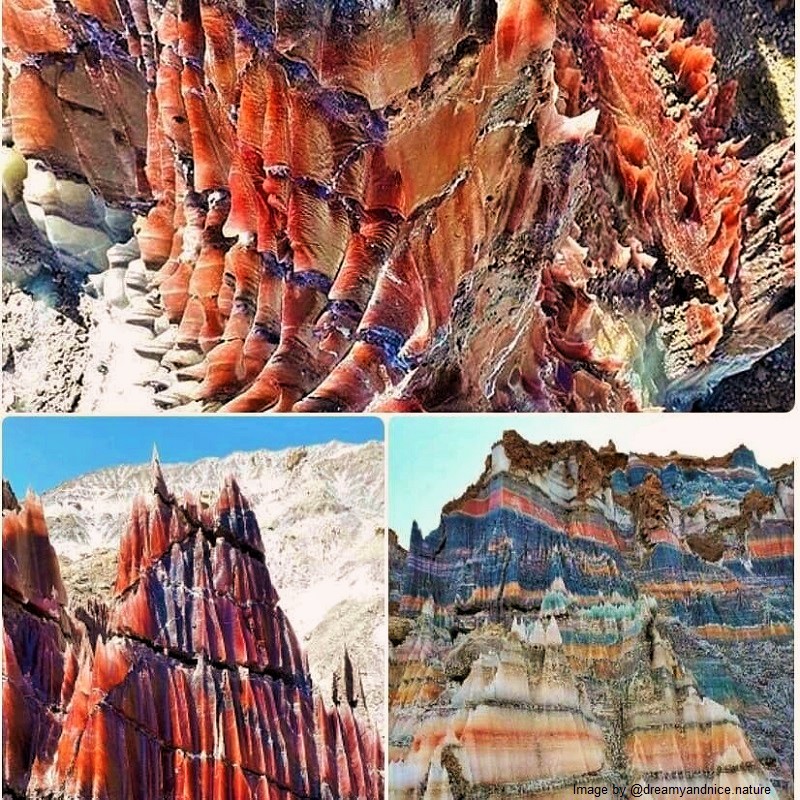 The Salt Domes of Iran are one of the country's geological phenomena. In this phenomenon, large layers of underground salt have moved toward the surface of the earth. These layers have gradually taken the shape of a dome over thousands of years.
Most salt domes of Iran are formed in tropical regions. They are mostly seen in Fars, Hormozgan, and Semnan provinces. Some Iranian islands in the Persian Gulf, such as Hormuz Island, are, in fact, salt domes.
How Salt Domes Are Formed
The central core of the salt domes is made of rock salt. When rock salt is subjected to sudden vibration, it acts like an elastic material. Therefore, it either crumbles or turns into a paste. But when the mass of salt is subjected to constant pressure, it acts like a thick liquid. This phenomenon is called creep. Conditions such as melting point, freezing point, density, pressure, and temperature changes are effective in the formation of salts.
Salt domes or diapiric folds have different forms. Their spread on the ground is from 500 meters to 8 km (in America) and in the northeast of the Caspian Sea between 5 and 12 km.
Components of Dome Salt Structures
Each salt dome contains a compact central core. The part that surrounds the central core is composed of local sedimentary rocks. In most natural salt formations, the upper surface is covered by sedimentary layers. These layers are called stone veneer. In some of them, the thickness of the stone veneer reaches several hundred meters. Some others do not have a stone veneer.
For example, the salt dome of Qom, which is located in the north of the Zangar heights in the Qom region, does not have a stone veneer. Covering rocks usually consists of limestone, gypsum, and anhydrite. In some cases, the cover stone contains deposits of sulfur material.
The Shape of Salt Domes of Iran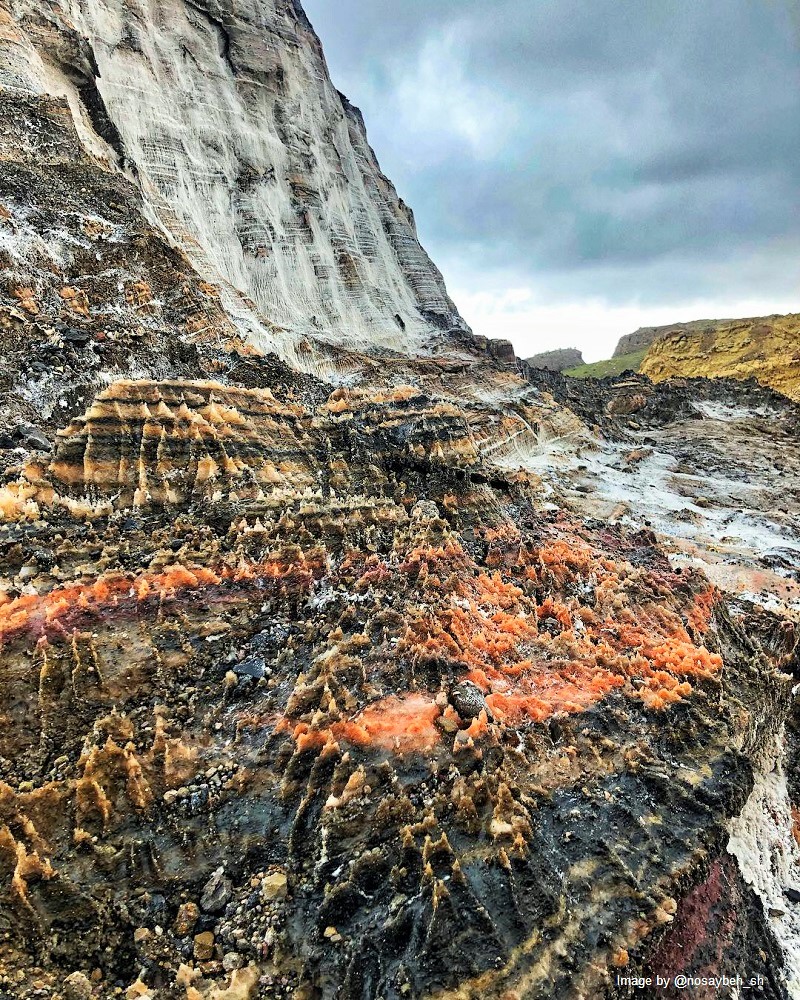 Salt structures may be in the form of salt anticlines, salt pillows, salt ridges, salt waves, salt stocks, etc.
The shape of the salt dome is variable. The walls of many Iranian salt domes have a high slope of about 80 to 90 degrees to the outside. Symmetrical salt domes are rare. Most domes are asymmetrical.
Also, in most of the salt domes, the slope of the walls is varied in different directions. The cross-section of most of the salt domes is close to a circle and sometimes oval. The horizontal extension of the domes is very variable and often several kilometers.
Types of Salt Domes in Terms of The Depth of The Upper Surface
Salt structures are divided into three categories in terms of volume and extent.
1- Shallow Salt Domes
The upper surface of these domes is less than one kilometer from the ground, like most of the salt domes in Iran.
2- Medium Deep Salt Domes
Their upper surface is between one and 1.5 kilometers from the ground.
3-Deep Salt Domes
Their distance from the ground is more than 1.5 km. Some salt domes are more than 3000 meters below sea level.
Mechanism of Formation of Salt Domes of Iran
The speed of movement of salt cannot be the same everywhere. Generally, the movement of salt is upward. The reason for this is its plasticity. As the salt moves up, the strength and driving force within it decrease. With increasing load, salt deposits continue their vertical movement. This movement can be from 0.1 to 1 mm per year.
The Origin of This Phenomenon in Nature
Wherever natural salt formations are found, there are thick layers of the salt underground. These layers are called the feeding layers of the salt dome. The thickness of these salt layers is different, which even in exceptional cases exceeds a thousand meters.
The Stages of Salt Dome Formation
These steps are not peculiar to the salt domes of Iran. They are found everywhere. Here they are:
The formation of floors with a gentle slope
The formation of a simple dome-shaped anticline
The formation of a true salt dome
The Most Prominent of These Salt Domes in Iran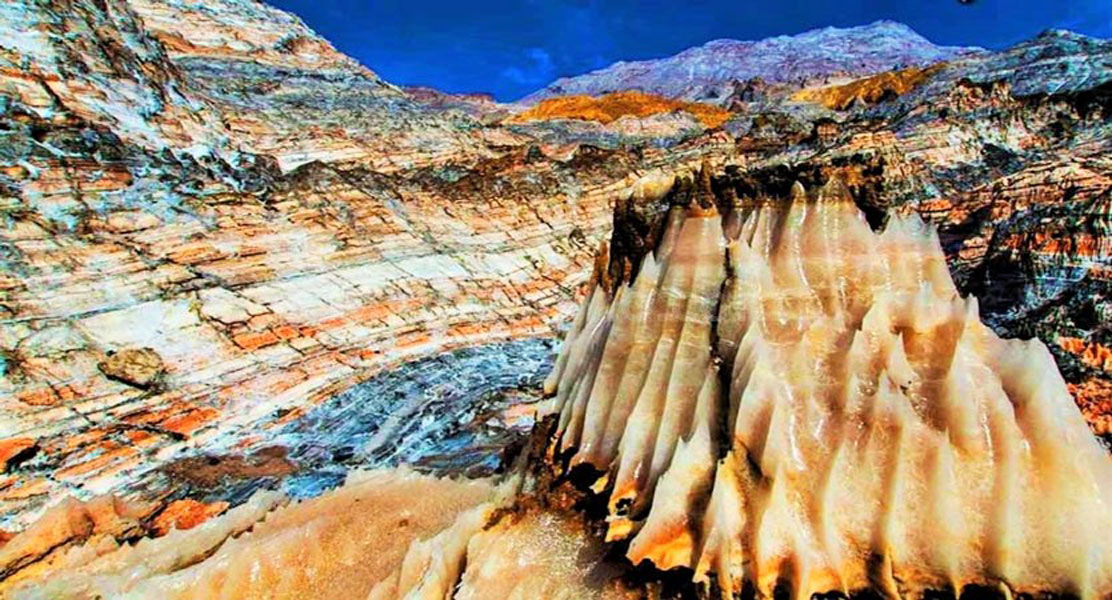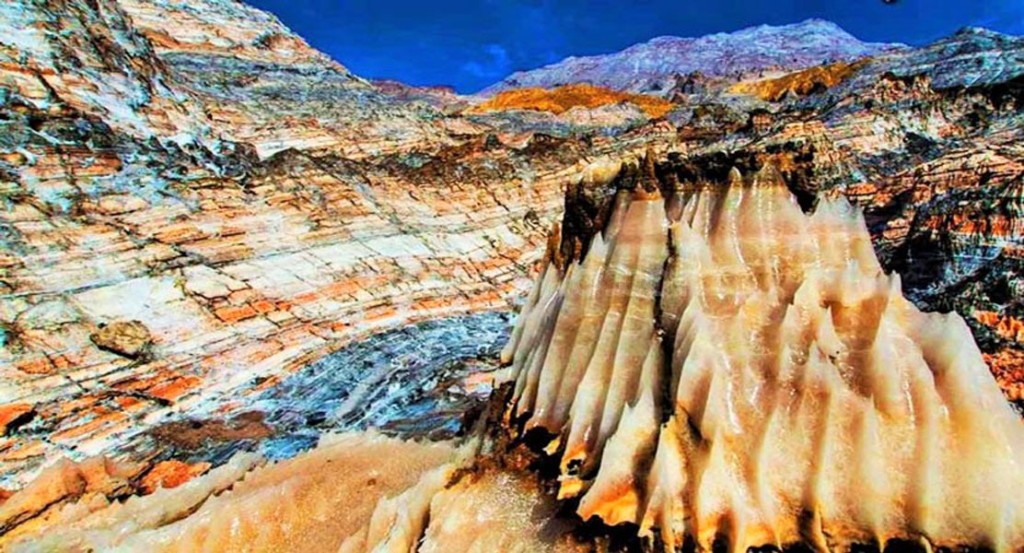 Some of the most prominent natural phenomena in Iran are:
Konarsiah in Firozabad, Fars, Qom, Qara Aghaj, Shur Dareh Tabriz, Khajeh, Jashak (Dashti), Pul, Hormuz Island, Abu Musi Island, Bagh Behzad, Menor, Malha, Angoran, Lark, Darbast, Khormouj, Bezenjan, Mader (Dargaz Hormozgan Province), Qeshm, Kermostaj Larestan, Getchin, Semnan, Nehand, Morjan in Firuzabad, Faro Island, Bestak (Hormozgan Province), Darabgerd (Darab), Kohene (Lar), Bastane (Bander Lengeh), Barbala (Lar), Hamiran (Bander Lengeh), Lamzan (Hormozgan Province), Rastaq (Hormozgan Province), Poze Mountain (Lengeh Port)
Qara Aghaj Salt Dome
This salt structure is located 65 km from Mianeh city, 70 km from Hashtroud, and 193 km from Tabriz (the Eastern Azerbaijan Province capital). Streaks of red and gray colors can be seen on his body.
Tabriz Valley Salt Dome
This dome is located eight kilometers north of Tabriz city (the Eastern Azerbaijan Province). Salt deposits have changed the color of this dome to pink, gray, and brown.
Khwaja Salt Dome
This salt structure is located in Tabriz. There is an open mine in its dome. Purple, red, and gray colors are seen in it.
Konarsiah Salt Dome in Firozabad, Fars Province
This salt structure is located 90 km southeast of Shiraz and 20 km southwest of Firozabad city. It is possible to reach Konar Siah salt dome from Firozabad-Jam-Assalouye road.
There are a number of seasonal waterways around the salt dome. On the southwest edge of the Aghar anticline, there are three springs named Narak, Kanaar Siah, and Mangarek.
Salt Dome of Qom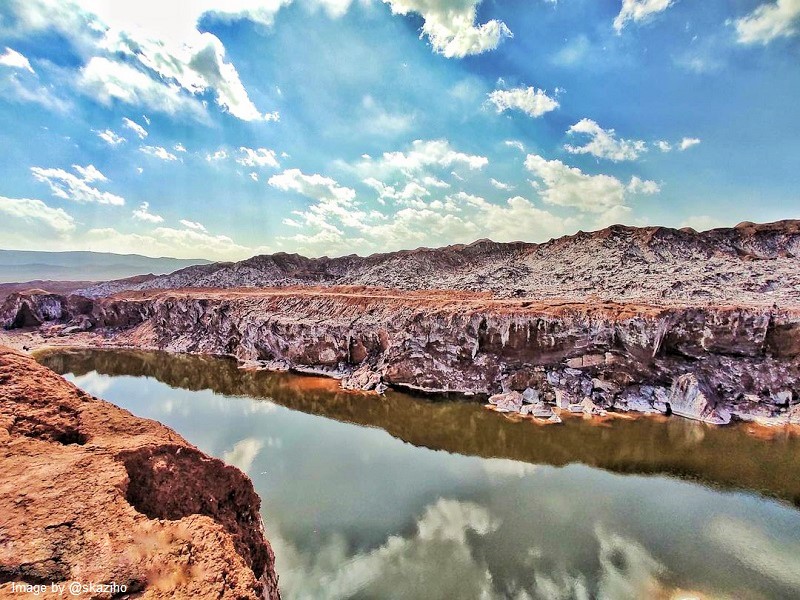 This salt structure is located 15 km from Qom road toward Jafarieh. It is considered one of the natural attractions of Qom. The geological history of the Qom salt dome goes back sixty million years.
This structure is the only symmetrical salt dome in the world. It also has a small lake inside. In this dome, the salt crystals have become distinct and convoluted blades. Its northern expansion continues up to three kilometers.
There is a salt lake in the middle of the dome. This is a tropical region. Therefore, after seasonal rains due to high heat, salty waters evaporate. Then salt domes are formed.
There is a monument in this area called Kuh-e Namak (meaning salt mountain) caravansary, which dates back to the Seljuk period. This relic has been registered as one of the national works of Iran. The plan of this caravansary is of the four-eyvan type. The main building materials in the walls are stone and the roof covering is brick.
Salt Domes of Hormuz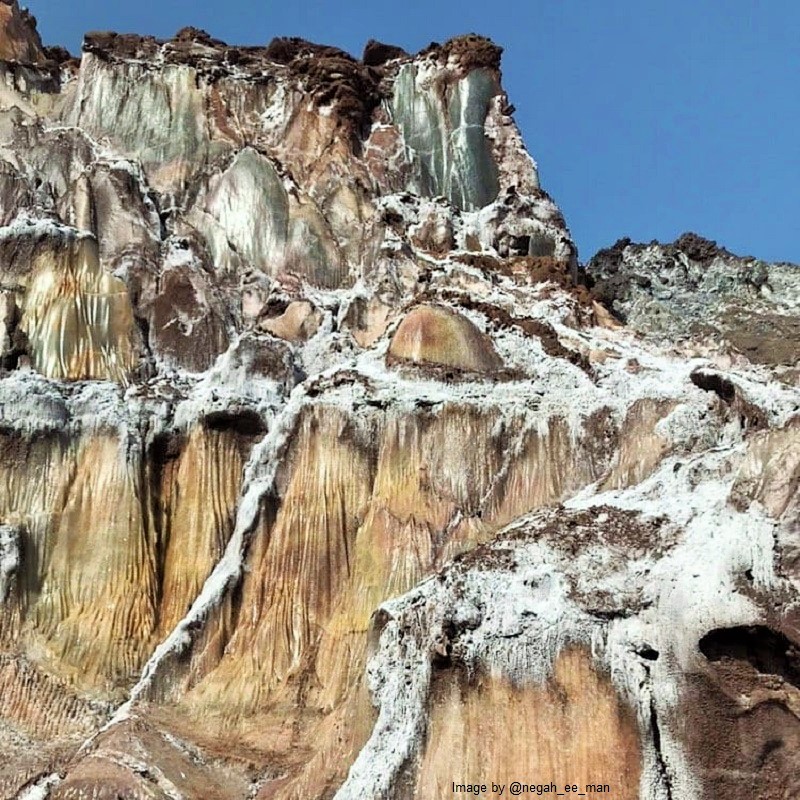 These salt structures form small islands in the Persian Gulf. Hormuz salts have pierced the folds of the Tertiary period of the Zagros mountains. These holes can be seen in all possible cases and locations such as the summit, side, anticline axis, offset, and on faults.
In fact, the age of the Hormuz salt domes of Iran is older than the Jurassic. The presence of salt structures is the result of plastic injection of rock salt in the surrounding sedimentary rocks. The salt in the core of salt domes is derived from the underlying layers.
Nahand Salt Dome
This huge salt structure is located 10 kilometers northwest of Tazeh Kand village. Tazeh Kand village is in the southwest of Nahand village in West Azarbaijan province. This dome is placed inside the red and gray marls. Also, its direction is northwest-southeast. This dome is the largest salt dome in Azerbaijan.
Behzad Garden Salt Dome
This salt structure is one of the well-known salt domes of Iran. They are located in Chahar Mahal and Bakhtiari province and in the south of Lordegan city. Its colors are red and gray. Limestone and salt are also abundantly found in their structure.
Menor Salt Dome
This salt structure is located in East Azarbaijan Province, in a village called Manoor in Shabestar town area. There are colors such as purple, gray, and red in it.
Malha Salt Dome
This salt mine and its dome are located in Semnan Province. Its mine is the source of salt and income for the people of Hamadan, Kermanshah, Semnan, etc.
Anguran Salt Dome
This salt structure is the highest salt mountain above sea level with a height of 1000 meters. Salt layers are bent over this dome. This salt dome is located in the west of Bandar Abbas and in Anguran village.
Gachin Salt Dome
Another salt structure of Bandar Abbas is located in Gachin village. The salts in this dome are curved.
The Salt Dome of The Pol
This salt structure is located in Bandar Abbas and is 4 km from Bandar-e Pol. Salt crystals can be easily seen on the slopes of this dome. Its dominant color is red.
Lark Salt Dome
Another natural salt structure in Bandar Abbas is Lark Salt Mine. Over many years, salt deposits have turned into a mountain of salt and a salt dome.
Darbast Salt Dome
This salt structure is located in Bandar Abbas. It is also enclosed in a circular environment. Salt crystals and iron oxide are found in this important mine.
Khormouj Salt Dome
This salt structure is located in Khormoj city of Bushehr Province. There are many beautiful streams around it. Due to the impassability of this area, it is difficult to access this mine.
Salt Dome of Hormuz Island
This dome can be seen in red, gray, and green colors. It is also a rich source for various industries.
Kermostij Salt Dome
This natural phenomenon is located in Fars province and Lar city. The salt deposits in this area have turned into large holes and beautiful caves.
Bazanjan Salt Dome
This salt structure is located in Kerman province. Salt sheets in this city are formed in the form of circular hills.
Salt Domes of Iran, Natural Attractions for Tourists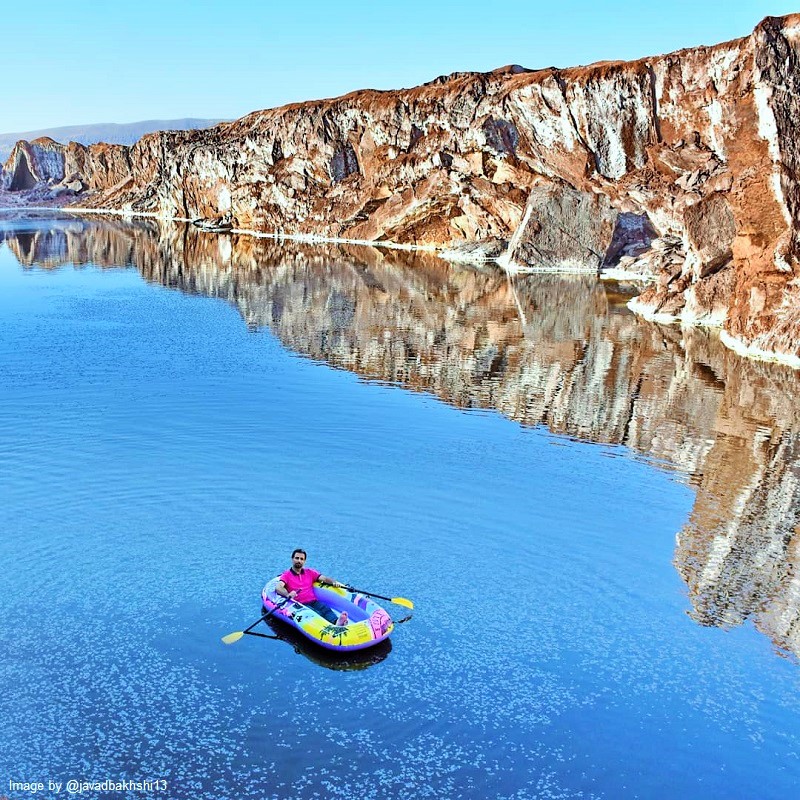 The number of salt domes in Iran is very large. Due to its geographical structure, Iran has salt domes in most of its regions. The domes that were introduced were only a few of them. Most of these natural phenomena of Iran are located in the south of this country.
Many islands in the Persian Gulf have salt domes. The color range of these domes is diverse and includes colors such as red, yellow, orange, brown, amber, green, and gray.
Iran is among the top 5 countries in the world in terms of natural attractions. There is a huge potential for international travelers to get to know more about these attractions and visit them. Tour operators should also include these remarkable phenomena in their tour itineraries and send experienced and knowledgeable tour guides to inform visitors and lead responsible tourism in these points.