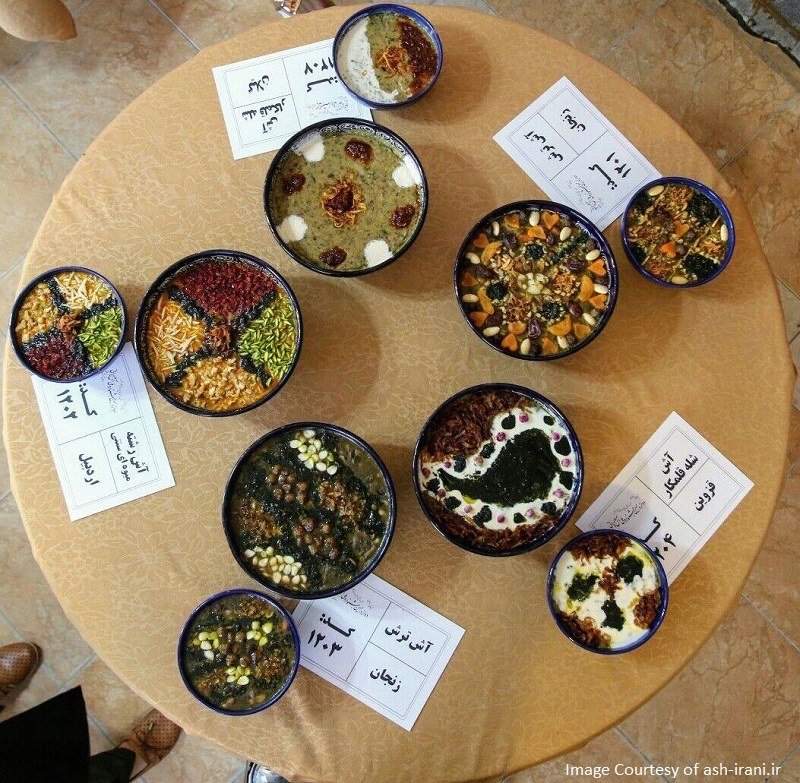 Today, August 13th, Zanjan holds the 13th Ash festival in Iran that lasts for four days. This is the largest food festival held annually in Iran. The main Iranian dish presented here is "Ash". It's a traditional thick soup made differently in various parts of Iran. We've already introduced one such dish here!
Ash Festival in Zanjan
Enriched with several different nutritious items, Iranians make Ash as a delicious dish, which has got a particular cultural role in our societies. From providing the ingredients to preparing them, cooking the food and serving it, it all brings people together and enhances friendship and kindness among neighbors and fellow citizens. Now, why not do this on a larger scale?
In a positive response to this question, the Iranian tourism authorities have created and promoted such festivals in recent years. Being farmers, Iranians have always been celebrating the end of the harvest time since ancient times. They are doing so when the earth has given its blessings to the people. So, in a manner of thanks-giving, people share their happiness with each other by coming together, showcasing their crops, food, etc and added their favorite activities like some traditional sports, cultural activities, etc.
Zanjan, in recent years, has proven to be the successful host of the annual Ash festivals. Iranians get more and more informed of this event every year and participate in it. This year, it's going to be held in its most glorious way.
Cultural Events at Ash Festival of Zanjan
Every day, there will be "Cultural Nights", "Local Folk Music", "Competition", etc to entertain the participants of the festival. There's going to be several stalls from different parts of Iran offering at least a dozen of various Ash dishes. Each dish has got a history and cultural reasons why it's cooked and how it has contributed to enhancing the local bond among the people in a region.
For example, "Ash-e Torsh", sour thick soup, is cooked in Mazandaran province three days after a beloved one had passed away. The purpose is to take away the sorrow and pain from the close relatives of the deceased one. Today, the people of this province cook and serve this dish among their neighbors to ask for God's blessing for the relatives they've lost.
In addition to such purposes, the process of preparing and cooking it requires a cooperative measure by the neighbors who all care for the same cause. This brings them together. Then, when they're together, they listen to Iranians poems recited for them, they listen to the music played for them, etc. This creates an ambiance of a strong bond between them. Communities have grown strong and cultural identities have been strengthened this way. It's not only what's cooked and what's eaten. It's about human relationship and how people stay together and preserve their identity.
Ash Festival, A Cultural Tourist Attraction
If you happen to be in Iran during this Ash Festival or anything like that during the year, just make sure you participate in them. The local people with their colorful clothes, sports competition, music, etc are all the cultural elements that can best introduce Iran to foreign travelers. So, it's highly recommended to take part in such occasions if possible.