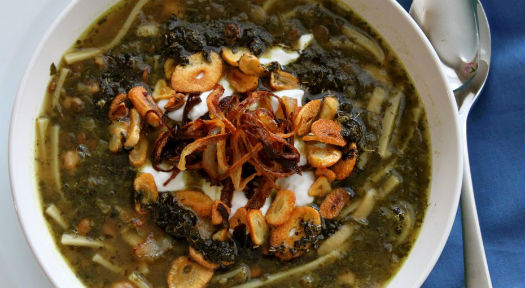 Before explaining Ash-e Reshteh, I must mention this point that what's called Ash in Iranian cuisine is a food looking like a thick soup, mainly consisting of herbs and legumes. It's the same for Ash-e Reshteh. What's more here is reshteh, a kind of Persian noodle. This soup is one of the most delicious, popular, and well-known ones among Iranian soups, and is preferred in winter.
This Iranian thick soup is a delicacy which has a special position among Iranian food and dishes in different Iranian events, ceremonies, or gatherings, specifically religious ones. It's also commonly cooked and served in Nowruz gatherings. Some people believe that noodles in this soup symbolize good fortune and success for the following days of the new year. In addition, neighboring countries also have this soup in their cuisines just with some slight differences in the recipe.
Ingredients for Ash-e Reshteh:
1 cup chopped fresh chives
1 cup chopped fresh parsley
1 cup chopped fresh cilantro
1 cup chopped fresh dill leaves
2 cups chopped fresh spinach (if unavailable, substituted with chard's leaves
½ cup garbanzos, presoaked overnight
½ cup rose coco beans, presoaked overnight
½ cup red kidney beans, presoaked overnight
½ cup lentils- 300 g. Persian reshteh (if unavailable, substituted with linguine)
3 medium onions, sliced into thin slivers
6 garlic cloves (optional)
2 cups kashk (a whitish dairy product made from yogurt or sour milk)
4 tbsps. crushed, dried mint leaves
Salt, turmeric powder, and hot pepper powder
Vegetable oil
2 tbsps. wheat flour (if necessary)
Directions to Cook Ash-e Reshteh:
1. Cook the legumes in boiling water separately until tender and set them aside.
2. Fill a big pot with about 5 cups water and bring it to a boil. Then add the prepared herbs and let them simmer over medium heat until they don't taste raw anymore. Meanwhile you can prepare the other ingredients.
Note:
Don't cover the pot in this phase. If you do so, the herbs get dark brown while cooking. It's better to preserve them greenish.
3. Heat about 2-3 tablespoons oil in a frying pan. Add the onions and stir until golden brown. Take about half of the fried onions and set them aside for garnishing. Add about ½ tablespoon turmeric powder to the remaining onions. Stir for a few more seconds and then set them aside.
4. Mince 3-4 garlic cloves. Fry them until golden brown. Then, add about 2 teaspoons turmeric powder and stir a few more seconds. Set them aside.
5. Slice the remaining garlic cloves paper-thin. Fry them until golden brown and set them aside for garnishing this Iranian soup.
6. In a small pan, heat about 3 tablespoons oil until sizzling. Add dried mint, stir a little, and remove it from heat immediately. Set it aside.
7. Go back to the herbs. Add cooked legumes, fried onions with turmeric powder, fried minced garlic, about half of the sauté mint, and some hot pepper powder (to your taste) to the pot. Stir a little to get them mixed. Let them simmer with the lid on for about 10-15 minutes. It helps the flavors come together.
Note:
Tilt the lid to prevent boiling over.
8. Break up reshteh strips into 3 pieces and add them to the pot. Stir them well to make sure they don't stick together in the mixture. Reduce heat to low and continue simmering for about 15-20 more minutes until reshteh gets completely tender.
Note:
After adding reshteh, the soup starts getting thick. So from this phase on, you have to stir your soup every so often to prevent the ingredients from sticking to the bottom of the pot.
9. Dilute the kashk with 1 cup water. Add about half of it to the mixture and stir. Continue heating for about 5 more minutes and then remove the pot from heat.
Notes:
It would be better to boil the diluted kashk for about 20 minutes before adding it to your Ash-e Reshteh.
Adding kashk in this phase is optional. You can use it just for garnishing.
You can substitute kashk with sour yogurt or sour cream. But in case of using yogurt, you can't add it when the soup is simmering over heat because it starts to separate into curds. Use it just for garnishing.
10. When all of the ingredients are cooked completely, the flavors are intermingled thoroughly, and your Iranian soup is thick enough, you're done.
Notes:
What you have at the end has to be a kind of a thick soup. So if it looks watery, dissolve the wheat flour in a cup of cold water and add it to the soup. Let the mixture continue simmering for a while until it gets the desired thickness. Just bear it in mind that Ash-e Reshteh tends to get thicker a little more by resting and cooling down. And if it looks too thick while cooking or at the end, you can add some boiling water.
Adjust seasoning, especially for salt, as the final phase. Because the kashk and reshteh used in this Iranian soup are a little bit salty and usually there is no need to add more salt.
You can adjust the amount of sauté dried mint, fried garlic, and kashk to your taste.
How to Serve Ash-e Reshteh:
Transfer the soup into a big serving bowl. Let it rest and cool down for a while and then start garnishing. Otherwise, all the toppings get mixed and don't stay on the surface. Use fried onion and garlic, diluted kashk, and sauté mint to decorate your food.
You can have some Kashk or yogurt, vinegar, or even various kinds of pickles with this Iranian soup. In some areas of Iran like Kerman province, people mix vinegar with grape syrup and use it alongside their soup. This soup can be served as an appetizer or a main course for dinner.
Finally, if you're searching for something special, savory, nutritious, and also vegetarian among Iranian foods, I highly recommend you Ash-e Reshteh. You'll enjoy it.