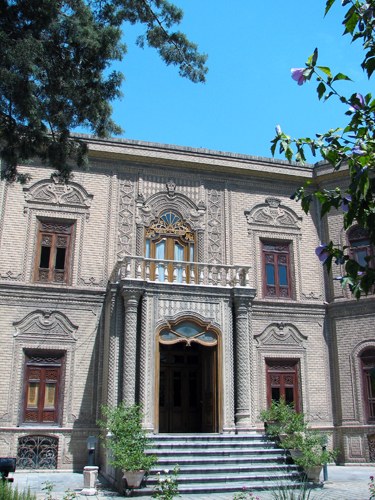 The beautiful building of Glassware & Ceramic Museum is the mansion housing glass wares and ceramics that was originally ordered to be built as the personal residence of a politician named Ahmad Qavam in the early 1920s.
The building was occupied by him as residence and office up to 1953 when it was sold to the Egyptian embassy. Eventually, in 1976, it was converted into a museum following some repairs and changes.
The objects exhibited in this museum, which is also called Abgineh Museum, belong to a span of time beginning from the pre-Islam period up to contemporary Iran.
Different Sections of Glassware & Ceramic Museum
In Abgineh Museum, there is plenty of exquisite plasterwork performed by Iranian masters on the interior walls of the building. On the first floor, at the beginning of the visit to the museum, there is a hall with a showcase in the ground at the entrance to draw visitors' attention to a symbolic location of the archaeological site under excavation. On the walls, there can be seen maps and ancient regions on the Iranian plateau as well as a very useful timetable of ancient civilizations. The museum objects, in general, can be divided into five categories each in a different hall:
1. Enamel gallery: The potteries in this collection consist of some samples of plain clay vessels belonging to B.C period having angular and animal patterns. On some artifacts, the early examples of glass glazes dating back to the 3rd millennium B.C can be found. The collection of Chogha Zanbil temple glass tubes as well as opaque perfume holders, ornaments and seals exhibited belong to the 1st and 2nd millennium B.C.
2. Crystal gallery: In this gallery, Achaemenian and Parthian period cut crystal vessels and bottles are displayed for visitors. Various vessels of Sassanian and post-Islam period are also added to this collection bearing molded, applied, pressed and cut decorations.
3. Nacre gallery: The evolution of the Sassanian period's arts and techniques are observed here. Some samples of 9th to 13th centuries A.D are also exhibited in this gallery. In fact, the flourishing period of glassware and pottery is presented in the showcases here.
4. Gold gallery: The artifacts presented in this gallery consist of the enameled and luster inscribed vessels of the 10th to 13th centuries. The inscriptions are generally of subjects like expressions, good prayers, and poems of Nezamy and Ferdosy. Patterns are mainly human figures in various ceremonies and animals especially birds.
5. Lapis-lazuli galleries 1&2: Following destruction imposed on the centers of glass and pottery making in Iran, Safavid king, Shah Abbas I, initiated the revival of these two industries and enhanced it with Chinese and Italian artists helps. The objects of these two galleries are evidence for changes in the form and decorations of glassware and pottery artifacts using lapis-lazuli stones. Vases, sprinklers, and ewers in lapis lazuli and light orange colors are Shiraz and Esfahan products.
There is also some crystal made vessels of the 18th and 19th centuries from Europe exhibited in a separate showcase. There is also a library in the northwest of the gardens surrounding Glassware & Ceramic Museum having approximately 3000 volumes of books in Farsi and English on archaeology, history, arts, etc for students and researchers.