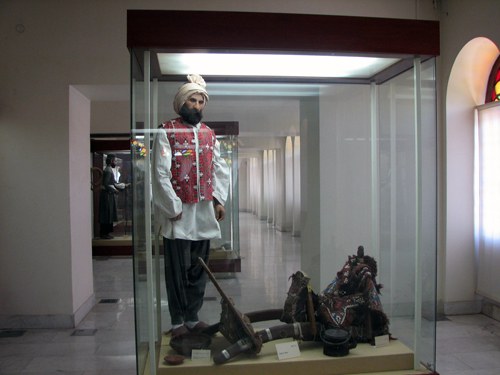 The building of Tehran's museum of anthropology in Golestan palace is situated at the heart of Iran's capital city. Golestan mean flower garden. The building came to be known as white palace because of its white stucco carvings on the facade executed in Europe's 18th  century style. Marble stairways and plinths are also in white.
The building was built during Qajar dynasty and used for the administration purposes by the times' chancellor and prime minister. Before and after that it was dedicated to the objects presented by the Ottoman Sultans, temporary exhibitions and the head office of museums.
Since 1968, ethnological museum objects were transferred to this building. The first floor houses the administrative section, a library and exhibition hall. The second floor is also used to display the museum objects.
In fact, the overwhelmingly comprehensive sets of objects of Tehran's Museum of Anthropology represent the traditional life and the atmosphere prevailed in different stages of history in Iran. Some of the objects can be found in toady's real life situations, but it is a privilege to be familiar with such a wide range of objects at a time in one building.
Here is a brief explanation of what can be visited in this museum:
The First Floor of Tehran's Museum of Anthropology
In various showcases, one can see: women in rural areas, stone-made objects used in everyday life, tiles, inlaid wooden works, metal-made locks, glassware, block printed textile, marriage documents, stationery, oil lamps, dervishes' belongings, traditional music instruments, marriage napery, make up tools, various traditional smoking stuff, traditional coffee shops, old sash doors, etc.
The Second Floor of Tehran's Museum of Anthropology
The objects on display are: paintings showing life situations, horse riding stuff, weaponry, footwear, etc.
Ashoora hall is a hall for displaying the traditional religious ceremonies on oil paintings together with symbols, nakhl, kotal and other local objects used in the ceremonies.
There are also various traditional life situations visualized by dolls, tents, animals, household appliances, gyms, etc in a separate room. In another section, textiles made by hand by different techniques are exhibited. Besides, local dressings and costumes of all corners of Iran are displayed. Bakery, cloth weaving loom, etc are also exhibited in the same section.