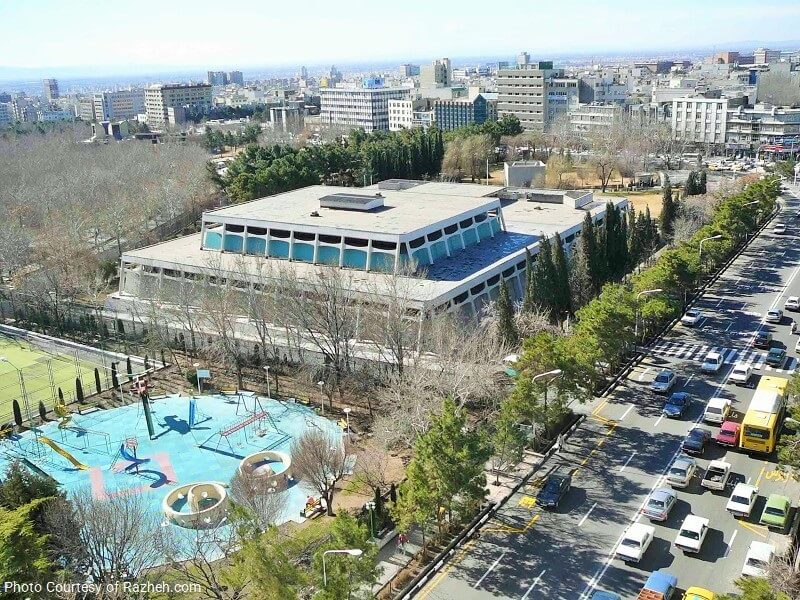 Iranian carpets are one of the unique masterpieces created by Iranians since antiquity. Although they are known as Persian carpets, they have been made by various ethnic groups in Iran based on the same traditions and techniques.
Iranian Carpet Museum has been open to visitors since 1979. The facade of the museum resembles the carpet-weaving loom. It also comprises of two floors to display different kinds of carpets, kilims and handmade rugs.
Two Floors of Iranian Carpet Museum in Tehran
The first floor hall is devoted to the permanent exhibition and the second one to temporary exhibitions of carpets or carpet-related subjects. Most often, the oldest pieces belong to the Safavid period. There are also more recent ones.
Some traditional and very rare designs and patterns are found among the carpets. Portrait, multi-panel, botteh, triangular citron and animal-design carpets are among the various designs found in the collection. Also, sometimes the so-called Polish carpets are on display. They are carpets made in Iran but known as made in Poland.
The above-mentioned and all other famous pieces have been made at the main centers of carpet making like Kashan, Kerman, Esfehan, Tabriz, Khorasan, Kurdistan, and so forth.
At the entrance to the main hall of the first floor, there is a map of the most well-known carpet making centers of Iran, a showcase of various weaving tools, a showcase of some dying natural material as well as dyed threads, and a vertical carpet-weaving loom. From time to time, someone sits at the loom and visitors can see how a carpet is woven.
Other Facilities of Tehran Carpet Museum
There are some other facilities in the museum including a library with around 7000 books, which are available to researchers and enthusiasts, and a movie house in which specialized films in the field of knotting carpet and designing kilim motifs can be watched. To preserve carpet-related arts and techniques, the museum has different classes for teaching carpet making, designing, repairing, and darning.