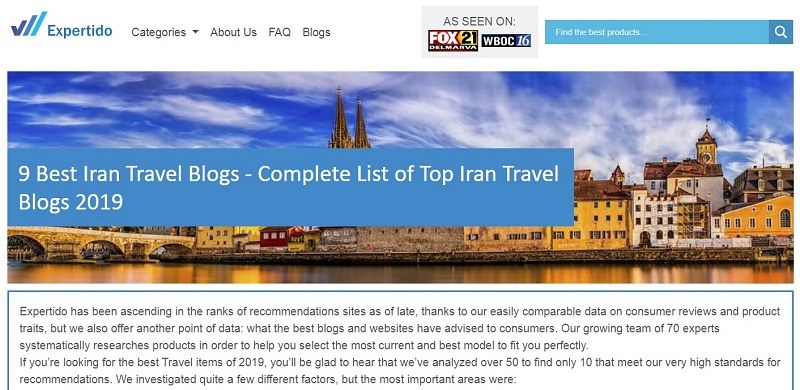 We have recently received a notice from Expertido review website notifying us as one of the best Iran travel blogs. It has been great news for us rewarding our team for the hard work of providing travel information about your destination – Iran.
Iran Travel Blog Efforts
It has been years since we have started our Iran travel blog and published a range of various content in different categories. We used to write on a limited number of topics, but recently things have changed drastically.
Destination Iran has attracted some very enthusiastic content creators who love to introduce Iran. So, we now have an editorial staff that researches, writes, edits, translates, optimizes, checks, double checks, etc the content before publishing.
We mainly focuse on culture and anything related to it. However, we concentrate on what Iran has got to offer. So, there will be more than what you see in Iran travel blog now. Our editorial staff will publish posts on other topics as well.
Recent Additions to our Blog
What has contributed to our place among Iranian tourism blogs is the particular topics we cover and the originality of them. What has made us Iran's best travel blog is the fact that we target our readers' needs and provide content based on their requirements.
We have improved Iran Destinations in our blog trying to give a more thorough picture of the cities in Iran. Those are places where many visitors read about and want to get more details on their attractions.
We have written about the history of various dynasties ruling in Iran. Recently, we have continued writing on this topic and soon we'll finish the dynasties coverage and get into more details.
Iranian music topic has got quite a lot of fans among our readers. So, we're determined to write more on it. We have provided a lot of content that will be published soon and you will see them.
In short, as we provide tour packages to Iran and meet our clients in Iran while they talk about their experience. This experience begins from the time when they had decided to travel to Iran until they leave this destination. Then, we write according to their requirements. This has made Destination Iran, the best travel blog in our country.
Expertido Blog Evaluation
Recently Expertido has contacted us with this reassuring news that they have featured us as the best Iran travel blog in 2019. They are dedicated to the consumers and write reviews on various products. They have already reviewed tens of thousands of digital products in the United States.
Expertido utilizes a large group of experts who systematically research various in various fields including online travel content. They check out the content readers by checking out the blogs' natural growth on social media and consumers' feedback.
As a result of their evaluation, Destination Iran has been featured as the best travel blog of 2019. We thank our readers for checking out our content, having trust in what we share as Iran travel information, and using our services.