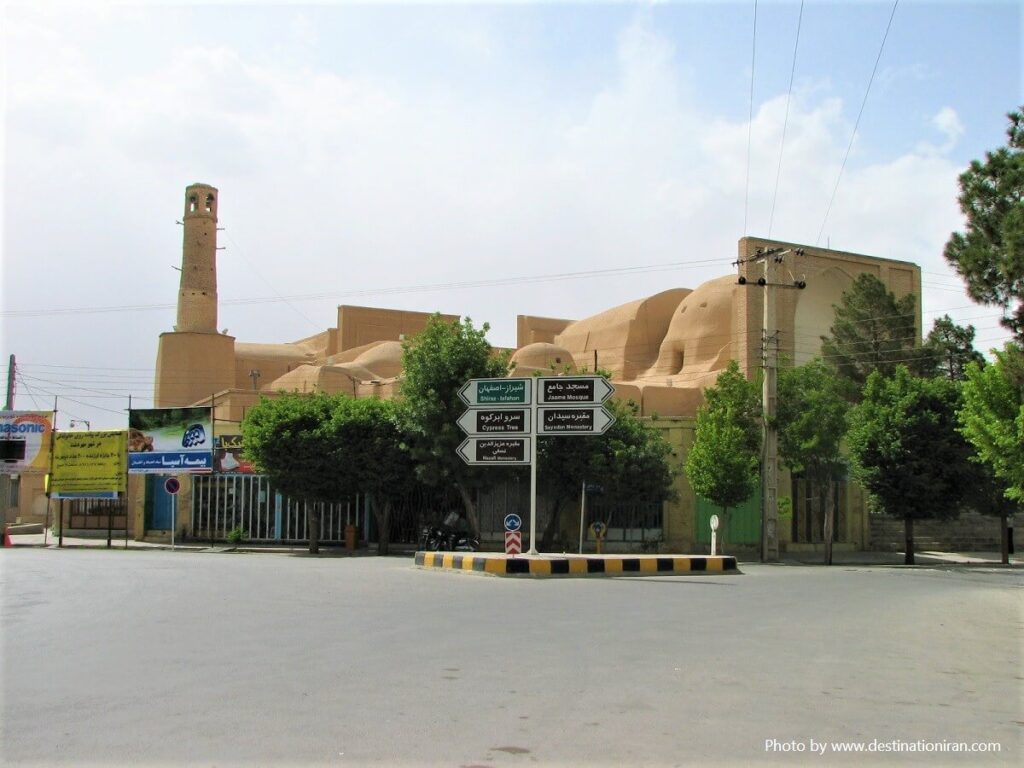 On an altitude of 1510 meters above sea level, Abarkouh or Abarkooh is an ancient desert town located in Yazd province today. When you travel between Yazd, Shiraz, and Esfahan, you will find Abarkooh, somewhere geographically located among these major cities. Historically, this town has been part of Kerman and at some point part of Fars province.
It has the architectural character of a desert town with its houses traditionally built very close to one another and made with vaulted roofs. The main construction material was sun-dried bricks. This is because the entire region around it lacks trees and ample sources of water. However, as a result of underground aqueducts (Karis system) dug by people, the town has got plenty of green patches of cultivated lands and gardens.
Although the majority of the people traveling across Iran don't stay in Abarkouh, this doesn't mean that this town has nothing to offer. Most of the times, like in this case, it's the lack of sufficient accommodation units and other tourism-related facilities which leaves Abarkooh out of the main staying points in Iran.
Geography of Abarkooh
The average annual precipitation in Abarkooh is 75.3 mm and the average annual temperature is 16.7°C.
Here are different ways to access this beautiful city:
Abarkouh is located 150 km from Yazd, on Yazd to Shiraz route. This beautiful city is located among the three tourist cities of Shiraz, Esfahan, and Yazd. Therefore, it is a perfect place for short stays in multi-day tourist trips. Abarkouh is 740 kilometers away from Tehran and it takes about 8 hours to travel by car. It is possible to travel to this city by personnel car or passenger bus from Tehran terminals.
Abarkouh has no airport, but you can travel to Yazd by airplane and then reach there by taxi at the airport.
Abarkouh has no railway station. However, you can travel to Yazd by train and go there by taxi or bus at the railway station.
Population & Economy of Abarkooh
This city is just above 51000 people and grows in population as more people migrate from the villages to the cities.
The economy of Abarkooh is based on agriculture and animal husbandry. The city has suffered a drought in recent years and it has affected the agriculture of the city. Abarkooh Iron and Steel Industry is a major and large industry in the city.
History of Abarkouh
Up to the 10th century, This city was a major city in Kerman province. Then, it was attached to Fars province. Around that time and according to various historical sources, during the reign of the Abbasids or the Buyids, Abarkouh was quite prosperous and populous. The reason is the location of the town on the main route of caravans coming from the major cities referred to above.
Back then, this city was strongly walled and fortified with a citadel in it. Local rulers from regional dynasties had seized and taken control of this town several times. However, the town thrived under the Seljuks and continued its financial importance under the Ilkhanids and others.
Safavids showed particular attention to Abarkouh, Biabanak, Yazd, and other towns in central Iran in the 17th century. Afghans' invasion inflicted a lot of damage on the town in the late 18th century. During the Qajars' ascend to power and the last Zand ruler's battle against them, Abarkouh was the object of several military attacks and activities. In the late Qajar period, the town had been led to chaotic and unstable conditions.
Today, as Abarkooh's infrastructure hasn't been upgraded and the town's facilities aren't efficiently increased, it has lost its previous status and downgraded drastically. Having said this, at least a stop through this town is highly recommended to see how life is going on there and what monuments are still standing and attracting travelers from inside and outside Iran to Abarkouh.
Abarkooh Historical Attractions inside the City
Here's a list of these interesting places:
Gonbad-e Ali
This tomb tower is the oldest structure remained in the town since the 11th century, the Dailamite period. It's one of the earliest tomb towers in Iran and is located on top of a hill just on the outskirt of the town.
Abarkouh Friday Mosque
This is the mosque built in 14th century under the rule of the Ilkhanid dynasty although certain sections of this mosque could suggest an earlier time of construction like the Seljuk period. It has been largely restored and covered with mud and straw on the exterior.
Aqa Zadeh House
This house has been built during the time of Qajars based on the ecological condition of Abarkooh with one of the most handsome wind towers in Iran constructed on top of its roof rising some 18 meters in two stories.
Ancient Cypress Tree
Several historians have mentioned this tree in their notes. It's still a living thing being protected by the city hall of Abarkouh. According to a Russian professor, it dates back to 4500 years ago.
Tomb of Seyedun Ali Naqia
This monument has remained from the 12th-14th centuries. The architects decorated inside of this monument with arabesque and geometric designs. It dates back to the Seljuk period, a brilliant period of architecture in Iran.
Biroon Mosque of Abarkouh
The mosque consists of two eyvans, a vault, and a Shabestan with a central courtyard. As this mosque is located outside the city walls, it is famous for Biroun Mosque, which means the Outside Mosque in Persian. The monument belongs to the Timurid era, the 15th century.
Imamzadeh Ahmad of Abarkouh
This tomb or shrine belongs to a mystic and scholar famous for Pir Ahmad. The construction of this monument dates back to four or five centuries ago. However, the architects have repaired over time.
Aqazadeh Icehouse of Abarkooh
This monument is located in the first square to the entrance of the city from the west. In the past, people used that as a storage structure for ice in the wintertime. It is high and has a conical form. In addition to Aqazadeh, Abarkooh has three other icehouses, known as Barzan, Hak, and Maryam Abad. Icehouses are the oldest Iranian solutions to deal with dehydration, heat, and droughts.
Barzan Icehouse
This monument is located alongside the communication road of Maryam Abad village. Its plan is circular and conical shaped. The height of the building is about 20 meters. The floor of the building is deeper than the outer surface.
Solat House (Museum of Anthropology)
This mansion dates back to the Qajar period. It is a national heritage of Iran. The area of the house is about 1000 m2. It has a central courtyard style. Currently, the house is used as the Museum of Anthropology.
Gonbad-e Ali
This monument belongs to the Deylamites era. It is also located above the natural cliffs of Yazd-Abarkooh Road. All of the building is made of natural rocks of mountains and Sarooj mortar. This building is one of the safest monuments of the Seljuk period in Iran.
Seyyed Ali Aqa House
This mansion is located next to the Aqazadeh House and in Darvazeh Meydan Neighbourhood. The physical connection of these two buildings through a sabat is an interesting point of their architecture.
Mousavi House
This building is located in Darvazeh Meydan Neighbourhood and near Seyyed Ali Aqa House and Aqazadeh House. This house has a central courtyard, a sunken courtyard, and a stone howz (pool). In addition, there are enclosures and rooms in three corners of the courtyard.
Historic Attractions outside the City
Here's a list of the historic attractions that you can find outside this city:
Hajikhan Castle of Esfandabad
Along with several other castles, Hajikhan Castle of Esfandabad is located 36 km from Abarkooh. The famous castles close to this city date back mainly to different periods of the Sassanid, Zandieh, Afsharid, and Qajar eras.
Robat Castle of Abarkouh
This castle is located on the western border of Abarkouh and belongs to the Safavid period. Robat Castle was once a residential building. There are cross, square, and ellipse-shaped motifs created all around the castle.
Firoozabad and Qal'eh Noe Castle
This monument is a residential castle near Abarkouh. Iranians built this castle to provide security against different dangers such as the intruder and thief attacks. There is also a wall created on the side of the castle. This part is famous for "New Castle" or Qal'eh Noe.
Sardab-e Firouzabad
This monument with a conical-shaped dome dates back to the Qajar era. The plan of this cellar (Sardab in Persian) is cross-shaped. The dome is located at the intersection of two villages. There are four eyvans on the four corners of the building.
Minarets of Nezamiyeh Mosque (Sardar-e Nezamiyeh)
A dignitary of the 14th century constructed these high minarets in Abarkouh. The minarets are decorated with turquoise-colored tiles.
Rock Moats
The historical context of this city is located on a conglomerate rock. This rock layer has a height of 1 meter to 6 meters, creating a natural moat around the city. Moat is a kind of ditch for ensuring security against enemies. People built the moats around the city to prevent enemies from entering the city.
Abarkouh Natural Attractions
Here's a list of them:
Faraqeh Village of Abarkooh
Over 60% of the production of pistachio in Abarkooh is in this village. Faraqeh is a summer highland pasture and has a temperate climate.
Shahrasb Village (Shahr Azar Village)
In the past, this village has been the center of the Khans' government. It was also one of the horse breeding centers in Iran. There are many architectural monuments in this village, such as Shahrasb Castle from the Safavid period.
Eysh-e A'la and Kafeh-ye Taqestan Areas
Eysh-e A'la and Kafeh-ye Taqestan have an area of 152,000 hectares and a desert climate. They are of dry weather. However, different species of animals and birds live in these areas.
A'la Protected Area
This area has ups and downs such as mountains, flatlands, plains, and so on. There are a variety of ornamental and medicinal plants in this area.
Map of Abarkouh