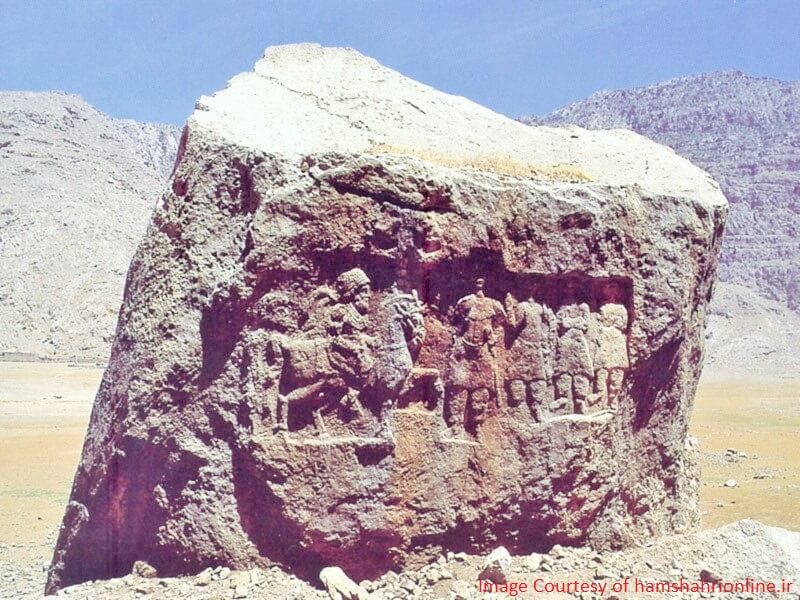 Khung-e Azdar rock relief, which is also known as Khung-e Nowruzi, is one of the ancient works of Khuzestan. It is carved as an ancient relief on a piece of rock. These embossed rock reliefs are attributed to the Elamite and Parthian periods. These historical relics are located in Khuzestan province and 15 km from Izeh city.
Izeh is a mountainous city with a height of 764 meters above sea level. It is located at a distance of 160 km to the southeast of Shush city. The climate of this region is mild and mountainous. The old name of Izeh was "Mal Amir".
In June 1935, the Iranian House of Culture (Farhangestan) revived its old name to Izeh (Izej). In the past, this area was considered one of the important centers of ancient civilization and it existed in the Sassanid period. In recent years, as a result of archaeologists' excavations, many historical works such as inscriptions, temples, and statues have been found in this city and it has become famous for this reason.
Specifications of Khung-e Azdar Rock Relief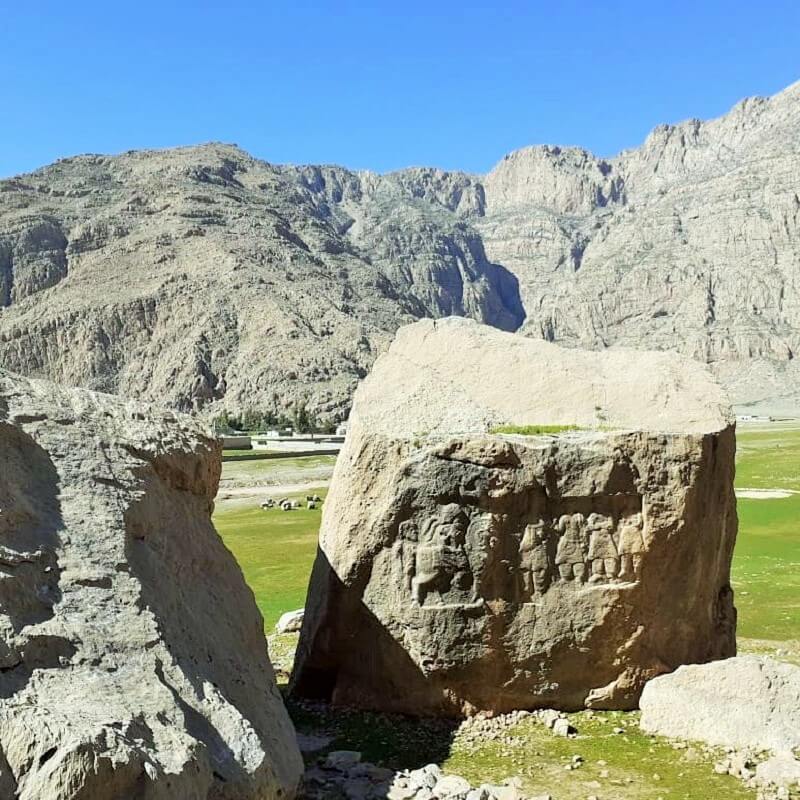 There are a large number of prominent motifs of the Elamite period in Izeh city. The first petroglyph in this area was recognized by Mr. "Stein" in the "Qalaetol" gorge. In this relic, two people are standing in front of each other. Behind each of them, two other people are seen who are shorter compared to them. These images are embossed too, but they are not distinguishable well and not well-preserved.
About 20 kilometers away, the plain of Izeh or Izej is located. This plain is six kilometers wide and ten kilometers long. It is located by the mountains surrounding it. On the eastern side, there are numerous valleys among these mountains. The most important of these valleys is "Kul Fara" or "Kul Pharaoh". In this place, at least five reliefs from the New Elamite period can be seen on the hillside.
A few kilometers northwest of "Kul Fara" in the village of "Hung-e Nowruzi" there is a large and separate stone slab on which the king, who is probably Shapur I, is standing and carved from the front. On the right side of the king, there are three courtiers and on his left is a horse rider. Behind him, there are traces of someone else's figure, and above him is a flying winged creature. This large stone slab is called Khung-e Azdar rock relief. It was discovered in 1961 by the efforts of a Belgian archaeologist named Louis Wandesberg.
Do not Miss Visiting This Ancient Work
If you happen to pass through Khuzestan province due to Iran tours, visit Izeh city and visit its various petroglyphs, especially the Khung-e Azdar rock relief, which is located in Izeh or Izej plain.
You can see the ancient works of the past carved on the rocks. Among other inscriptions, this historical work is well preserved.