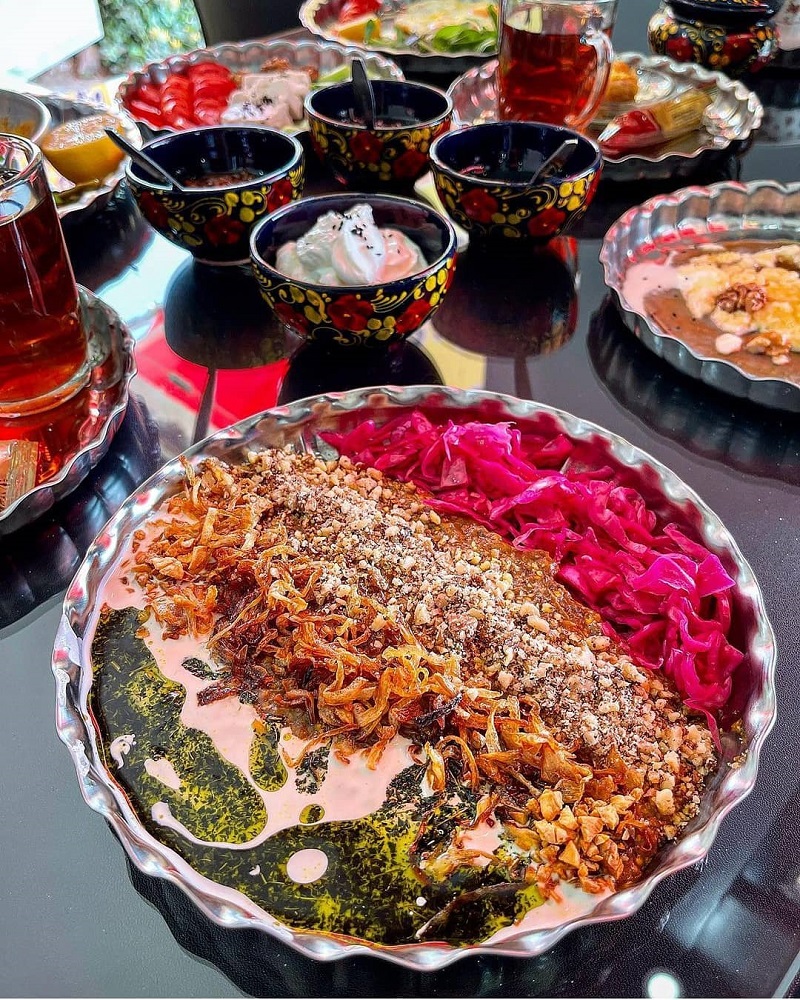 As you can choose from among three plans of bed & breakfast, half board, and full board, it's vital to learn about the differences between these plans. We've covered the bed and breakfast plan for Iran tours packages. Now, we will focus on the second possible option you will be given when choosing a tour plan: a half board plan!
It is principally similar to a bed and breakfast plan, but includes one more meal: lunch OR dinner. In other words, there will be accommodation, local transfers and transportation services, guidance, entrance fees, visa application support, etc all provided to you.
Hotels generally provide breakfast included as part of their services. In addition, you will have one more meal during the day. In other words, you will no seek a place to dine in. Instead, the local Iranian tour operators will take you to a reliable place for having your meal and saving your time.
Half Board Plans in Iran Tours
Imagine you are at the planning stage for your next tour to Iran. You have your own considerations. Therefore, you decide to order a private tour to Iran. Unlike group travel, when you ask for a tour of your own, you will have more control over your traveling experience. In both cases, half board plans could be implemented. Here we explain how this may happen.
• In Group Tours
The tour operators who have been planning the operation of your tour, because of various factors, have come to the conclusion that it's better to choose a half board plan for your trip. So, you will have one meal with the rest of the group members.
Generally, the reason for doing so is the effort to save time for travelers. The time you need to look around and explore the towns, neighborhoods, etc to find a proper place to eat, could be stressful and not always rewarding. Such a time will often be longer too.
• In Private Tours
As a matter of fact, Iranians are warm people who are quite helpful and hospitable. In private tours, you soon build a relationship with your guide and driver. They care for your health and show you to safe places that offer rich varieties of Iranian dishes. In private tours, if you let them take you to the best place they know in the cities, among attractions you go for sightseeing, you will be happy with your decision.
When your tour package is on a half board plan, you will see that the choice of restaurants will match your budget too. This will be part of the responsibility of your professional tour guide to choose which place to dine in so that you prevent unwanted higher bills. Of course, meals aren't expensive in Iran at all.
How a Half Board Plan Could Be a Smart Decision?
As a matter of fact, it will be up to you and your preferences. Under various circumstances, your choice of such a plan could be very beneficial to you. Here are the two major travel tips that will help you choose this plan and take the benefits:
Tip No.1: It's a Good Plan If You Want to See More!
It's time-consuming for a touring experience to stop and walk around in a completely unknown country in the middle of the day to look for a proper place to have lunch. Imagine the hazards of ending up in an unclean restaurant. The variety of food matters too. The specialty of each city matters too.
Therefore, if you want to make the most of your time and see more of your destinations, choose half board plans. Having done so, your guide will take care of the choice of restaurant, and you spend reasonable time eating lunch and proceed with your sightseeing.
A different approach is to decide to have some light meal in the middle of the days and eat dinner in a restaurant with your guide and others. This will help you try another experience: picnic, which is a big deal in Iran. People are very good at arranging for such an experience. You can stop in a nice place on the way and eat something you've already got in your vehicle.
Tip No.2: It's a Good Plan If You Want to Walk around in the Evenings!
Iranian tour guides are always happy to help you with their advice on the restaurants. They can offer you some addresses for dining out. You can find them on the map and go on your own. It's, of course, better not to choose far places that take a lot of your time. Having a good night's sleep is vital too.
However, there could be days when you sit in the vehicle for a long time. At the end of the day, you will need to stroll a bit, see local people's lives and eat dinner afterward. In such cases, it will be very useful to go for a half-board plan and let your muscles stretch a little while helping with your digestion and waking up your appetite for dinner.
Why Eating Matters Anyway?
You may wonder why we talk so much about eating. The fact is the variety of foodstuff in Iran. As Iranian dishes aren't too spicy, too fat, etc, they are appealing to almost every nationality. In addition, the experience of tasting the food of a travel destination makes one of the unforgettable moments of your traveling time.
A full board plan deprives you of the possibility of choosing walking alone in the streets of Iran, choosing where to eat and chatting with local people. The last point is probably one of the sweetest experiences you may have as you will feel more than welcome.