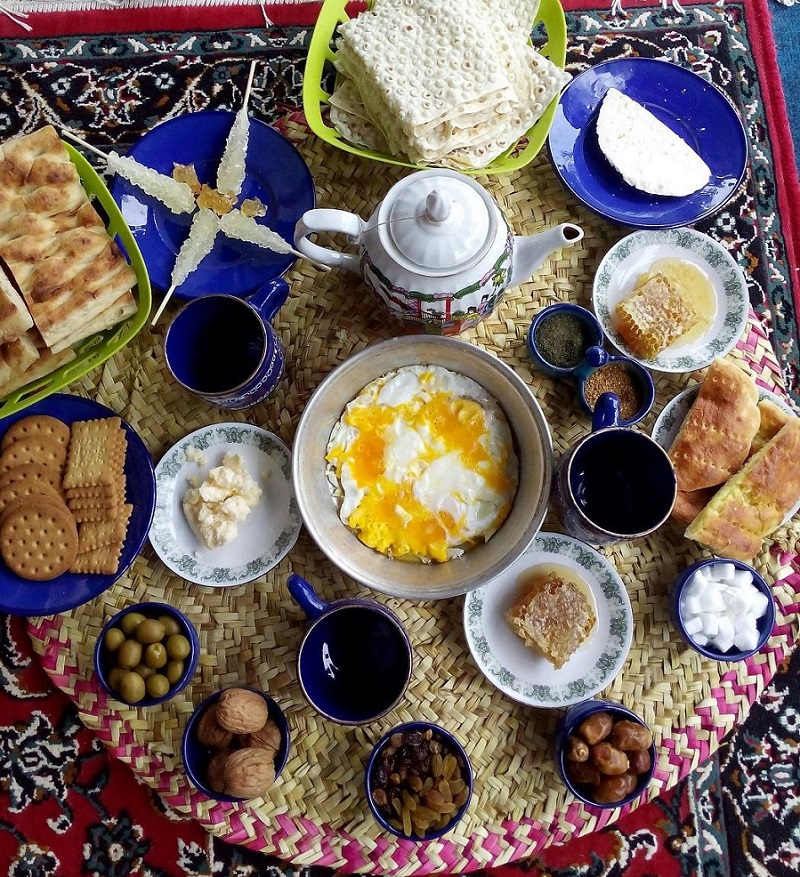 When you order an Iran tour package, there could be three plans to choose from: bed and breakfast plan, half board plan, and full board plan. You will read about the first plan, which is the most popular one among those who purchase private tours of Iran.
Let's not forget that international transportation tickets are excluded from all three plans. It's more cost-effective for you to buy your international flight, train, land, etc tickets yourselves.
Bed and Breakfast Plan in Iran Tours
It doesn't merely refer to the accommodation. It has a lot to tell you about the tour package you order. Iranian tour operators offer this plan to the individuals who order a private tour. Such a plan excludes lunch and dinner. Breakfast, as the name implies, is included with the accommodation.
Travelers can be more flexible about their meals. They can choose to have or skip their meals. They can have different forms of a meal: snack, picnic, local home, etc.
The majority of Iranian hotels (from 3 star to 5 star hotels) include breakfast in the list of services of their accommodation. Hotel apartments are different as you will have a kitchen or kitchenette to make your own breakfast. So, it's not something you decide to eliminate from your tour package service list.
What Does Bed and Breakfast Tours Include?
Maybe some tour operators of Iran add more services to their list, but a bed and breakfast plan generally includes the following:
Accommodation with breakfast
All entrance fees
Guided tour of all specified sights and museums
Domestic flights (if any)
Qualified tour guides
Bottled water during the tour
All transportation in private A.C vehicle
All transfers in private A.C vehicle
Other travel agencies may even go further and add the following services to further please and facilitate their clients' journey:
Visa application support
Refreshments such as tea, fruits, nuts, instant coffee, etc
Gratuity for waiters during meals included
Portage at hotels and airports
And so on
Tip No.1: It's a Good Plan If You Don't Eat Much!
Iranian dishes are sometimes huge. If you have a big lunch, particularly if it is a late lunch, chances are you would rather skip the dinner or have a light one or have it at a later time. So, it's better for you to order a bed and breakfast plan in your tour package of Iran.
Tip No.2: It's a Good Plan If You Have Little Time
Obviously, it takes time to go to a restaurant and spend time on the service, payment, etc. If your tour package consists of a bed and breakfast plan, you can have a meal at a faster pace. Then, you can spend more of your time sightseeing, moving to the next attraction, destination, etc.
Tip No.3: It's a Good Plan If You Want to Pay as You Go
Sometimes, your planning for spending during the trip is different from what others' is. This difference could be for various reasons:
You want to spend less on food and buy books, souvenirs, etc.
You want to spend more and buy a variety of different foodstuff, specialty of cities, fruits, etc instead of large single meals.
Whatever reason it is, when you order a bed and breakfast plan, you will have a much control on where to spend and how to spend. As an individual traveler, this gives you more freedom on a guided tour package.
Other Iran Tour Package Services
Iran tours include lots of services. You can add to the list your tour operator offers you. You can ask for more services like the ones below:
CIP in the airports
Local guides in each city
Local guides in each sight and museum
Special permissions to enter particular places
And so on
This list could grow more and more. However, it depends on what you need and how much you want to spend.
The last point which could be quite useful for those who care about cultural experiences: Iranian food culture is a very important part of your trip and it has a lot of varieties in Iran. Therefore, don't sacrifice it to experience more. The food itself is a very attractive part of Iran tours.
To be more familiar with Destination Iran Services, we recommend you to check out this page for more details on Iran Tours Services.