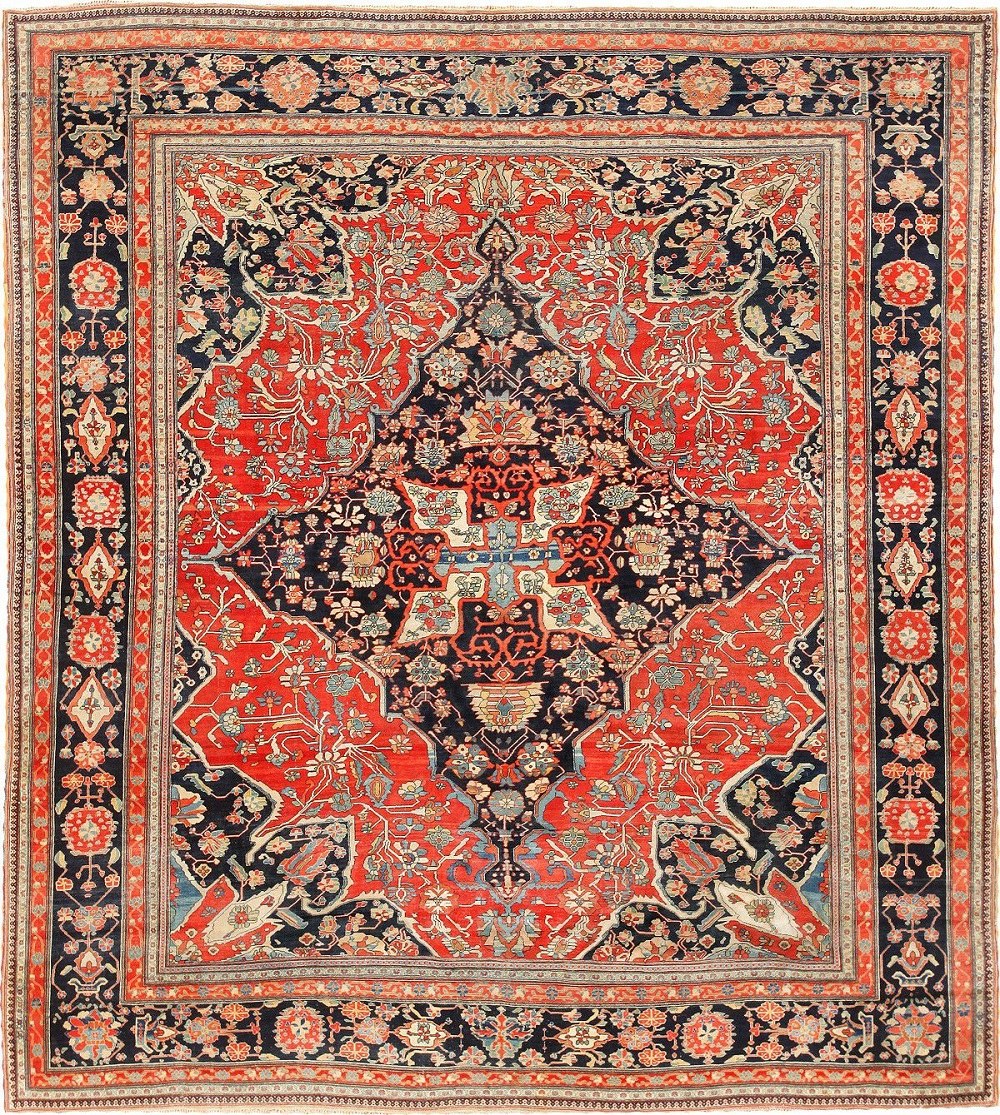 Traditional skills of carpet weaving in Kashan is one of the most fabulous Iranian fine arts. UNESCO has inscribed this skill representing the symbol of "city weaving style and Persian weaving style" as an intangible cultural heritage of Iran in 2010.
From an artistic point of view, the people of Kashan have been famous for carpet weaving, Qelyabkeshi (dissolving silk resin) and silk weaving. These expressions are originally from Kashan although they are known all over the world today. Foreign art lovers and handicraft enthusiasts are mesmerized by natural dyeing, special and breathtaking Persian weaving texture and unique design of the carpet presented in different sizes.
Sialk Historical Mound, the Origin of Traditional Skills of Carpet Weaving in Kashan
The historical monuments of this region have revealed that Sialk mounds date back to Hammurabi era. First, people living in the region were known as Kaso or Kasho, which were later changed to Kasyan and Kashan. Some historians believe that Harun al-Rashid's wife, Zubaidah bint Ja'afar ibn-e Mansur ordered to build Kashan which is now famous for its traditional skills of carpet weaving.
Kashan, from the Viewpoint of the Tourists
The great world travelers of all time who have traveled to this region have noticed that Kashan had been the center for the production of precious fabrics and cloth. Sir John Chardin and Anthony Shirley stated the inhabitant of Kashan weave some specific fabrics and cloth including plain silk fabrics, damask silk fabrics, or silk mixed with gold and silver.
In 1600, Cartwright praised carpet and rug weaving in Kashan and called this region the trading place for such goods. Writings and books in the 17th and 18th centuries showed that the traditional skills of carpet weaving in Kashan had been specialized for royal carpet initially ordered by Shah Abbas. The oldest Kashan carpets remained till today date back to the 17th century. It's kept in Carpet Museum of Iran.
Persian Carpets in Museums All Over the World
In fact, one can say this intangible cultural heritage of Iran is the related to the arts and skills of producing textiles, braid, taffeta, velvet making and atlas fabric making that have gained the reputation as "Hormozi materials" all over the world for many years.
Today, some examples of "hunting-design carpet" are available at the Carpet Museum of Iran and the Metropolitan Museum of America. Nevertheless, there is no exact information whether these carpets were woven in Kashan, Isfahan or Tabriz.
Some researchers have reached the conclusion that a number of old Polish carpets are also woven in this region. The well-known carpet of Sheikh Safi Mausoleum has been a master of Kashan carpet weaving. This carpet known as Ardebil Carpet is now kept at the Victoria and Albert Museum. Also "Shah Abbasi carpet" embellished by coarse Shah Abbasi flowers is produced in this period.
The Skill of Interweaving Warp and Weft for "Persian Weaving"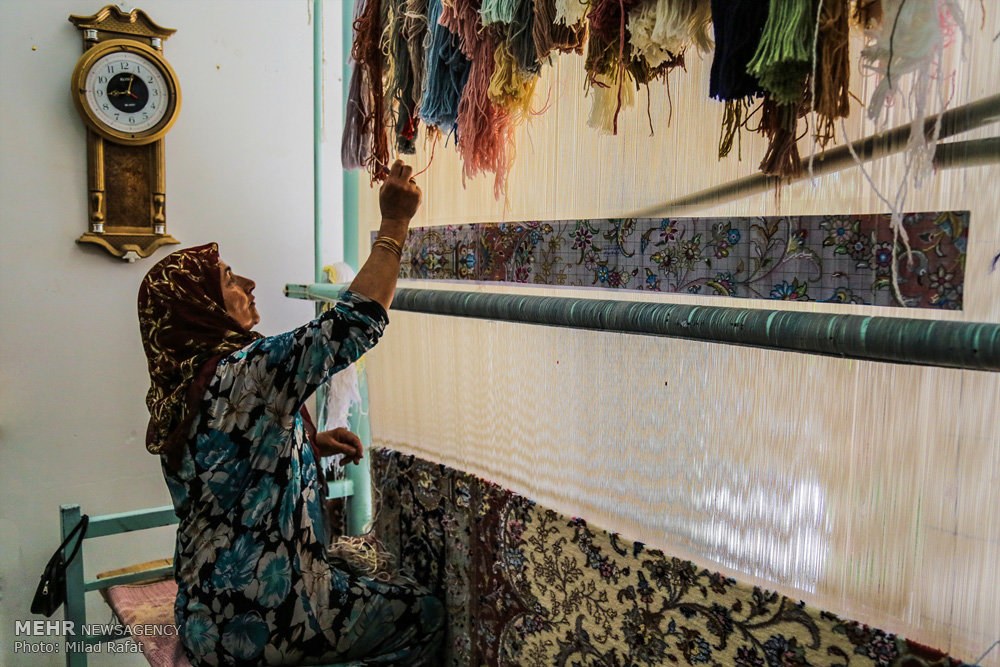 Carpet weavers generally make the warp and weft of Kashan carpet out of cotton, and silk is only used in very fine and delicate carpets. They use particular Kashan yarns called "urban" and "Esfahani" cotton threads for under-weft which is thicker than on-weft. At the first sight, one can notice the delicate and short wool and the velvety texture of Merino wool in the design of the carpet. In addition to Australian Merino wool, Kashan carpet weavers also use Khorasan, Kermanshah, Azerbaijan and Tehran wool threads.
Before weaving starts, the designers prepare some patterns comprising branches, flowers, leaves, animal hunting grounds and historical battle scenes. Then, the weavers start creating the Persian carpets using dyed yarn and silk. Persian weaving style, also known as the "asymmetric knot", is a knot which has a distinct twist. One can see its equal knots on the back of the carpet.
Features of Kashan Carpet:
The traditional skill of Kashan carpet weaving is divided into two types of nomadic and urban carpets. Nomadic carpets can be found in Meymeh and Jushqan. The followings are some specific features of this intangible Iranian cultural heritage:
Lower Raj, 30 to 45 knots in 7 linear centimeters,
Dark red background with navy blue margin,
Rhombus-shaped medallion inclined to oval shape,
Arabesque patterns on corner pieces, medallion, and margins.
Dyeing Skill Illustrated in Kashan Carpet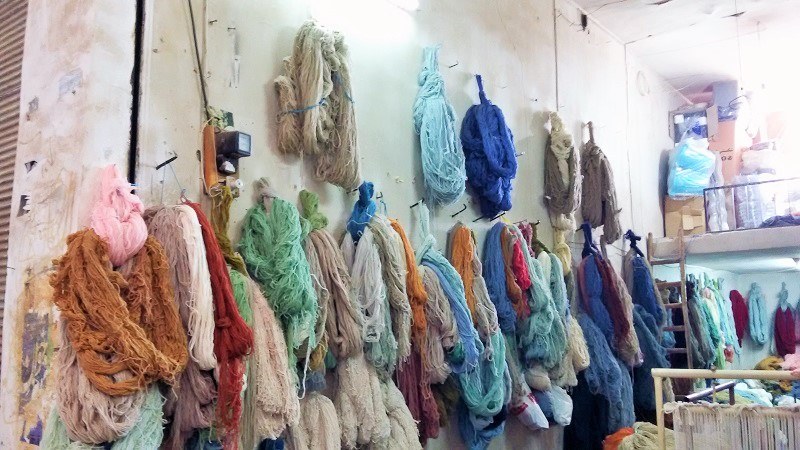 Dyeing skills are directly related to the traditional skills of carpet weaving in Kashan and have a long history like the textile industry. Kashan dyeing industry uses natural, traditional and indigenous plant colors to dye the warp and weft. The experts at this field extract colors from madder roots, pomegranate and walnut skins, grape leaves. This style of dyeing still has retained its original features.
Visiting Carpet Galleries and Stores
Visiting a world of design, color, dyeing and carpet weaving workshops in Kashan, and reflecting on this intangible Iranian cultural heritage, is a journey to the past. Thinking about this Iranian art provides an unrepeatable experience. If you get an opportunity to visit a museum, exhibition or carpet store, do not miss this exceptional opportunity, because you will have a long sweet memory in your mind. The traditional skills of carpet weaving in Kashan astomish all who watch them.
For more articles on Iranian culture inscribed in UNESCO, go to: