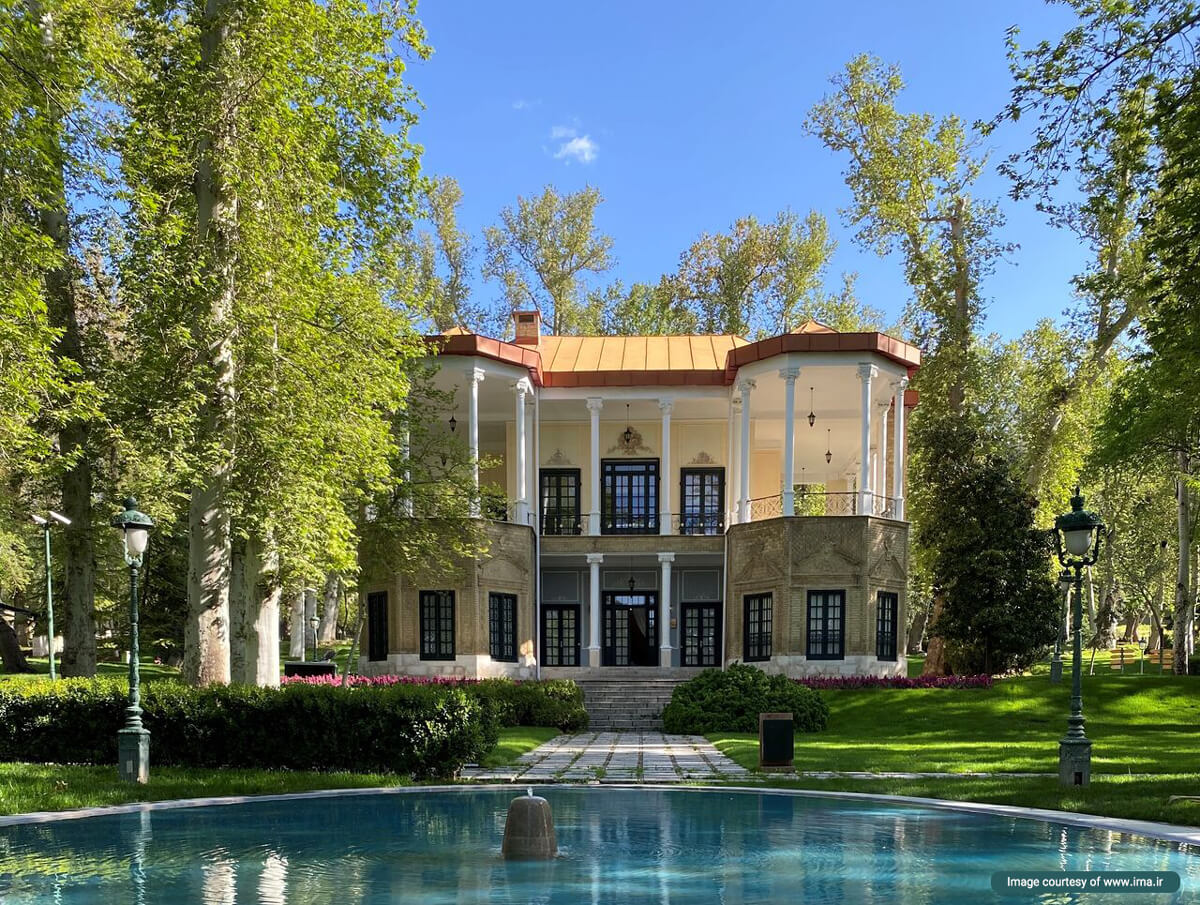 Niavaran palace compound is one the two such places at the southern foothills of Alborz mountains located at North Tehran. The other one is Sa'ad Abad palace compound. Both of them were built at a time when the city of Tehran was not so extended to all the way to its northern part, in 19th century. Naser al-Din Shah of Qajar dynasty first constructed his summer resort at northern part of the city.
If you make a trip to Iran and spend some days in Tehran, it's certainly worth visiting Niavaran palaces. They are situated inside a garden area by the name of Niavaran. Let's learn more about the palaces within this compound:
1. Sahebqaranieh Palace
This is the oldest palace in the compound built at the time of Naser al-Din Shah. He also constructed 40-50 buildings for his wives at the same compound. Later, Mozaffar al-DinShah, his son, stayed there and made some changes to this building and demolished the harem buildings.
Under 2nd Pahlavy dynasty, this palace went through some more changes and the lower floor was redecorated as a floor for receiving guests and the second floor as Mohammad Reza Shah's office.
2. Niavaran Private Palace
This palace, compered to Sahebqaranieh, looks modern although it started with an Iranian plan. It was originally planned to be a reception hall for royal family's guests and VIPs, but during the construction the use of the building was changed to the residence of Mohammad Reza Shah and his family. It was used until the latest moments of Shah's stay in Iran.
3. Ahmad Shahi Mansion
Originally, this building was constructed during the end of Qajar era to be the sleeping mansion of Ahmad Shah during summer time. Later, under Pahlavies, some annexations and alterations occurred and it was refurbished as the residence and office or Reza Pahlavy, the crown prince.
4. Jahan Nama Museum
By word, the name of this museum implies the museum where the world is presented. Toward the end of Pahlavy dynasty in Iran, late 1970s, this building was to showcase historic objects or artistic works from all over the world. Some exclusive and unique pieces are on display at this museum on the western side of Sahebqaranieh palace.
Some of those items were presented to Pahlavy Royal family and some had been purchased by them. They include ancient items and contemporary ones from inside and outside Iran.
5. Museum of Royal Library
This building is located at the north east of the Niavaran Compound is a secluded and quiet spot close to the residence of Pahlavy family. The structure consists of two floors as well as a basement. It has been built to be used as a private library. Therefore, it is not supposed to have been following library standards.
There is a piano and some audio devices found at this museum indicating it has been used for playing some music as well. There are some arts and old books from Iranian authors and foreign ones altogether making 23,000 volumes of books.
6. Museum of Royal Clothes & Fabrics
This building was intended to be used for receiving royal court's guests. It was built at the northern part of Niavaran palace compound. As royal clothes and fabrics found in the museum were of artistic values, it was decided to allocate this building to a museum of these items.
7. Museum of Royal Family's Vehicles
The building, which accommodates Pahlavy family's vehicles and their children's motorcycles, used to be the parking building for them. Today, after some redecoration and renovation, those vehicles as well as some vehicle models are on display for the visitors who would like to learn more about the lifestyle of Pahlavy family.
8. Inscriptions Garden
This permanent exhibition has been inaugurated to display the copies of 43 rock relieves of Medes, Parthians and Sassanians in various ancient scripts. The copies are on display inside a garden at the eastern side of Niavaran palace compound.