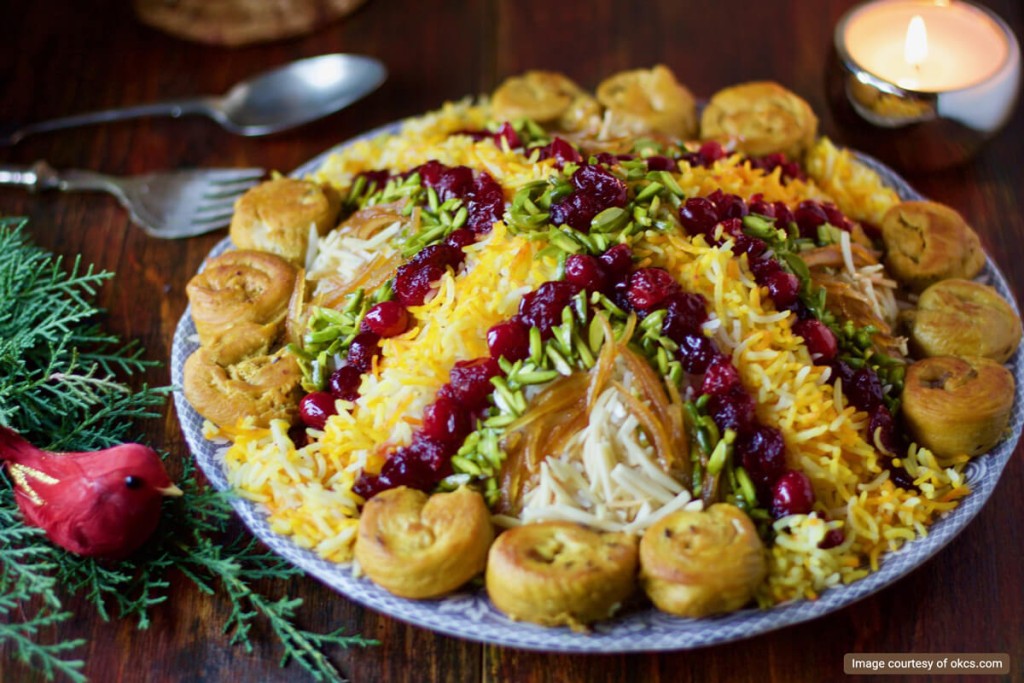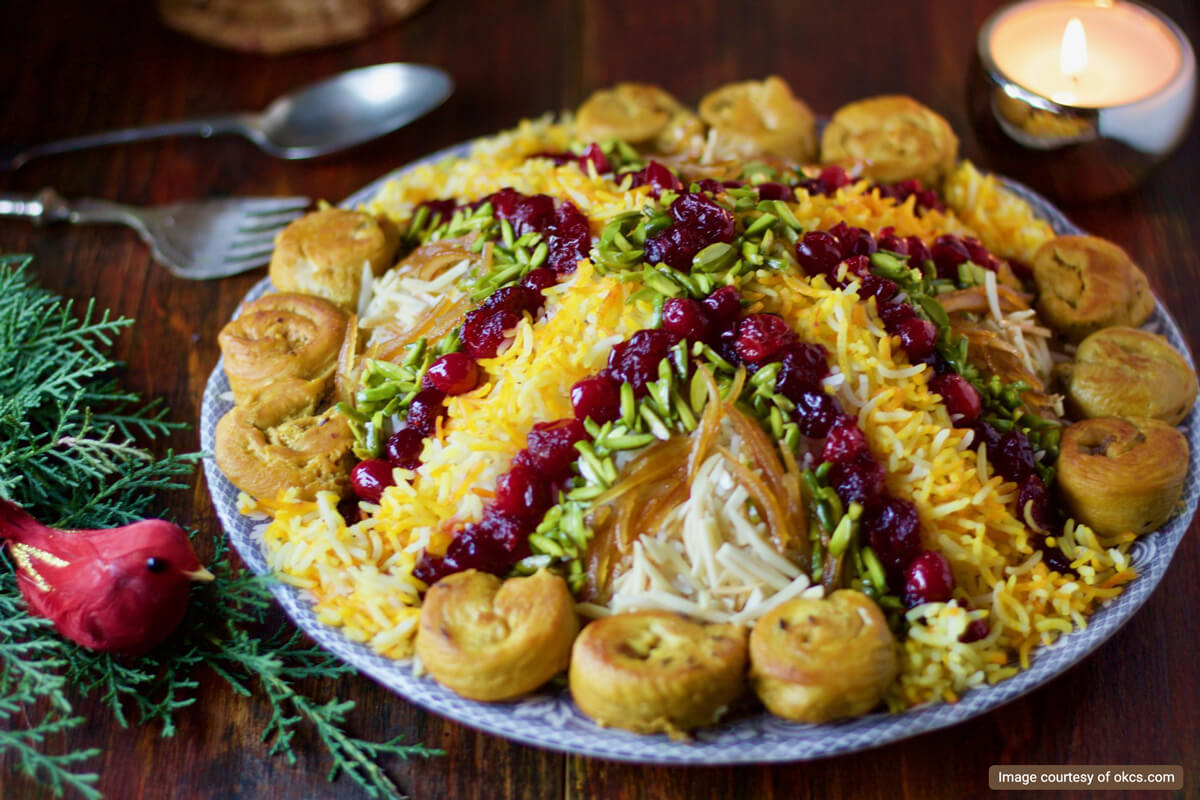 Morassa Polo is one of the best options for serving in formal ceremonies or parties, especially weddings. "Morassa" means "jeweled" and "polo" refers to the cooked rice. In fact, the use of colorful ingredients in this Iranian food is the reason for such naming.
It dates back to the Safavid period when Morassa polo was innovated. At that time, Persian cuisine had considerable progress, and such ceremonial foods came to existence. Shiraz is the origin of this Persian dish but it's cooked and well known enough all over Iran. It's a popular dish even in some foreign countries.
Ingredients to Cook Morassa Polo:
5 cups rice (presoaked for about 2 hours)
800 g. boneless chicken breast (skinless)
2 medium onions, diced
1 cup almond slivers
1 cup pistachio slivers
1 cup raisins (presoaked for about 30 minutes)
1 cup finely slivered orange rind (sweetened and dried)
1 cup dried barberry (presoaked for about 30 minutes)
2 tsp. crushed saffron threads (presoaked with 4-5 small ice cubes)
Cooking oil
Salt, sugar and turmeric powder
Note:
To have sweetened orange rind slivers follow the instruction below (By sweetening I mean preparing the orange rind so that its bitter taste is removed):
Bring a pot of water to a boil. Add the orange slivers. Let it simmer for about 10 minutes. Then change the water and repeat the process once more. Afterward, soak the slivers in cold water for 1 or 2 days (until they don't taste bitter anymore). Meanwhile, change the water 3 or 4 times. Then drain and spread them onto a tray to dry. In this way, you have orange rind slivers sweetened to use for cooking any kind of Persian food.
Directions to Cook This Persian Food:
1. Drain the presoaked rice and add it to a pot of boiling water. Add some salt and simmer until al dente. Then drain it and rinse with cold water.
2. Spread about 1 tablespoon oil at the bottom of a nonstick baking pot. When it starts sizzling over medium heat, add the prepared rice. Cover the pot and after about 5 minutes reduce heat to low (it helps you to make a better tahdig). Let the rice cook gently until fluffy. Meanwhile, you have enough time to prepare other ingredients.
3. Cut the chicken into medium size pieces.
Note:
You can use other parts of a chicken as well for this Persian food. The only point is that you need the cooked chicken boneless.
4. Fry the onion with about 3 tablespoon oil over medium heat until slightly golden. Add some turmeric powder and continue heating for a few more minutes.
5. Add the chicken pieces and stir until they get golden brown. Add about 2-3 cups boiling water, 1 teaspoon of liquid saffron, and salt. Let it simmer until completely tender.
6. Take out the chicken and let it cool down. Then make thin chicken strips using your hand. Set them aside.
7. Fry the almond and pistachio slivers separately over medium heat just for a few minutes. Set them aside.
Note:
To give a better flavor to your Morassa polo, you can presoak the slivers in rosewater with a little bit sugar (to your taste) dissolved in it overnight.
8. In a frying pan, heat some oil. Before it starts sizzling, remove the pan from heat. Add the raisins. Stir as long as the oil is hot and until the raisins get tender. Set them aside.
9. Fry the orange rind slivers with some sugar (to your taste) over medium heat for a few minutes. Set them aside.
10. Fry the dried barberry with some sugar (to your taste) and 1 teaspoon of liquid saffron over medium heat for a few minutes. Set it aside.
Note:
You can substitute oil with butter for preparing all these ingredients if you like the flavor.
11. Check the rice. If ready, it's time for serving the food.
How to serve Morassa Polo
Take about 2 cups of cooked rice. Mix it with the remaining liquid saffron and set it aside for garnishing. Then transfer half of the remaining cooked rice onto a serving platter. Spread the chicken strips evenly on it as the second layer. Cover the chicken with the rest of rice for the third layer.
To garnish, use the prepared saffron rice, almond and pistachio slivers, raisins, slivered orange rind, and barberry. Then spread some oil or melted butter over them. Actually, garnishing is the most important part of serving this Persian food because of an eye-catching appearance produced.
You can serve table vegetables, green salad, and yogurt alongside. The tahdig of your rice as well as the chicken stock can be also served with this Persian food.
Give this food a go. I promise you won't regret, but also you may fall in love with its amazing flavor and look.