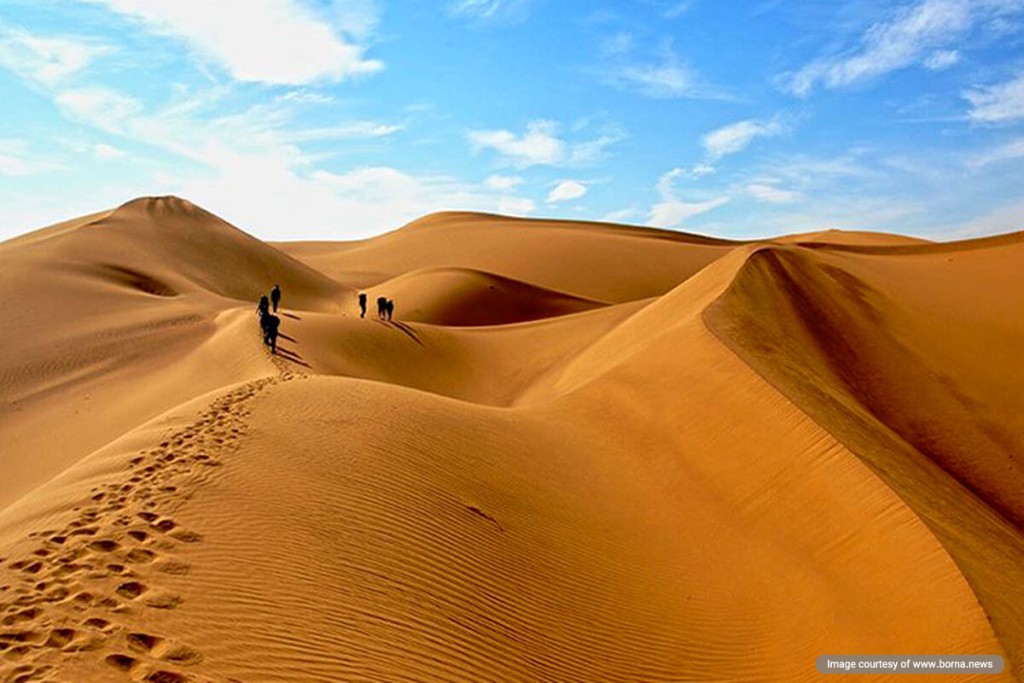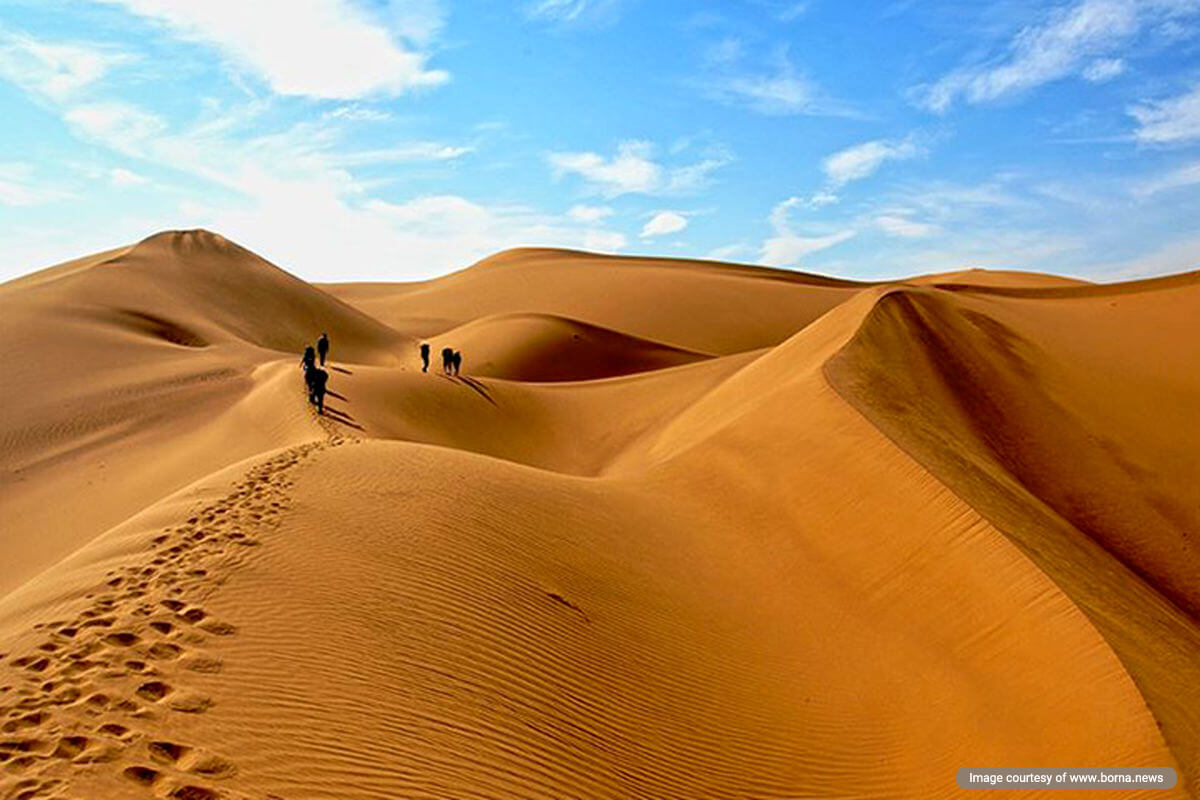 There are some dark tourism sites in Iran that could attract their fans to Iran. Such places create the same type of feeling and enthusiasm in their fans they're looking for. As a reader of Iran tourism news and attractions, I'd never talked about it at Destination Iran. This is the first time I write about them.
What Is Dark Tourism?
By definition, it's tourism that involves traveling to places associated with death, grief, suffering, and tragedy. Some call it "black tourism" or "grief tourism" as well. Such places create bitter and sad feelings in us. When people take tours to such places, they may visit the areas stricken by the quake, flood, war, etc. The visitors learn about human catastrophes, unpleasant situations, etc, and how to cope with them. The inhabitants of such areas gain benefit from the money spent by such tourists.
This type of tourism can be found in different parts of the world:
Dark Tourism Sites in Iran
There's huge potential for dark tourism in Iran. There are museums and sites for this type of tours. Some of them are:
Ebrat Museum: it showcases the torture of political prisoners in Iran before the 1979 Revolution by Shah's intelligence service,
Shohada Museum: it shows the fallen soldiers and martyrs victimized by Iraqi imposed war against Iranians.
War-stricken areas: They witness the destruction resulted by Saddam's invasion to Iran during 80's,
etc.
The list can continue and include the areas suffering from post earthquake, war, flood, etc incidents. However, I'd rather take you directly to the top 6 dark tourism sites in Iran:
#1: Stone Garden of Darvish Khan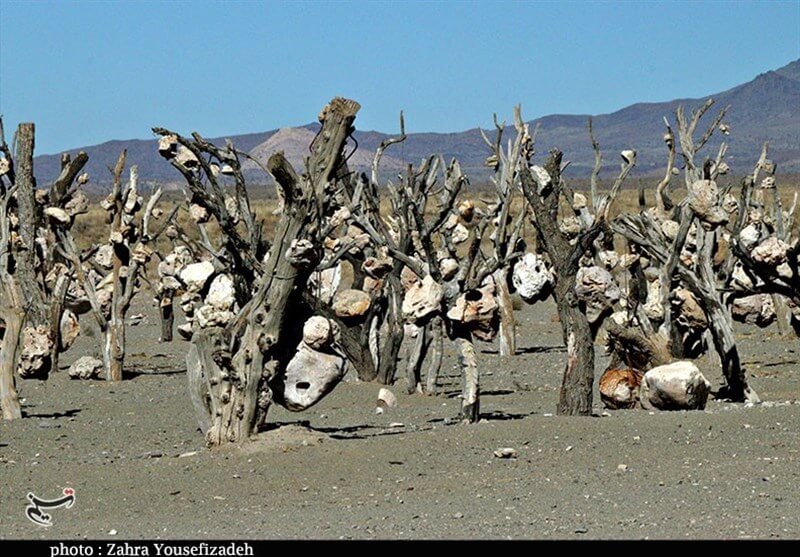 It's also known as the saddest garden of Iran. Darvish Khan suffered from the land reforms in early 1960's, which caused him to lose his garden. As a sign of opposition and resistance, he later decided to move his dried tree trunks to another location, 40 km South East of Sirjan, Kerman Province and hang small and large stones from their branches. Others thought he'd lost his mind. As he was mute and couldn't communicate with others and explain his pain, people spread this rumor more widely. He died at the age of 90 in 2007. His body was buried at the same garden. Some go there these days to visit his garden and take photos of his stone garden.
#2: Earthquake-Stricken City of Bam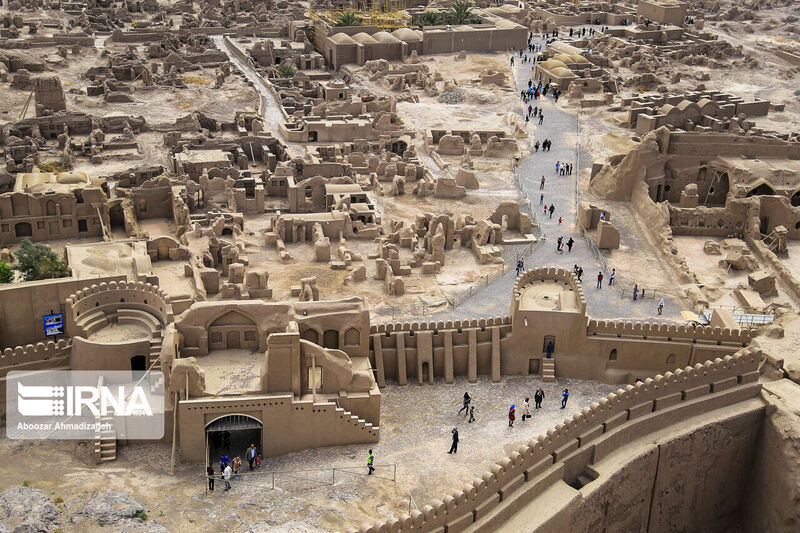 Earthquake is one of the deadliest nightmares human beings could face. Now, if it happens in a city where the world's largest structure made of sun-dried bricks existed for almost 2000 years, the tragedy will be more sorrowful. In Bam, earthquake devastated approximately 90% of the city buildings in 2003. Soon after this disaster, UNESCO registered it at its World Heritage Sites' list among other Iranian UNESCO sites. As a result, a budget was allocated to it for restoration. There are 12 countries working together on behalf of this organization to restore this huge site.
Lots of people lost their homes and their beloved ones. The city structures, mainly made of heavy bearing walls and mud bricks, soon turned into ruins. Humanitarian aids came from all around the world, but nothing could be done to reduce the human pain. This is the sad story of Bam inhabitants, which lingers on till now. The city and its ancient walled town had not returned to its previous state yet. Iranians cannot forget this calamity easily. The enthusiasts of dark tourism sites in Iran can visit Bam and learn more about the consequences of this disastrous incident.
#3: Khalu Hossein Carved Cave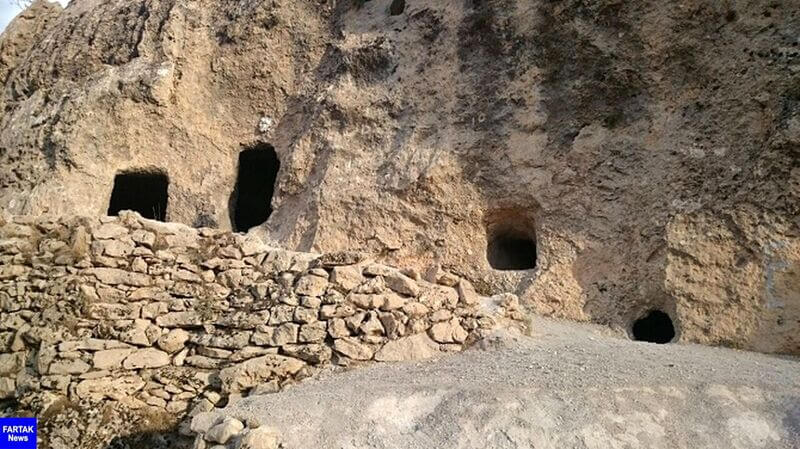 In Paveh area, Kermanshah Province, there's a man called Hossein Kuhkan, know as Khalu Hossein or Farhad the Second (referring to an ancient mythological figure in Persian literature). He is a disabled man, who has lost a leg, but he's very determined and hardworking. He has dug a cave with 7 rooms in 19 years. He's even dug a grave for himself inside this cave.
Early in his life, during Iran-Iraq war, he lost his sons and sons-in law. His whole life turned to be nothing but loss. After the war, he came to a village called Banavareh or "Maygoreh" with a daughter of his. Khalu Hossein started digging the rocks with a spike and shovel to make a place for himself to pray, but later he continued this and despite others' mockery, finished the job of fighting the mountain in 19 years. Today, several Iranians and non-Iranian travelers, go to this area to meet with him.
#4: Qasr Prison of Tehran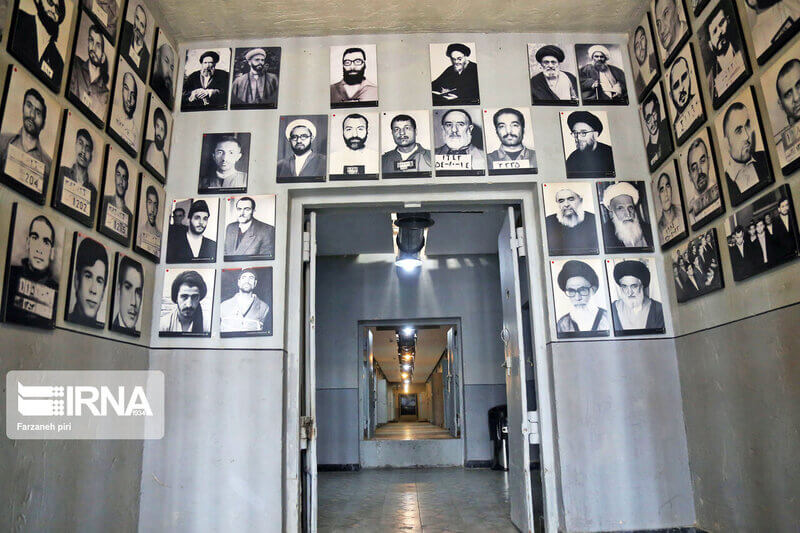 Before the 1979 revolution in Iran, Shah's regime imprisoned more than 10 thousand political prisoners in Qasr Prison. After the revolution, other prisoners were jailed there until 2004 when it was closed. The city authorities began to destroy it, but some opposed the idea and got it registered as National Heritage in Iran. Since 2012, it was turned into a garden museum and there is a plan to convert it into Iran's first prison hotel.
#5: Rig Jenn
Dark tourism sites in Iran aren't limited to historical buildings. There are some natural attractions that are also equally interesting to visit.
Somewhere in Dasht-e Kavir (Northern desert of Iran), there's an area with lots of sand dunes at the South of Semnan, North of Chupanan and West of Jandaq called Rig Jenn. In the old times, as this vast area (3800 square km) has been very far from any source of water, even caravans didn't go through it. It's totally abandoned.
Due to some dominant strong wind in a certain direction, it's very difficult or sometimes impossible to go from the East to the West of this area. Local people believe it's a cursed area and nobody has returned from it. This is because of the existence of the moving sand dunes and salt marshlands dragging things down in it. In other words, the location of this area is moving and unknown.
Only in recent years, some researchers and adventure tourists have gone to Rig Jenn and liked it. Among the young Iranian safari fans with macho style, there's a high level of interest in going to this area although everyone warns them about the consequences of not being prepared to face challenges. Wireless and electronic devices don't work there. Maybe these mysterious features make it more interesting for people to go there and explore one of the dark tourism sites in Iran for themselves.
#6: Khalaj Mount
It's located in a village called Moghan in the south of Mashhad, NE of Iran. Because of its nature, soon after sunset one may hear some sounds that are like the sound of crying or whistling. Therefore, many villagers and the local people have left that village.
Again, the sound heard at this mount has given it a mysterious reputation and local people have made stories about the invisible beings living there. That's why it has become an interesting place to visit for curious travelers.
Conclusion
If you are looking for some dark tourism sites in Iran, it's possible to find some more too. The list isn't limited to what I've introduced here. Actually, an ancient country like Iran has got plenty of such places with mysterious stories.
Note: This post is mainly adapted from an article by Ms. Afsaneh Jafary published in Persian by Miras-e Aria News Agency. I tried to choose and translate more interesting parts for you.
You can also check out some of the top tour packages of Iran here!