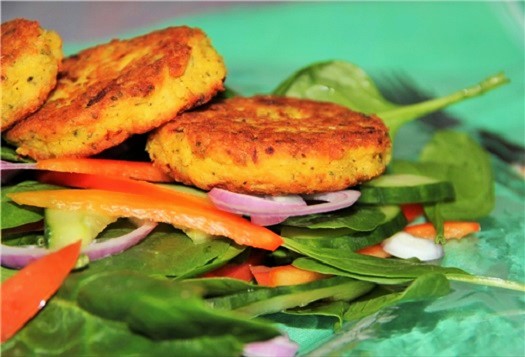 Kookoo Sibzamini is a popular, common, and delicious food usually served for dinner. It can be a great dish for your picnics as well. In Iranian gastronomy, Kookoo refers to any dish with eggs as the basic ingredient. And "sibzamini" is the Persian equivalent of "potato".
The crispy texture of this Iranian food is one of the main reasons for its popularity even among children. Besides, many Iranians like Kookoo Sibzamini because it's very convenient to cook and doesn't take much time to get ready. Here, I'm going to tell you how to cook and serve this food.
Ingredients of Kookoo Sibzamini:
5 medium potatoes, boiled and peeled
1 medium onion, grated and the juice squeezed out
2 garlic cloves, minced (optional)
4 eggs
½ tsp. crushed saffron (optional)
1 tsp. baking powder
1 tsp. turmeric powder
Salt and pepper powder
Vegetable oil
Directions to Cook Kookoo Sibzamini:
1. Grate or mash the potatoes in a bowl.
Notes:
It would be better to refrigerate the boiled potatoes for a while before getting them grated or mashed. Using cold potatoes reduces the risk of falling apart for your kookoo while cooking.
You can also use a combination of two raw potatoes and three boiled ones. If this is the case, you should discard the juice of raw potatoes, too, after getting them grated.
2. Add the prepared onion, garlic, eggs, saffron, baking powder, turmeric powder, and salt and pepper. Mix them well using a fork.
Note:
Onion juice can cause this Persian food to fall apart while cooking. So don't forget to discard the juice.
You can also add some dried, or fresh and minced mint, tarragon, parsley, or basil to the mixture of your Kookoo Sibzamini for seasoning.
Some other ingredients can be added as well, like dried barberry, raw or boiled carrot (grated), or sausages (grated).
3. In a nonstick frying pan, heat up some oil until sizzling over medium high heat.
4. Make small patties out of your mixture, flatten them in a round or oval shape in your hand, and arrange them in the pan. Or, as an alternative method, you can put some spoonfuls of the mixture into the pan and flatten them using the back of a spoon.
5. Reduce heat to medium low and let the pieces fry on one side until golden brown. Then flip them over to cook on the other side.
Note:
At first, you can make just one piece to check the consistency of your mixture. If your Kookoo Sibzamini falls apart while cooking, add one tablespoon flour to your mixture and then continue making more pieces.
Make this Persian food at most about 3 cm thick. Otherwise, it doesn't cook properly in the middle.
6. Have a dish with a paper towel in it next to your work station. Remove the cooked pieces from the pan onto the paper towel to drain extra oil from your food.
How to Serve:
Transfer the pieces onto a serving platter. Serve Kookoo Sibzamini hot or cold with bread. You can use tomato, pickled cucumber, or fresh parsley and basil for garnishing. Tomato and pickled cucumber as well as table vegetables, other kinds of pickles, yogurt, and lemon (to squeeze it and spread the juice on the kookoo) are side dishes served with this food.
Cut a small piece of the kookoo, wrap it in a piece of bread with some tomato, pickled cucumber, table vegetable, and a sprinkle of lemon juice (if you like), and enjoy it. You can also make sandwiches using baguettes.
If you're looking for something simple and quick among Iranian foods, something which almost everyone enjoys even kids, Kookoo Sibzamini can be a good choice.