Esfandabad village is one of the villages of Abarkooh city and the center of Esfandar rural district. Esfandar is a sub-district of Bahman District in Abarkuh. There are several historical castles in this village. Haji Khan Castle of Esfand Abad is a monument that brings notable prestige to this village. This castle is more resilient than other similar structures.
Esfandabad is a 3000-year-old village located on a flat plain. This plain has a mild slope to the east. The region has a hot and dry climate. Due to its equable area and the lack of mountains for protection, it has been necessary to build castles. As a result, different castles have been built, and Haji Khan Castle of Esfand Abad is more resilient and beautiful than the rest.
This castle belonged to Haj Abdul Reza Khan, who was known as Haji Khan (subordinate ruler). It is located near the Nusratabad Kariz (aqueduct system). This building dates back to the Qajar period, but its walls were built on the foundations of an older castle (before the Qajar period).
Features of Haji Khan Castle of Esfand Abad
This building consists of different sections. There is a guard room above the southern wing of the castle. This room was built to protect the castle, and to alert the residents whenever someone approached the castle. There are also four towers on the four sides of the castle.
The castle guard room has several slanted holes or arrow slits. These holes are designed to target the enemy in times of danger. Also, the guard room of this castle was built in such a way that it can be easily seen when someone arrives behind the castle doors.
In addition, there are three main sections in the interior of Haji Khan Castle of Esfand Abad:
Farmers section: Farmers and workers were residing in this section.
Khan Neshin Section: This is where Haji Khan and his family lived.
Cellar: This section was used as the castle prison.
In addition, another part was built away from the main castle, which served as a stable and a pen. This section can pen up to 100 animals.
Haji Khan Castle has high walls and towers. Meanwhile, the walls around the building are shorter than the building itself. The building walls are 10 meters tall while the towers stand at 11.5 meters, and the surrounding walls are 8 meters. Also, the thickness of the walls around the castle is about 250 cm.
The tallest part of the castle is the entrance and the guard room above, which stands at 13 meters with dimensions of about 80×80 square meters. In Qajar architecture, the walls gradually grow thinner at the top compared to their base.
The Khan Neshin section of this castle used to be the most beautiful one, but is now in ruins. This building has been built in Qajar architectural style. It is said that the building had a residential application in contemporary years and the castle building remained intact until 2004. Because of negligence in maintaining this historical castle, Haji Khan castle of Esfandabad is now completely in ruins.
Is Haji Khan Castle a Registered National Heritage Site?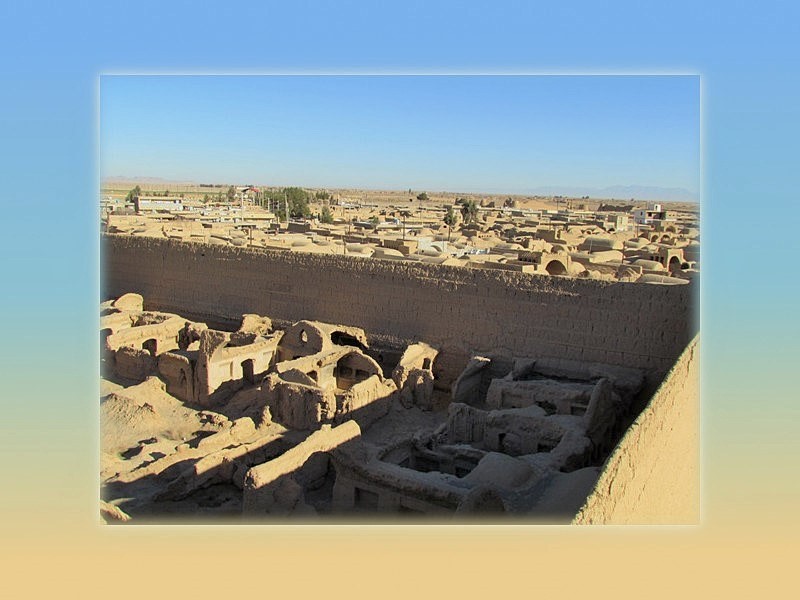 Due to the fact that Haji Khan Castle is located in a rural area, it has not received much attention. Between 2004 and 2018, this castle was used to keep livestock and poultry. Many efforts were made to get Haji Khan Castle listed as a national heritage site, but none were successful.
In 2019 various news agencies reported that the case was finally considered by provincial authorities. As a result, a year later in 2020, Haji Khan Castle of Esfand Abad was listed as one of Iran's national heritage sites.
Visit This Unique Rural Historical Attraction
Although most of Iran's historical monuments and outstanding sites are located in cities, rural monuments should not be forgotten. A village like Esfandabad, which is located in the historical and beautiful city of Abarkuh, is one such example. There are beautiful castles with unique architecture in this village that deserve our attention. Haji Khan Castle is one of these beautiful sites.
If you travel to Abarkuh on an Iran tour package or personally, make sure to visit Esfandabad village. Visiting Haji Khan Castle of Esfand Abad and the vast plain surrounding it will prove to be a savory experience.
Destination Iran recommends you read about the tourist attractions of Abarkouh before traveling to this area. You can learn more about the tourist sites in this region of Iran. You may miss some of the best tourist attractions in Iran without thorough research.
Where is the castle of Haji Khan Esfandabad?
To visit this castle, you must travel to Abarkoh city in Yazd province. You can find this castle 30 km from the center of Abarkooh city.
Frequently Asked Questions About Haji Khan Castle of Esfand Abad
To find answers to your other questions, you can contact us through the comments section of this post. We will answer your questions as soon as possible.
In Which Historical Period Was Haji Khan Castle of Esfand Abad Built?
Haji Khan Castle of Esfand Abad dates back to the Qajar period. It is interesting to know that the walls of Haji Khan's castle were built on the foundations of another castle; An old and ruined castle from before the Qajar period.
What Are the Different Sections in Haji Khan's Castle?
This castle was in residential use until 2004. Haji Khan's castle consists of sections such as the farmers' section, Khan Neshin or Khan's living quarters, stables and pens, etc.