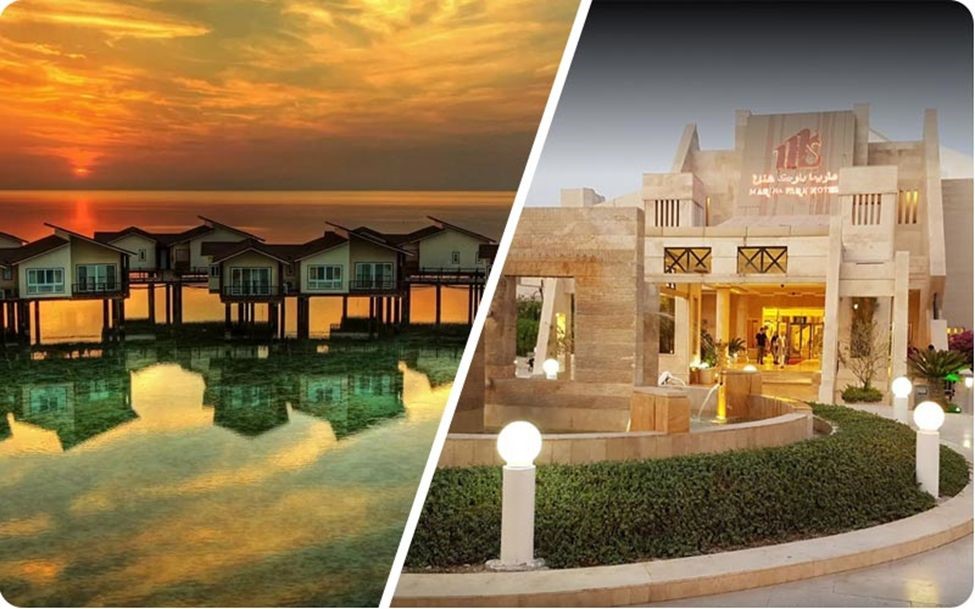 According to "Destination Iran" and following the "Lahzeh Akhar" website, now you can plan a convenient stay for your dream trip to the south of Iran: Book one of the best hotels in Kish Island.
A trip to the golden beaches of Iran is one of the best programs that can be considered for a dream vacation. A wonderful destination in the azure waters of the Persian Gulf that hosts millions of tourists every year.
For the prosperity of the tourism industry in Kish Island, numerous hotels with different qualities and services have been established to meet all tastes and budgets. We want to introduce to you 10 of the best hotels in Kish Island that are suitable for your stay in a concise and practical way, and review their services and facilities.
Continue reading this article to make better decisions about the best hotels in Kish Island and more information about prices, facilities, locations, and any other things you need to know about. LAZEAKHAR.COM has tried to classify the best of them for you. You can get a Kish tour (تور کیش) from this website.
TORANJ Hotel Experience staying in the heart of the Persian Gulf
The 5-star TORANJ Hotel is one of the most diverse choices for accommodation among Kish hotels. A complex that was built in 1394 in the section, one with the design of Jaqeh Bateh on the water and the other in a class, on the coast of the island. All rooms of TORANJ Kish Hotel have a glass vent on the floor and balcony that you can easily enjoy the eye-catching beauty of the Persian Gulf and the golden sunrise and sunset of the island. Among the facilities of this luxury hotel, the following should be mentioned:
Website: toranj-hotel.com
Tell: +98 76 4447 4114
Address: Kish Island – the beginning of Jahan Road – between JASEK Square and HUR Cottage
Marina Park Hotel Kish
Marina Park, a 5-star hotel that was built in 2010. The beautiful grounds with a variety of natural decorative plants as well as very beautiful water features a magnificent view of the hotel. Having a private beach and rooms with sea views along with quality restaurants are among the reasons why Marina Hotel is on the list of the best hotels in Kish. This hotel with its private parking, boats, pleasure boats in a beautiful park with an area of 17 hectares with a pleasant atmosphere and spectacular waterfalls is a good choice for the hard-working.
Website: marinaparkhotel.ir
Tell: +98 76 4446 5000
Address: Kish Island – Eastern tourist strip – next to the Twin Towers
Panoramic Hotel and Luxury Vacation Experience on Kish Island
Panorama Hotel is one of the best hotels in Kish Island, one of the newest and newest hotels in Kish, which has been operating since 2009. 15-storey building with 257 rooms with modern amenities. The living rooms are located from the second to the thirteenth floor, the floors are designed in such a way that they have extremely standard access to provide services. Easy access to various shopping malls and places of interest are popular features of the hotel among tourists.
Website: panoramahotel.ir
Tell: +98 76 4444 4000
Address: Kish – Amir KABIR Square – Sahel Boulevard – the beginning of ROUDAKI Street – Panorama Hotel
DARIUSH Grand Hotel, a collection inspired by Persepolis
DARIUSH 5 star hotel is built in the style of Persepolis and has an area of 12 hectares. The complex includes 184 luxurious rooms and suites facing the sea or the garden, which makes the memory of traveling to the best hotels of Kish unforgettable. Open swimming pool for men and women, free airport transfer, diving equipment, free breakfast, possibility to use tennis courts, billiards hall, beautiful private lake, gym and also visit Dolphin park and bird garden and many more, from The facilities of this hotel are a historical dream.
Website: dariushgrandhotel.com
Tell: +98 76 4444 4900
Address: Kish, DARIUSH Square, DARIUSH Kish Grand Hotel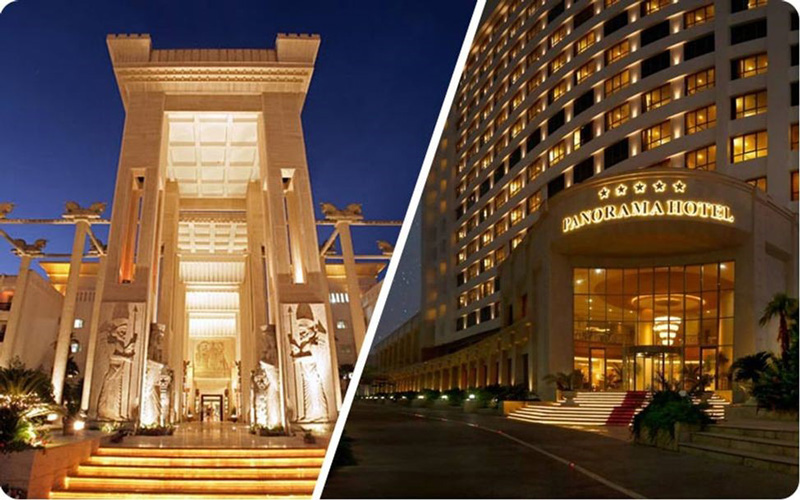 SHAYAN Hotel, one of the oldest and best hotels in Kish Island
SHAYAN Hotel is a hotel with beautiful architecture and five stars in Kish that meets all the expectations of travelers. This hotel was built in 1975 in an area of 55,000 square meters. The hotel has 191 rooms and provides a great atmosphere for families. Take it seriously that SHAYAN Kish Hotel can be considered the best hotel on the island. Reasonably priced rooms with facilities such as proximity to the island's largest recreational pier make it a good stay for travelers. In addition to hotel rooms, you can also book beach units that have a more private setting.
Website: shayan-hotel.ir
Tell: +98 76 4442 0771
Address: Kish Island, Sahel Square, SHAYAN Hotel
Mirage Hotel is one of the best newly established hotels in Kish
Another five-star hotel in Kish that has been opened in recent years (1397) is called Mirage Hotel. Enjoying modern architecture in the design of rooms and buildings is a great advantage for this hotel. The building of this 8-storey hotel has a sea view and is only 800 meters away from the recreational beach of Kish. Mirage Hotel has 178 rooms and is close to the famous shopping malls of the island. The hotel has a separate swimming pool for men and women, which is free for guests to use. There is also a steam room and a dry sauna.
Tell: +98 76 4442 2220
Address: Kish Island, Darya Boulevard
Kish International Hotel is one of the five-star hotels on the island
This beautiful hotel has an area of 16,000 square meters, 14 floors, and 336 rooms and suites. In designing and equipping the rooms of this hotel, all the needs of travelers have been met. Although this place is one of the best hotels in Kish, it has reasonable prices. The hotel restaurant and coffee shop have a full menu of Persian or fast food. The entertainment complex of Kish International Hotel also includes a swimming pool, sauna and Jacuzzi, a children's playroom, and a relaxation room with fragrant scents. There is a hairdresser and beauty salon for hotel guests.
Website: ikishhotel.com
Tell: +98 21 2273 8838
Address: Intersection of Sanai Boulevard and Darya Boulevard, Kish International Hotel

Iran Kish Hotel is suitable for family trips
One of the most attractive and best hotels in Kish Island, which has a tower-shaped and cubic structure, is The Iran Hotel. This five-star hotel was built in 2014 with 128 rooms. If you have booked your room in this hotel, you can use the unique facilities and features of the hotel. For example, you are a short distance from the Pearl Bazaar or the Kish Karting entertainment complex. The distance from the hotel to the sea is one kilometer. Iran Kish Hotel's restaurant has a menu with a variety of Persian, Western, seafood, vegetarian, fast food, and Arabic dishes. In this five-star hotel, you can see the following facilities.
Tell: +98 76 4446 7640
Address: Kish Island, AMIRKABIR Square, Persian Gulf Boulevard
Vida Hotel is one of the luxury hotels in Kish
One of the best hotels in Kish, designed with the highest standards of the tourism industry, is called Vida Hotel. This 5-star Kish hotel has good access to the beach, Sharif University International Campus, and the island's tourist attractions. It is close to the beach for men and women and offers its guests a 50% discount on Dolphin Park. Rooms at this hotel offer views of the sea or the island park.
Website: vidahotel.ir
Tell: +98 76 4442 0073
Address: Kish Island, MOJ Boulevard, five-star Vida Hotel
KOUROSK Hotel is the first environmentally friendly hotel in Iran
This hotel is built on 16 floors and is one of the tallest hotels in Kish. This newly established hotel has 198 rooms and is 1.4 km away from the island's beach. KOUROSH Hotel was built in 1397 as the first green hotel in Iran. Because in most of it, solar energy is used and environmental standards are observed.
Website: hotelkourosh.ir
Tell: +98 21 8586
Address: Kish Island, PARDIS Square