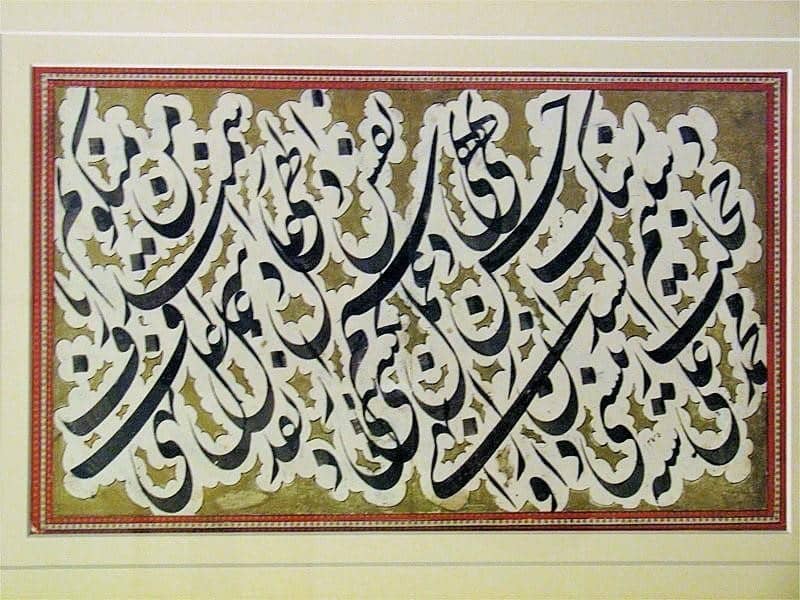 The traditional art of calligraphy in Iran has undergone considerable developments. In fact, calligraphy is one of the most aesthetically attractive manifestations of Iranian culture in post-Islam Iran. The Muslims' holy book, the Qur'an, has consistently emphasized the importance of writing. According to this book, the Eternally Protected Word must be preserved because it tells the fate of all beings from the dawn of creation to the end.
According to Islam, all deeds of humanity are written on the pages of a record that will be referred to after their death. There are also mysterious letters in the Quran. Therefore, calligraphers have always carried divine approval for their art.
Iran has been the center of the evolution of the traditional art of calligraphy. The national trait of Iranian Muslims is to preserve the Quran by practicing calligraphy. For Iranians, calligraphy means manifesting the spiritual aspect of mankind, wherein pristine writing is the yield of a pure heart.
Evolution of The Art of Calligraphy in Iran
Following traditions and customs, Ali Ibn Abi Talib, the first Shia Imam who lived in Kufa, had his own style of writing. In the Islamic era, this art was founded in imitation of his handwriting. This special form of calligraphy is known as Kufic, which is derived from the region where this style originated. This form became very popular throughout the Islamic world.
In less than 400 years, an Iranian dynasty called the Samanids introduced a new form distinct from the Kufic script, which was called Qarmatian. Floral designs, decorative ivy embellishments, and other ornamentations are the markers of this style. This style was inspired by some architectural inscriptions and manuscripts. Of course, it should be noted that this development in calligraphy in Iran and the surrounding areas is owed to the beautiful inscriptions on historic buildings.
So, many buildings in Iran are embellished with different styles of Iranian calligraphy. The different writing styles of Kufic, Thuluth, and Naskh, have been handwritten on inscriptions in very exquisite forms.
In other words, some of the best examples of calligraphy can be seen on pottery, metalwork handicraft, and even on natural silk and velvet clothing. The earliest calligraphy styles were engraved on silver and gold coins as well as on agate seals. These calligraphies were done with a flat Kufic style with floral embellishments.
At the time of the last Ghaznavid kings, their cultural campaign for Iran was reflected in Persian manuscripts in Ghazni with the meter and tone of Ferdowsi's Shahnameh.
Eminent Calligraphers' Role in the Evolution of Iranian Calligraphy
Over the course of several historic periods, master calligraphers have led the evolution of the traditional art of calligraphy in Iran. In the 10th century, a Shirazi master calligrapher founded six distinct styles of Kufic calligraphy.
About 100 years later, teaching regulations, word dimensions, and letter boundaries were defined and the Rayhani script was developed by other Iranian calligraphers. Fard Sevom, who was a master calligrapher, instructed famous learners, one of whom embellished a large number of buildings in Iraq with Iranian calligraphy. This artist illustrated 33 copies of the Quran during the 13th and 14th centuries AD, which are currently on display in museums in Iran and across Europe.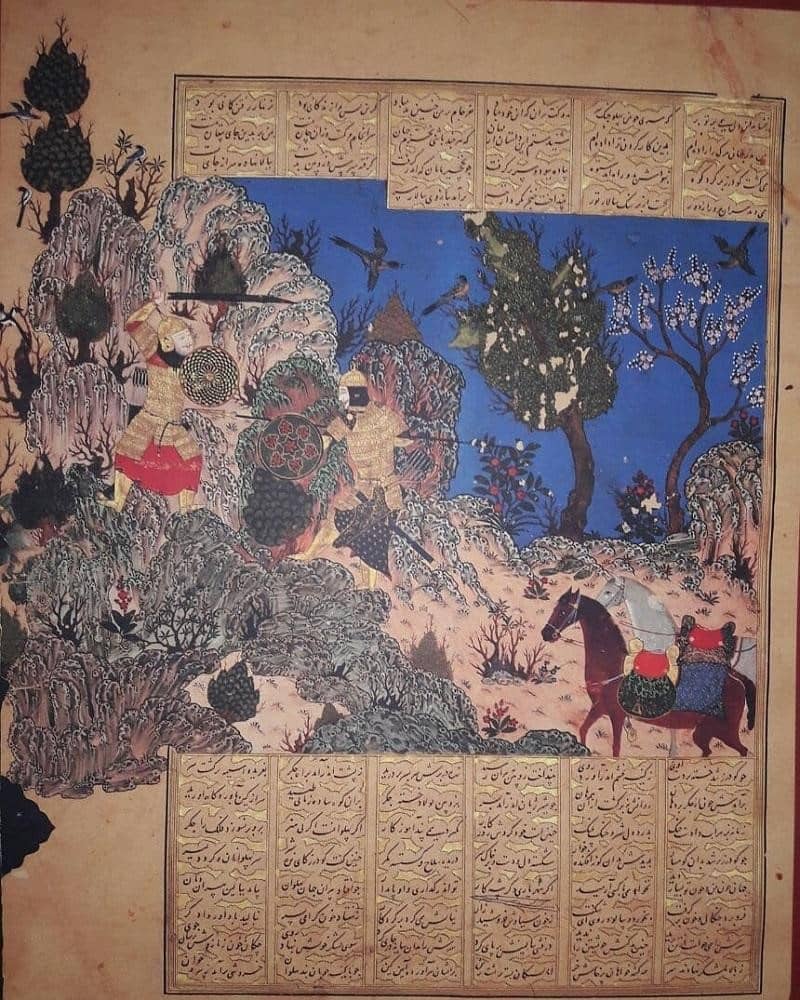 The grandchildren of Timur also promoted this art. One of their most beautiful works is illustrating a Quran measuring 65 x 54 cm with calligraphed gold letters. The Timurid Empire supported Iranian calligraphy in non-religious books such as the Shahnameh. The famous Baysunghur Shahnameh was handwritten in Herat during this period. The Herat royal court also had other calligraphers whose works have remained intact in the form of books or manuscripts.
At the same time, another special style appeared in Iran called Taliq (hanging) script. From this style, the famous Nastaliq script was established by combining Naskh and Taliq scripts. Other calligraphers at the time contested the creator of the Nastaliq script, Mir 'Ali Tabrizi, and even denounced him, but the script persevered and continued to evolve.
It is important to understand that many artists had no choice but to serve the royal court of their time. Some of them have admitted that some Iranian calligraphers have been forced to join the royal court.
Later, in the era of the Timurid empire, many Iranian calligraphers left Herat for Tabriz, Qazvin, and Isfahan. This exodus raised the interest of Safavid kings in the traditional art of calligraphy in Iran. It was during the Safavid era that Mir Emad Qazvini, the most famous Nastaliq master calligrapher, illustrated several works of art. His works include Ferdowsi's Shahnameh and Jami's poems in the form of calligraphic manuscripts.
The Iranian Nastaliq script was well received in Iran and countries such as Turkey and India that were impacted by Iranian culture. Later during the Safavid era, a new derivative form of Nastaliq emerged which was called Shekasteh (cursive). This form rose to great popularity in India. The refined aesthetic and ambiguous features of this form of Nastaliq script are captivating enough to gain the admiration of any viewer.
There are other scripts that are even more embellished. For example, some artists have illustrated religious phrases and similar subjects in the shape of lions, horses, birds, humans, etc.
Stages of Innovation in The Traditional Art of Calligraphy in Iran
In the 16 century AD, a new branch of Iranian calligraphic art appeared, called "Ghattaei" or "paper cutout". Its ultimate type is a combination of calligraphy, gold-blocking golden leaves, border and appendage embellishments. Adding decorations such as miniature paintings, and floral and Arabesque designs to calligraphic scripts such as Naskh and Nastaliq created a new style called Golzar (flower garden).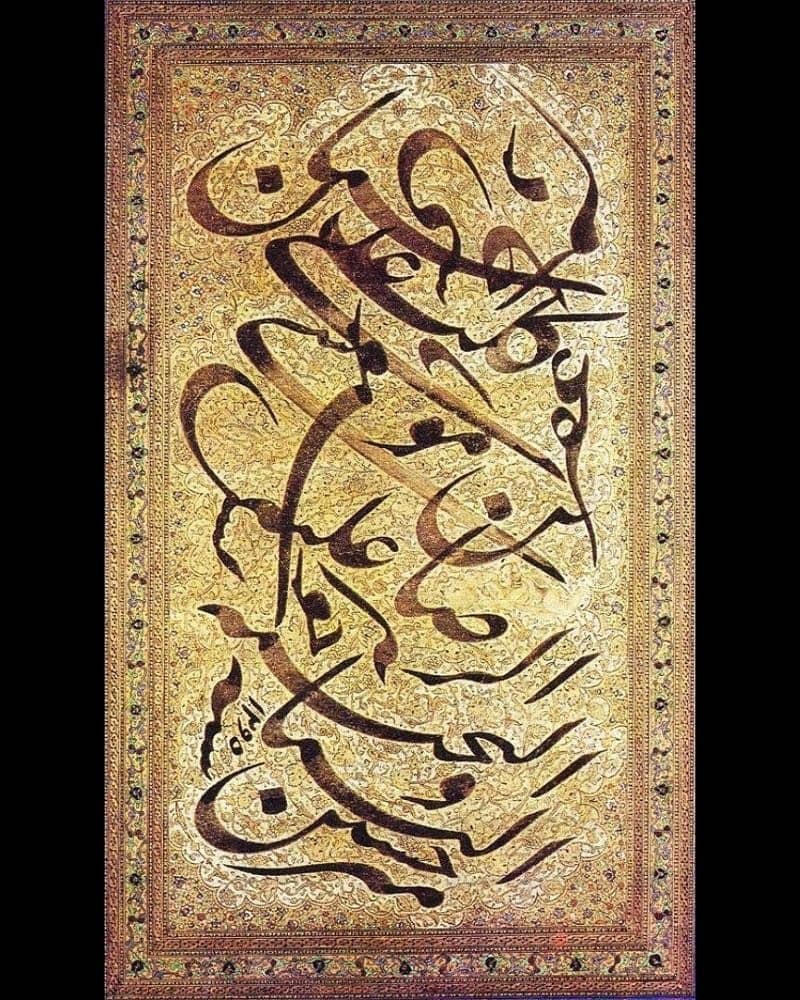 "Musawadeh" (Siyahmashq, meaning draft or rough copy) and other similar styles of calligraphy were created through a creative combination of words, designs, and styles. Calligraphy artists even went beyond this and brought calligraphy to the surface of coins, seals, silk cloth, and calligraphed tableau rugs.
It should be noted that the art of Iranian calligraphy has been a vital element in various cultural fields, especially in Persian poetry and literature. The traditional art of calligraphy is still practiced in Iran and countries that share cultural elements with Iran.
There are still top Iranian calligraphers who develop creative styles or derivatives of this art, and their works have gone beyond traditions and have attracted a global audience of those who can read Persian and those who cannot.
UNESCO Recognition of "National Programme to Safeguard the Traditional Art of Calligraphy in Iran"
In 2021, the "National Programme to Safeguard the traditional art of Calligraphy in Iran" was selected for the Register of Good Safeguarding Practices of the intangible cultural heritage of Iran by UNESCO. In today's world, where easy readability and the print industry have been enough for people, attention to the art of Iranian calligraphy, even inside our country, was in decline. The new generations were not attracted to this art either.
In the 1980s, private institutions in cooperation with government organizations formed a program to promote public interest in the art of Calligraphy. The publication of books and pamphlets about this art and the establishment of exhibitions related to the art of calligraphy increased. The Society of Iranian Calligraphists also played a significant role in this area and promoted the safeguarding of the art of calligraphy in Iran as a part of the national program.
UNESCO supported this program and added this art to the world's intangible cultural heritage list.
Frequently Asked Questions About Iranian Calligraphy
If you cannot find the answer to your question here, leave us a comment in the comment section below this post and ask your question. We will definitely answer it.
How old is calligraphy in Iran?
There is a myth about the creation of the first writing system in Iran; Although, the Elamites had been using cuneiform writing systems since about 5000 years ago. According to Ferdowsi's Shahnameh, Ghouls taught this art to Tahmuras (King of the Pishdadian Dynasty) in a bargain for their freedom from captivity. Of course, in addition to other texts, after Islam calligraphy developed in Iran in the form of religious texts.
Who are the most prominent Iranian calligraphers?
Mir Emad Hassani Qazvini is the most famous Iranian calligrapher. Because of his excellent skills in Nastaliq calligraphy, a fine example of calligraphy is called "Mir's script"; It means that the written script is as good as Mir Emad's script.
Who is the father of Iranian calligraphy?
Professor "Gholam Hossein Amirkhani is the father of contemporary Iranian calligraphy.
Why is traditional calligraphy considered an art?
Every calligrapher practices their own style. The raising and lowering of the pen, the pattern of utilizing the space of the paper, and such details display the artistic nature of calligraphers.
Is Calligraphy limited to Iran?
The traditional art of calligraphy in Iran is not limited to Iran. This art is popular in other countries that share cultural and historical elements with Iran. Central Asian countries such as Afghanistan, and the Indian subcontinent are among them.