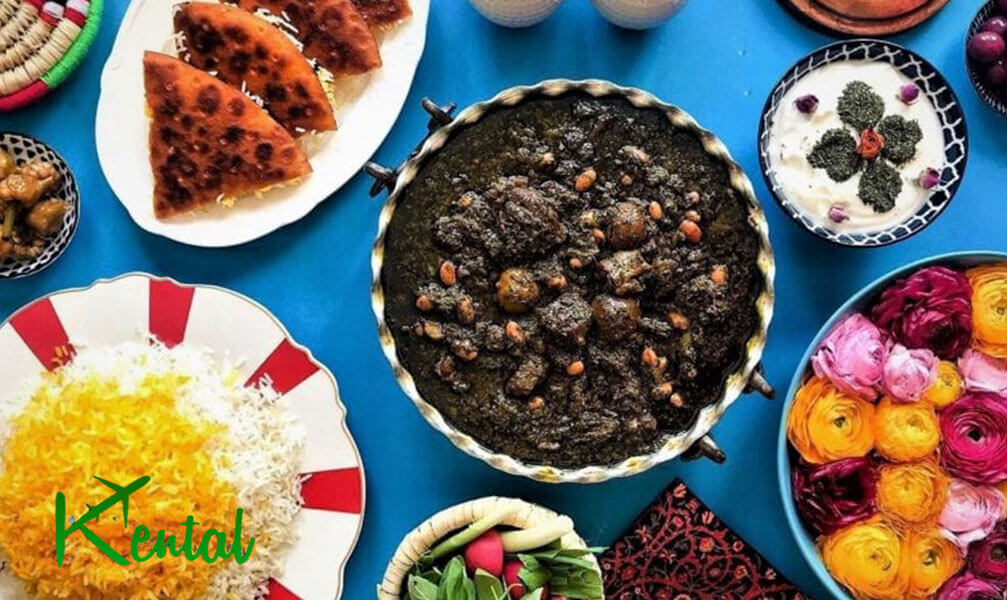 According to "Destination Iran" and following "Kental Travel" agency, international travelers who visit Iran find Iranian dishes amazing. However, it's always best to know what is the top Iranian food to foreigners before you visit Iran. So, read on below to learn about them.
In this article from the kentaltravel website, we are going to introduce 10 of the best top Iranian foods to foreigners. So, if you plan to visit Iran, join us to learn about the top Iranian foods to foreigners.
Iran is an ancient land with a rich and extensive culture. The attractiveness of historical buildings and masterpieces of Iranian architecture, along with the beautiful and spectacular nature of different regions, is one of the things that draw many enthusiasts from all over the world to Iran.
What makes the trip of foreign tourists to Iran more memorable is the colorful and fragrant Iranian food, the flavor of which remains in the memories of the travelers of this country for a long time. They draw them back to Iran and its various cities.
Have you ever thought about top Iranian foods to foreigners? In this article, we will introduce the best Iranian food for foreign tourists to your dear ones. Stay with us.
Read More In Kental Iran Travel Blog
Top Iranian Foods to Foreigners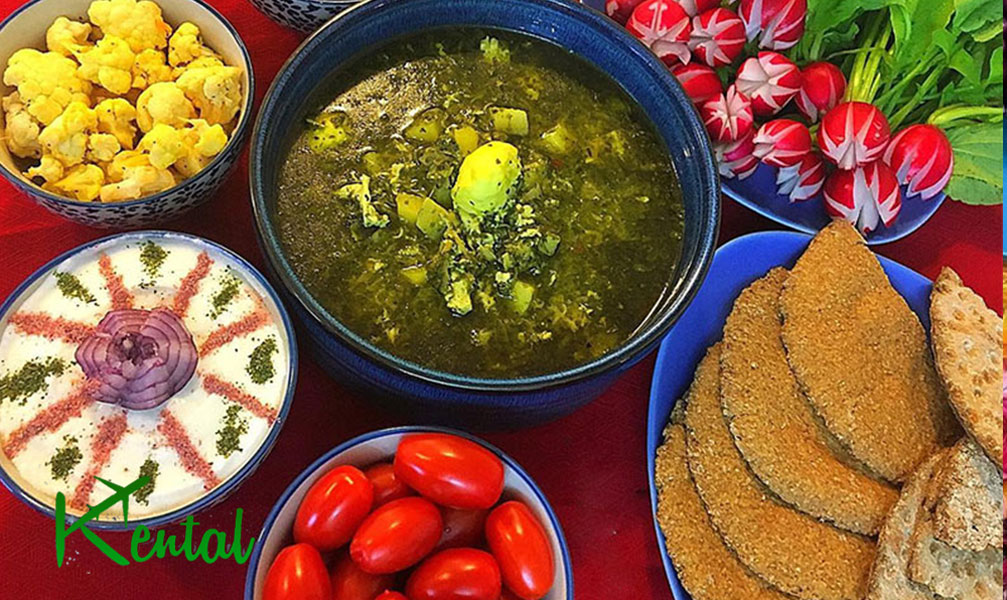 Chelo Kebab
Chelo Kebab is one of the top Iranian foods to foreigners and most famous Iranian dishes, which is also very popular among foreigners. Iranian kebabs have wide varieties, but the kebab that has attracted the most attention of tourists is Iranian Kabab koobideh.
Kabab koobideh is usually served with saffron rice, tomatoes, and grilled peppers. Just add lemon, onion, fresh basil leaves, and Persian buttermilk to remember the taste of Iran's best food forever.
Ghormeh Sabzi
Ghormeh Sabzi is one of the top Iranian foods to foreigners. You will hardly find anyone in Iran who does not like Ghormeh Sabzi or does not include it in their list of most popular dishes.
As much as this dish is popular in Iran, it has also become very popular among foreigners. The fragrant and flavorful vegetables, fresh meat, and red beans taste excellent together.
Ghormeh Sabzi requires a lot of experience and skill, and the more time it has to cook, the firmer and tastier it becomes. Qorme sabzi is the best dish in Iran, which is served with fragrant Iranian rice.
Dizi
Dizi, or broth, is one of the traditional Iranian dishes prepared from a combination of mutton, chickpeas, beans, potatoes, onions, and tomato paste.
Eating Dizi has its own style, which is very interesting in its own way. The Dizi material is separated from its juice and crushed with a meat grinder device.
Iranian Dizi is served with Sangak bread, raw onion, fresh vegetables, pickles, and Persian buttermilk.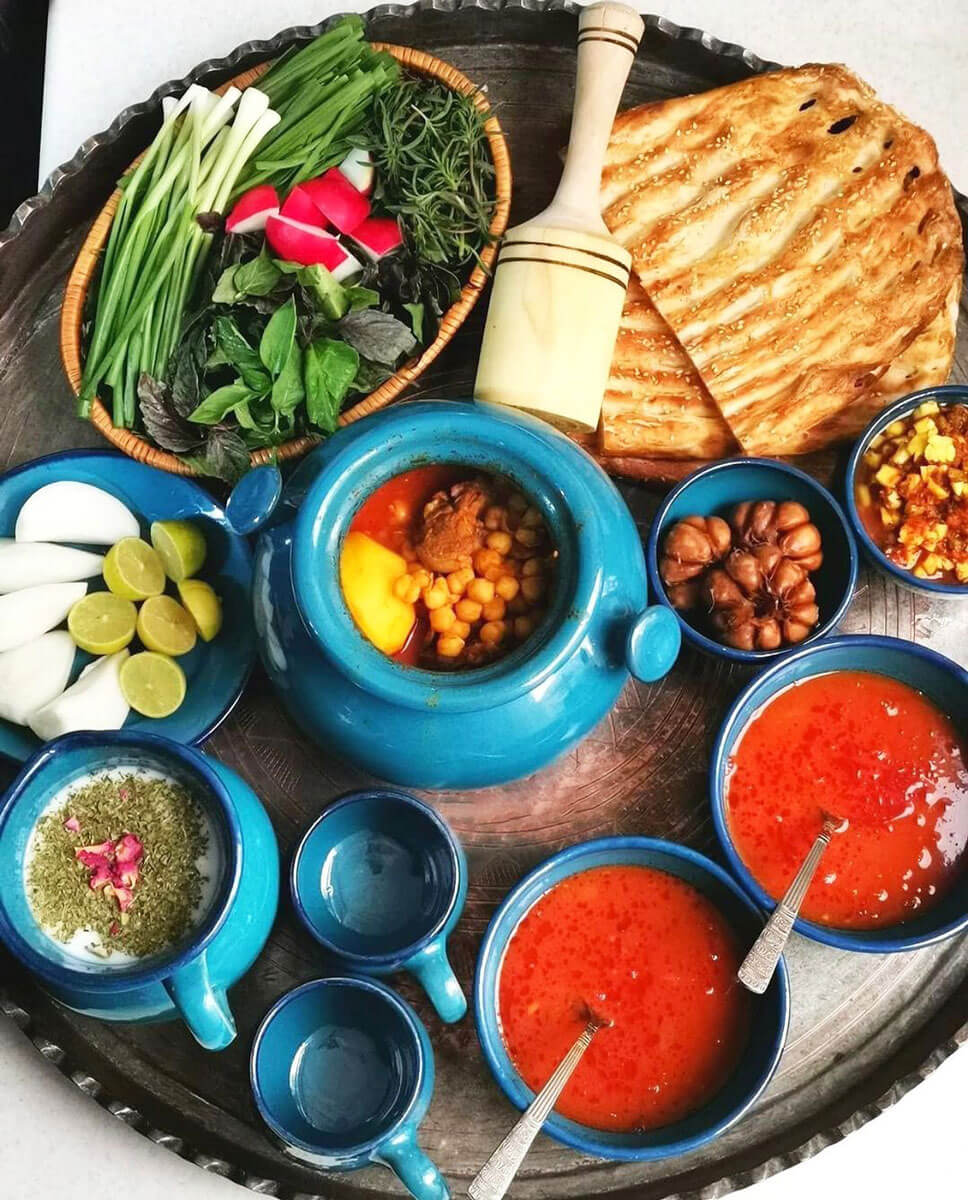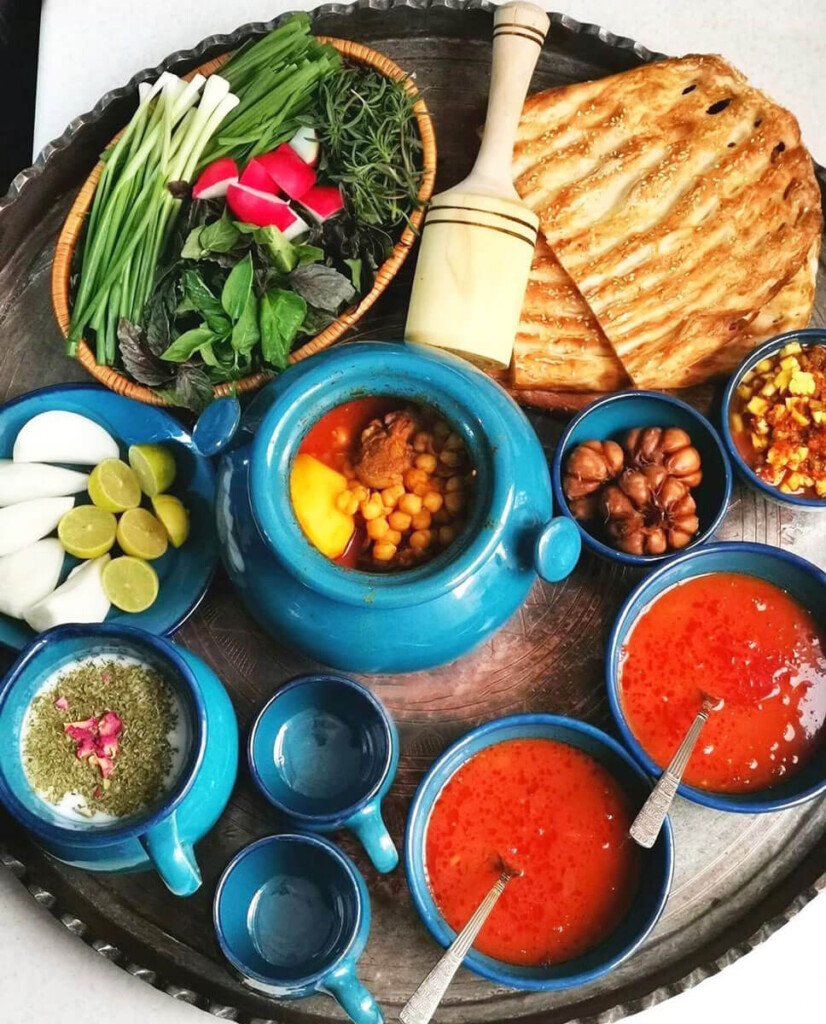 Zereshk Polo
Zereshk Polo with chicken is one of the top Iranian foods to foreigners cooked in various Iranian ceremonies, weddings, or mourning. This dish combines Iranian white rice, barberry, and saffron, which has a unique aroma and taste with a little local butter. Zereshk Polo is served with fried or grilled chicken and looks attractive and delicious.
Baghali Polo
Baghali Polo with muscle can be introduced as one of the most luxurious dishes in Iran, which is usually seen on the menu of traditional restaurants and has a high price.
This dish is prepared from a combination of white rice, beans, and dill, which gives a unique taste and aroma when served with Persian barberry, saffron, and a little animal butter. Baghali Polo is served with various types of meat such as chicken or different parts of sheep.
Gheymeh
Gheymeh stew is one of the most famous Iranian dishes, which is prepared from a combination of onions, cobs, sliced red meat, and tomato paste. Sometimes, Gheymeh is served with fried potatoes and sometimes with fried eggplant.
The first is potato stuffing, and the second is eggplant stuffing. Like other Iranian stews, Gheymeh stew is eaten with white rice.
Ash Reshte
Ash Reshte is one of the most famous Iranian Ashes, which is included in the list of the best food in Iran from the point of view of foreigners. To prepare Ash Reshte, special vegetables for Ash, onion, garlic, and all kinds of beans are combined together. In the end, noodles are added to it until it is well-cooked and fits.
Ash Reshte is garnished and served with curd, hot onion, hot garlic, and hot mint. Iranians put this food on the iftar table during Ramadan or prepare it as an offering in various ceremonies.
Fesenjan
Fesenjan is one of the most delicious Iranian stews, which is prepared according to people's taste with different sour, sweet, and sweet flavors. This stew combines meat, ground walnuts, and pomegranate paste, creating a distinct and unique combination.
Fesenjan stew should be left on the stove for a long time with a very low flame so that the walnuts are well-oiled and set. To make Fesenjan, you can use all kinds of chicken, red, or minced meat.
Tahchin
Tahchin is an elegant and formal dish that is prepared from a combination of rice, chicken, yogurt, eggs, saffron, barberry, etc. Foreigners put Tahchin on the list of the best food in Iran and call it Iranian cake due to its attractive appearance.
There are many types of Tahchin in Iran, and ingredients such as meat, vegetables, fish, eggplant, etc., are also used, but chicken Tahchin is more common and more famous.
Koofteh Tabrizi
Koofteh Tabrizi, as its name suggests, is one of the traditional dishes of Tabriz that is cooked in different parts of Iran today. Koofteh Tabrizi combines minced meat, cobs, rice, and vegetables mixed together and formed into a ball.
Ingredients such as boiled eggs, plums, walnuts, and hot onions are usually placed inside the meatballs.
Conclusion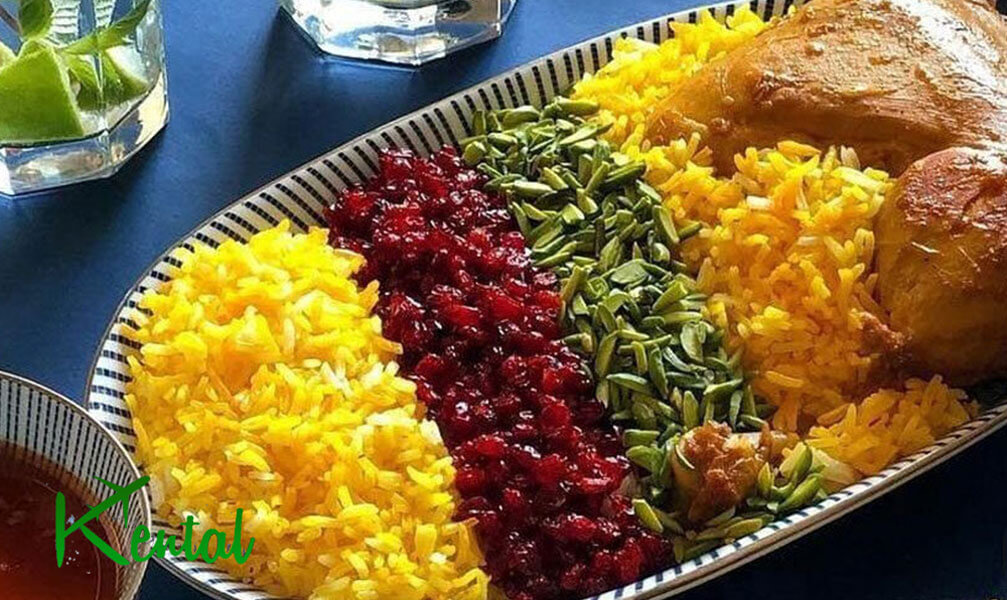 In this article, we examined the best food in Iran from the point of view of foreign tourists and introduced the best food so you can use kental Travel Iran Tours to taste foods in Iran.
Here we have mentioned only 10 famous Iranian dishes. More famous foods represent the food culture of Iran in the world.
Kentaltravel, which takes its name from one of the parks in Tabriz, is a travel agency that operates tourism and medical tours. It provides these tours with the highest quality and price to foreign tourists.
If you plan to travel to Iran and experience the top Iranian foods to foreigners, enter the kentaltravel website without delay and choose the tour you want.
Read More in Kental Iran Travel Food Guide & Iran News kentaltravel. com.