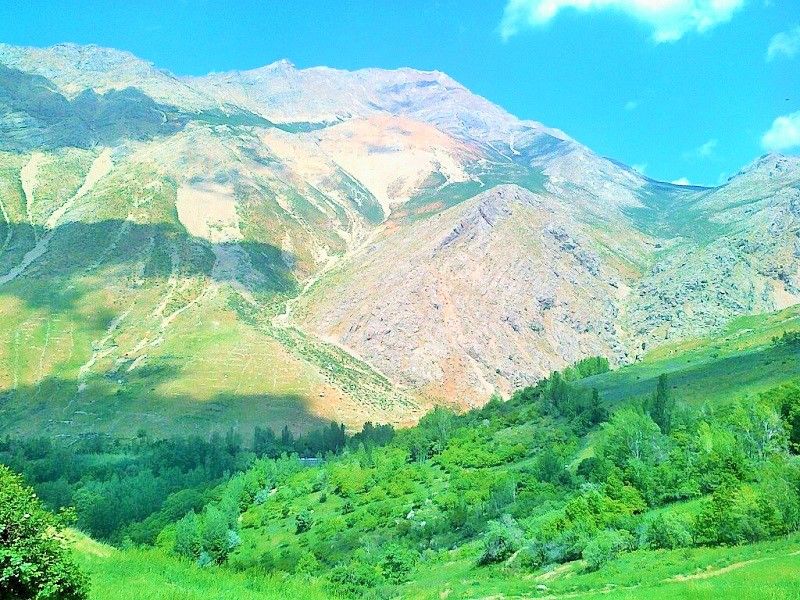 Tang-e Sayyad and Sabz Kouh Biosphere Reserve are two of the inscribed sites of Iran on UNESCO's list. The region is located in Chaharmahal va Bakhtiari Province and covers an area of approximately 27,000 hectares. With a valuable collection of vegetation and animals, this biosphere reserve has received worldwide attention since 50 years ago.
To reach this biosphere reserve, you have to travel to Chaharmahal va Bakhtiari Province and then to Farrokh Shahr. After crossing Borujen Road, you will enter Sefid Dasht and you will reach Tang-e Sayyad Village after passing through Surak and Irancheh.
Historical Background of Tang-e Sayyad and Sabz Kouh Biosphere Reserve
Tang-e Sayyad is a mountainous and elevated area of about 27,000 hectares located in Chaharmahal va Bakhtiari Province. This biosphere reserve is located near the cities of Borujen, Kiar and Shahr-e Kord. In 1970, the Iranian Supreme Council of wildlife management and Hunting Supervision banned the hunting and shooting in this area.
Then, in 1973, the Supreme Council of the Environment approved this region as a protected area. Finally, in 1995, approximately 5,400 hectares of this area became part of the National Park. The area gained the title of the biosphere reserve.
Geographical and Natural Position of This Biosphere Reserve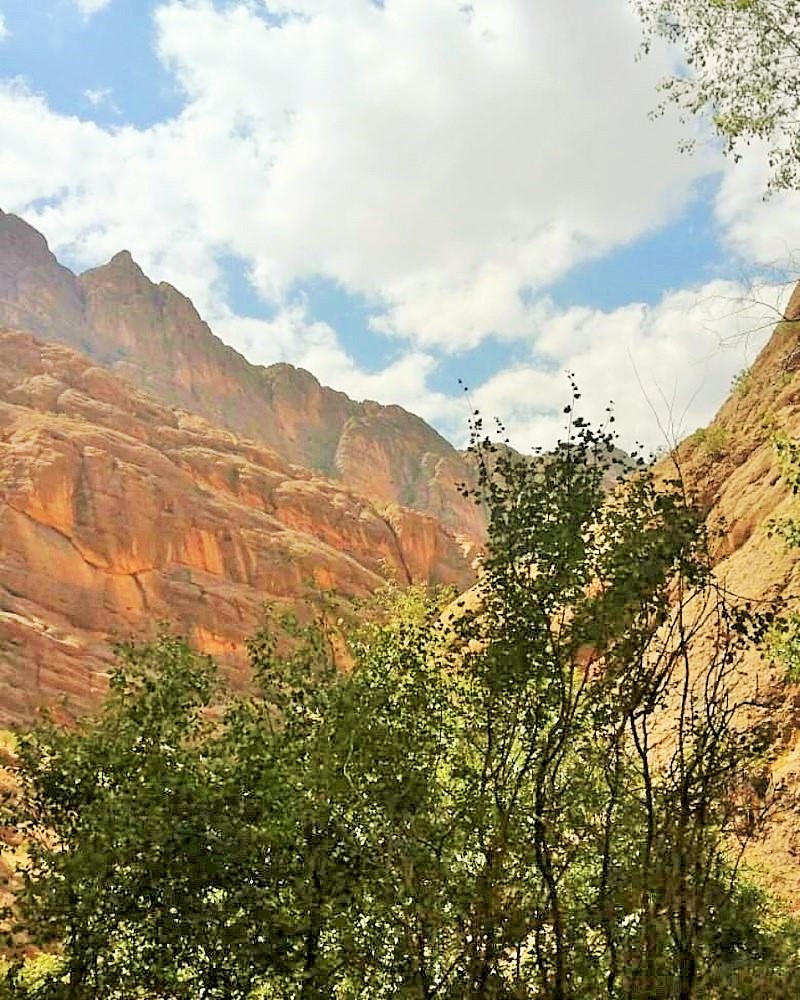 The region is divided into three climates: arid and cold, semi-arid and cold, semi-humid and cold. The highest point of this region is Jilon Peak near Farrokh Shahr Mountains with a height of 3,141 meters above sea level.
About 70 large and small waterways supply the water in the area. Among the water divisions of this biosphere reserve, there are Tang-e Sayyad spring, Nesa Beno, Dareh Khers, Maran Spring, Kaseh Chi, Sang-e Sefid, Riz Ab, etc. However, their flow rates vary in different seasons and are not stable.
This region is located in the arid and semi-arid part of Iran. The semi-humid and semi-temperate climate in the first half of the year attracts many travelers and tourists. In contrast, the climate in the region is very cold in autumn and winter. In January, February, and March, the area is deserted.
Tang-e Sayyad biosphere reserve accounts for only 1.6% of the total area of Chaharmahal va Bakhtiari Province, but it is one of the best natural areas managed by the Iranian Department of Environment for many different reasons and uniqueness of the region.
In addition, these biosphere reserves have become one of the main and major centers of Chaharmahal va Bakhtiari Province in macroplanning for the economy, tourism, and social issues. The proximity to two important economic centers of Mobarakeh Steel Company and Esfahan Steel Company is the feature of this area.
Recreational Attractions of This Biosphere Reserve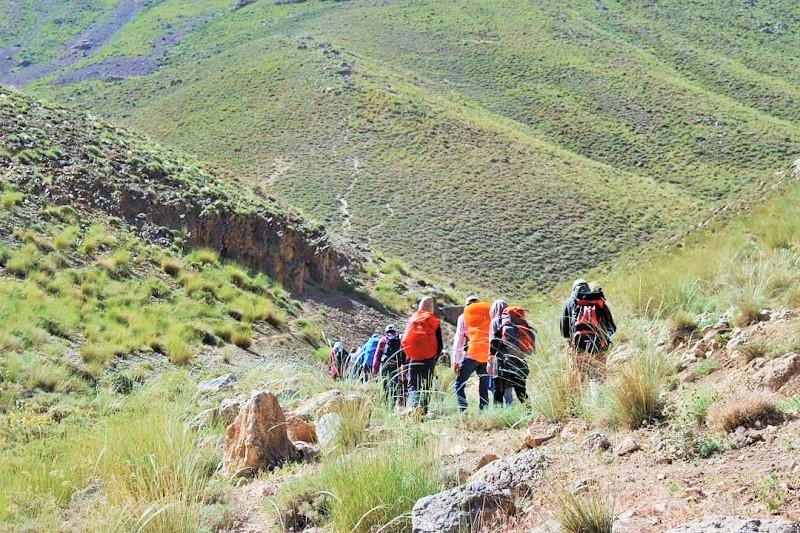 There are various recreational activities in the area, including hiking and rock climbing.
The mountainous ecosystem of this area has provided a good environment for hiking and rock climbing. Many springs and rivers flow in the mountains of this area. There are 42 springs in this park, 38 of which are permanent and 4 are seasonal.
Socioeconomic characteristics of This Biosphere Reserve
Various residents and natives, such as nomads, villagers, and urbanites live in Tang-e Sayyad and Sabz Kouh Biosphere Reserve.
Flora of the Reserve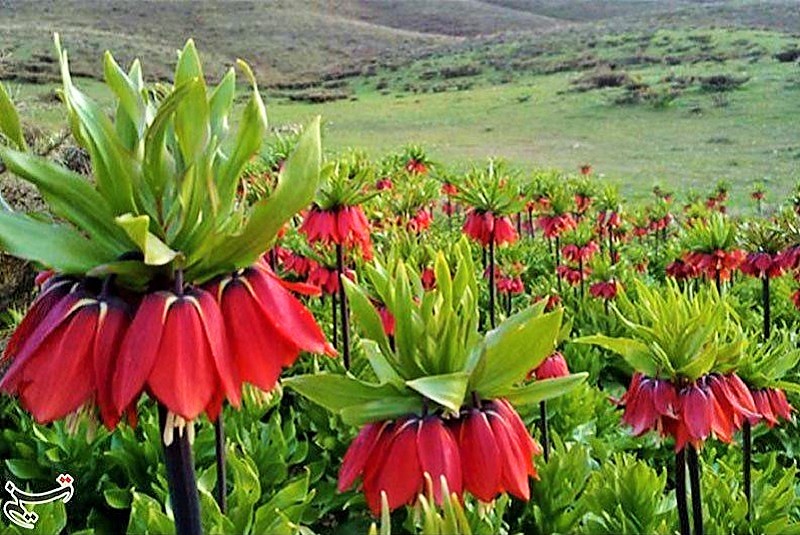 The vegetation of this area is a variety of grasses, astragalus, horsetail family, spear thistle, rhubarb, thyme, chamomile, common fumitory, Broadleaf plantain, fennel, Descurainia Sophia, chicory, licorice, wild almond, Tamus Dioica, wild fig, and cherry.
Fauna of the Reserve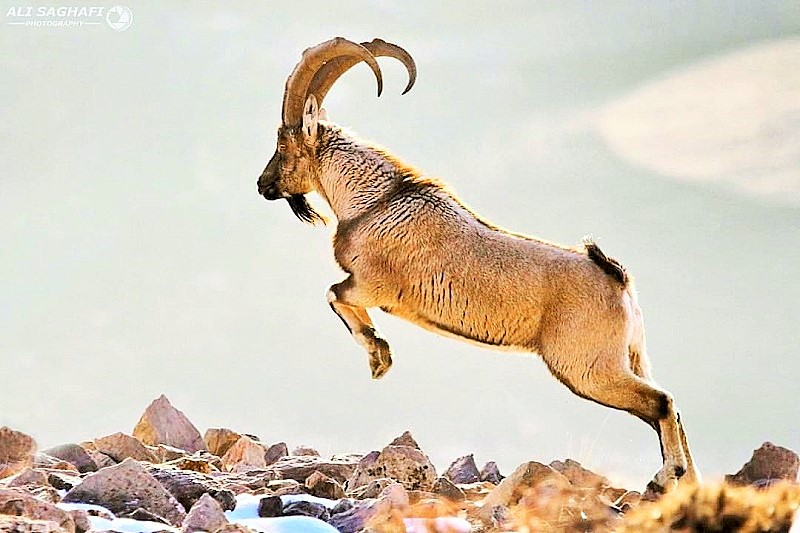 Tang-e Sayyad and Sabz Kouh regions have 24 species of mammals, 70 species of birds, 26 species of reptiles, as well as 4 species of amphibians.
The mammals of this park belong to 14 families of 19 generations, including goat, urial, leopard, fox, and wild cat. These animals naturally live in different parts of the park.
There are 70 species of birds of 50 genera living in the park. The birds in Tang-e Sayyad National Park include Caspian snowcock, golden eagle and partridge. Birds make up about 17% of the animals in the area.
There are 26 species of reptiles, including Caspian turtle, Agama, and coin snake living with other animals.
Among the amphibians of the park, there are frogs and toads. In addition to animals, there are 4 extinct mammal species in the park.
The potentials of the Reserve
We just offer you a list of all the potentials that exist in this biosphere reserve:
Location of this region is one of the major biological and geographical divisions of the world
Genetic resources, diverse and valuable plant and animal species
Special ecosystems and landscapes covered by mountains, plains, forests, and wetlands in need of protection.
Possibility and opportunity to achieve sustainable development in the region
Various inhabitants and natives such as nomads, villagers, and urbanites in this area
Threats against Tang-e Sayyad and Sabz Kouh Biosphere Reserve
Livestock grazing, urban and rural development, easy access to invasions or abuses in the area, illegal hunting, and live animals hunting, demand for the harvesting of sand and stone, harvesting of forage plants, etc. are examples of human communities influences on the area.
There is about 12,000 livestock in the area carry out a hundred-day grazing every year. Unfortunately, the presence of large numbers of livestock in the area can cause problems such as the transmission of common diseases between domestic and wild livestock, hiding, abuses and disturbing animals through herding dogs, disrupting wildlife with frequent trips, etc.
Other threats to Tang-e Sayyad and Sabz Kouh Biosphere Reserve are the existence of energy transmission lines, the transmission of telecommunication optical cable, gas transmission pipelines, high voltage power lines, proximity to the capital of the province, and the high demand for recreational use of the area.