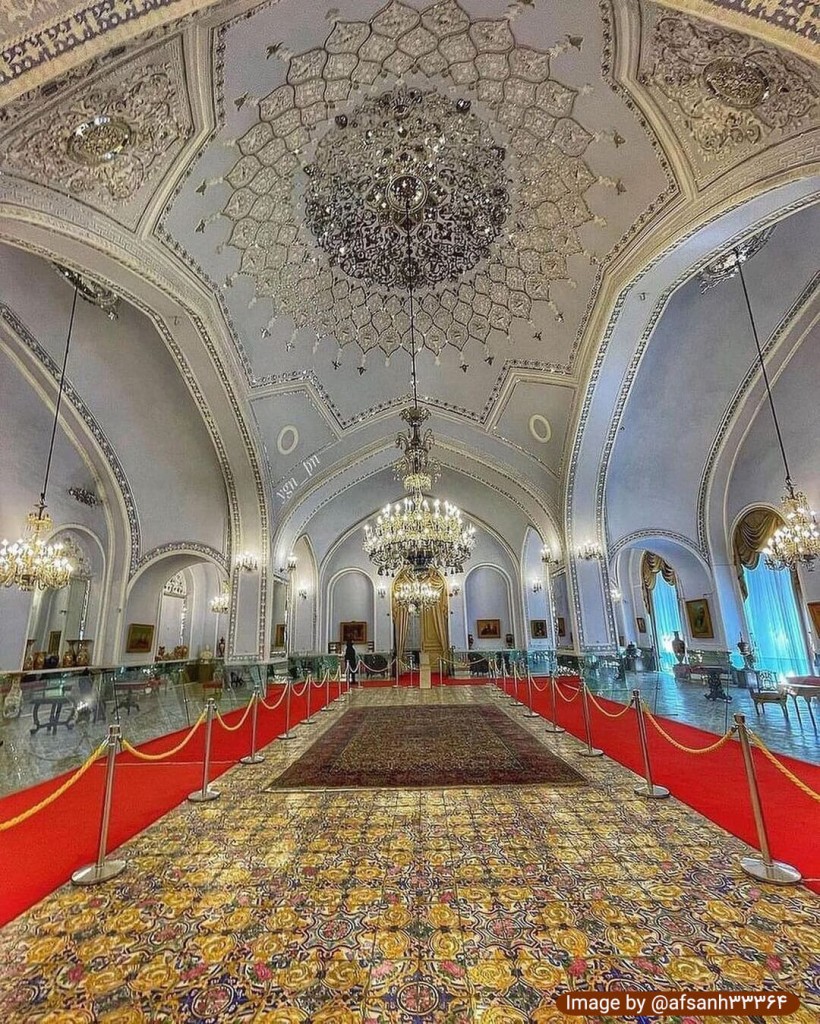 As one of the UNESCO sites of Iran, Golestan palace compound is a tangible cultural heritage of Iran located in city center of Tehran. It is considered the best manifestation of Iranian art and architecture in Qajar era, 19th and 20th century, particularly under Naser al-Din Shah. This site has occupied an area of 4.5 Hectare near Tehran's traditional bazaar. It has been built since 440 years ago.
Golestan Palace Compound has consisted of several structures. In general, all of them have two sections of Andaruni (interior) and Biruni (exterior). The interior is known as Golestan Palace, which includes the courtyard of Dar al-Hokumah (Divan Khaneh) and a square-shaped garden called Golestan garden. In the northern part, palaces are interconnected by a few doors and corridors ending in "Andarun" or "Haram Khaneh". This section was later extended as the number of Harem women had increased.
The construction of this royal citadel started at the time of Shah Tahmasb, the Safavid King, and continued during Qajars. From the functional point of view, this royal palace compound was used by both Pahlavi kings as well.
Earlier Buildings in Golestan Palace Compound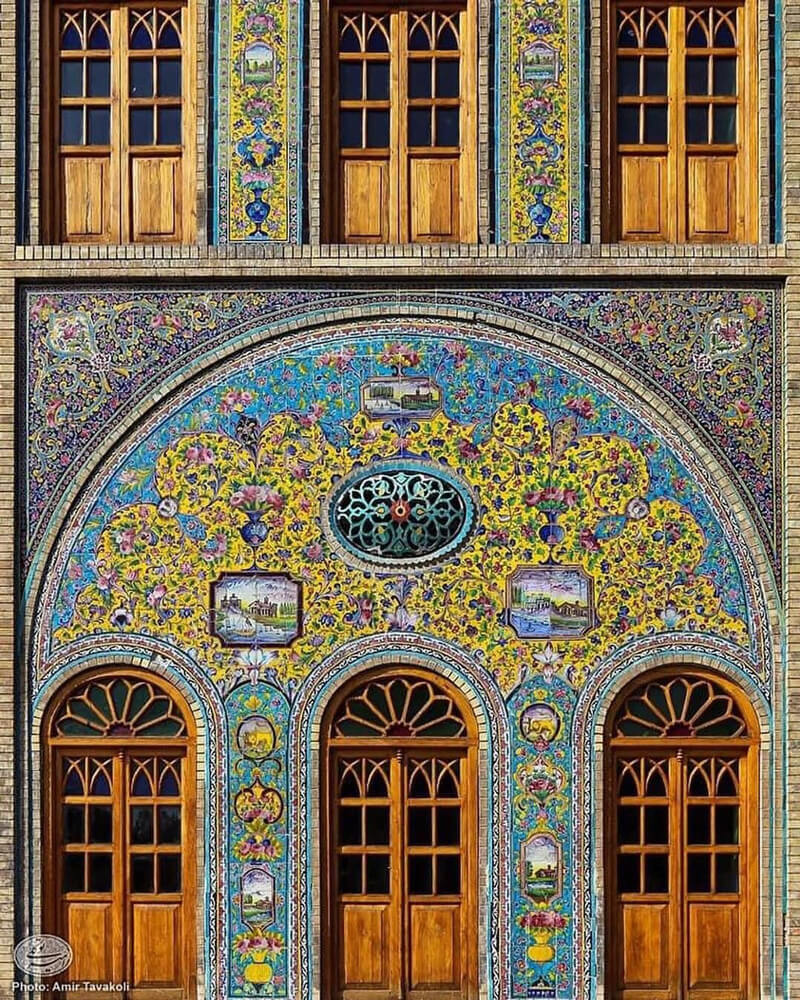 The buildings initially existed in this compound were: Khabgah-e Naseri (Naseri Sleeping wing), Emarat-e Andaruni, The Hall of Khan-e Maghfur, Khoruji Emarat (Exit building), Emarat-e Sanduq Khaneh, Royal Rakhtdar Khaneh (Grand Closet) and Tekyeh Dowlat. Now, here's a summarized explanation of some of the above buildings' functions: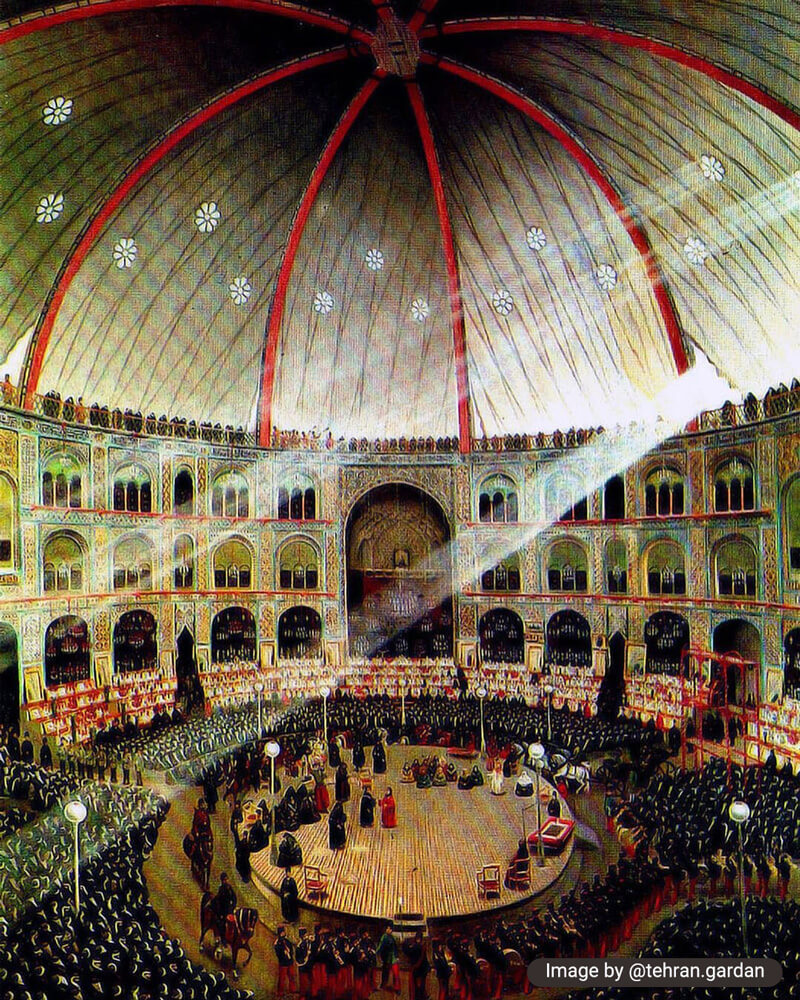 Tekyeh Dowlat
It was a royal theater hall for religious performances, which was located at the South East of the compound and next to Shams-ol Emareh Palace and opposite Shah Mosque. Unfortunately, it doesn't exist anymore. It had a third entrance including a dark and labyrinth-like corridor connecting Shah-Neshin (royal section) to the southern part of the compound. Shah usually used this corridor to go to Tekyeh Dowlat.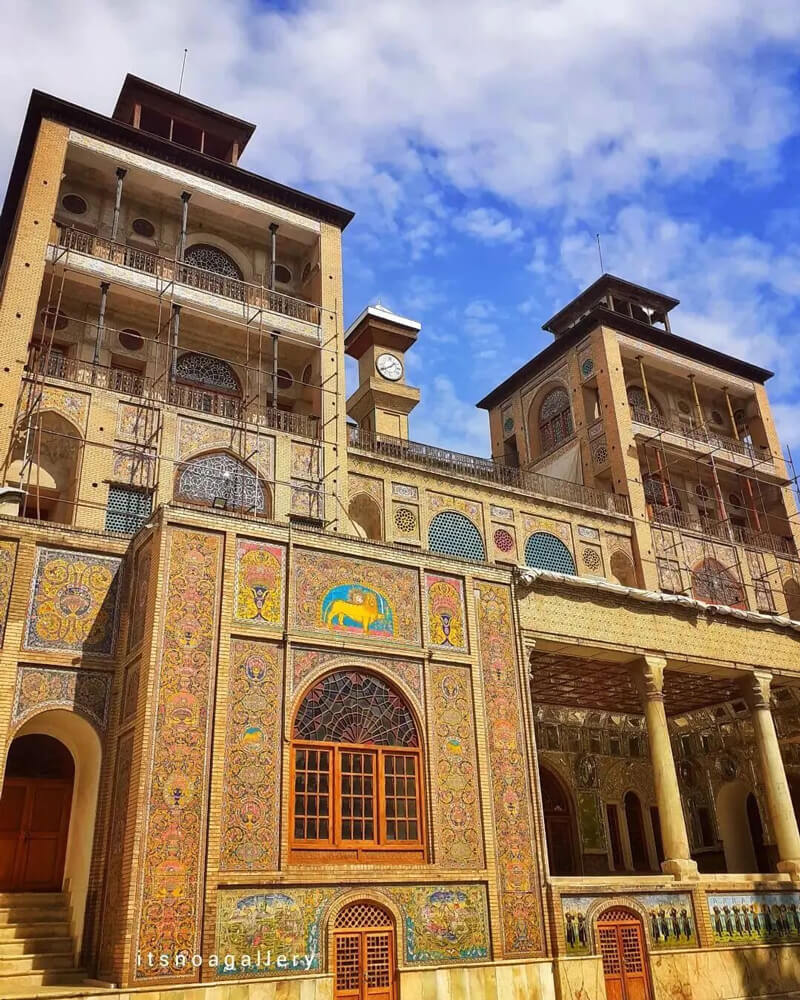 Shams-ol Emareh Palace
The idea of building this palace came from Naser al-Din Shah's first trip to Europe. He had decided to build a special palace inspired by the high structures he had seen in foreign countries. It's worth mentioning that despite the initial idea, this building turned to be a complete example of Iranian art and architecture as far as general plan and interior wall-and-ceiling design were concerned. Shams-ol Emareh Palace was built in five stories as tall as 35 meters. In its time, it was the tallest building of Iran constructed on a metal structure.
Present Buildings in Golestan Palace Compound
What today can be seen in this palace compound consists of: Shams-ol Emareh, Main Palace (including Greeting Hall or Museum Room as well as Mirror Hall), Abyaz Palace, Hoze Khaneh, Eyvan-e Takht-e Marmar, Khalvat-e Karimkhani, Ivory Hall (Sofreh Khaneh), Berelian Hall, Almas Hall, Badgir Hall, Negarkhaneh, Emarat-e Khabgah, and Chador Khaneh.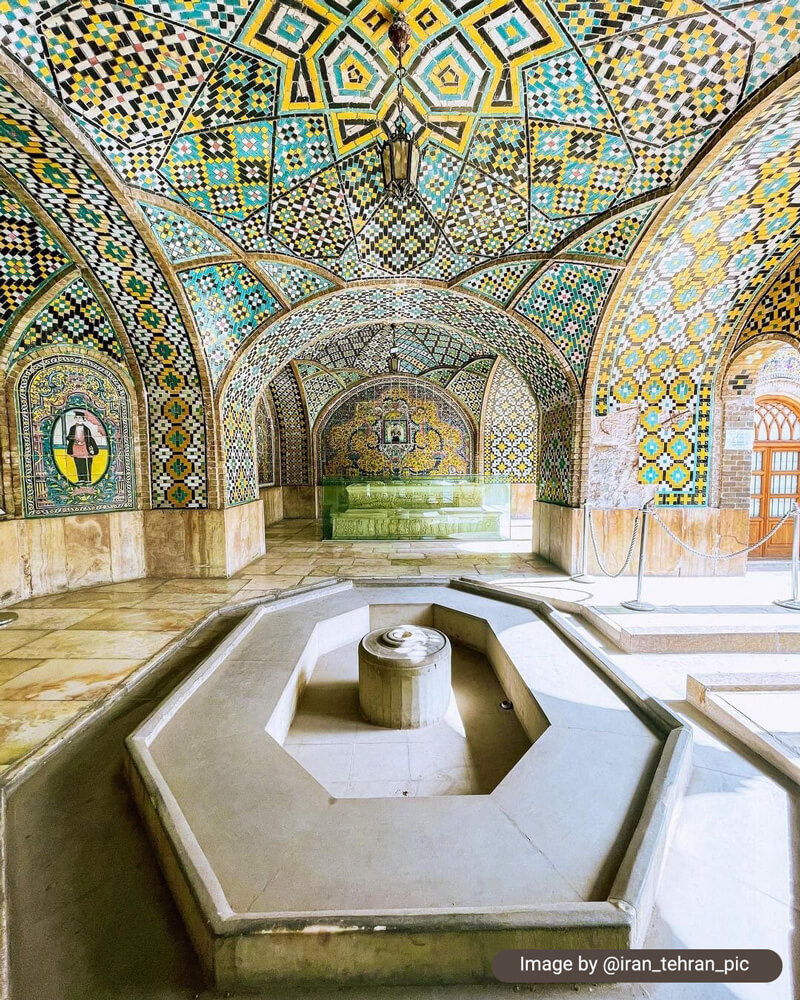 Khalvat-e Karimkhani
Under Agha Mohammad Khan, the founder of Qajar dynasty, a structure was built at the Northern wing that lacked exterior walls. A marble throne was installed there to provide a sitting place for him during pleasant times of the year. He, then, buried the bones of the latest Zand ruler under this section's steps to refresh his memory by stepping on the remaining bits and pieces of the previous dynasty's ruler everyday. Of course, after the fall of Qajar's dynasty, those bones were exhumed and the remnants were transferred to Qom to be buried there.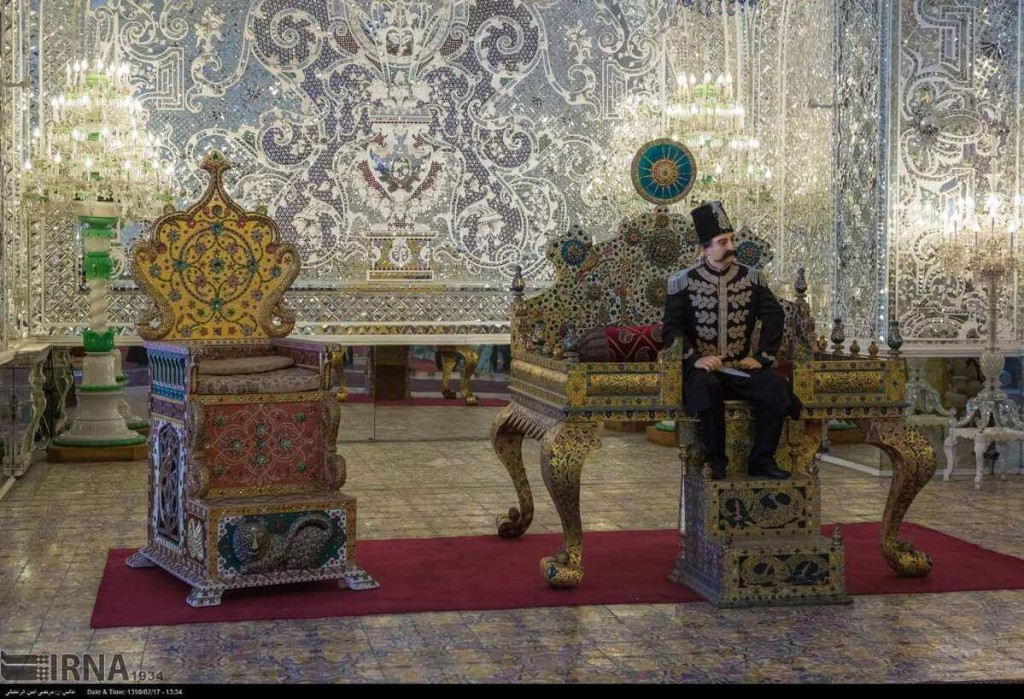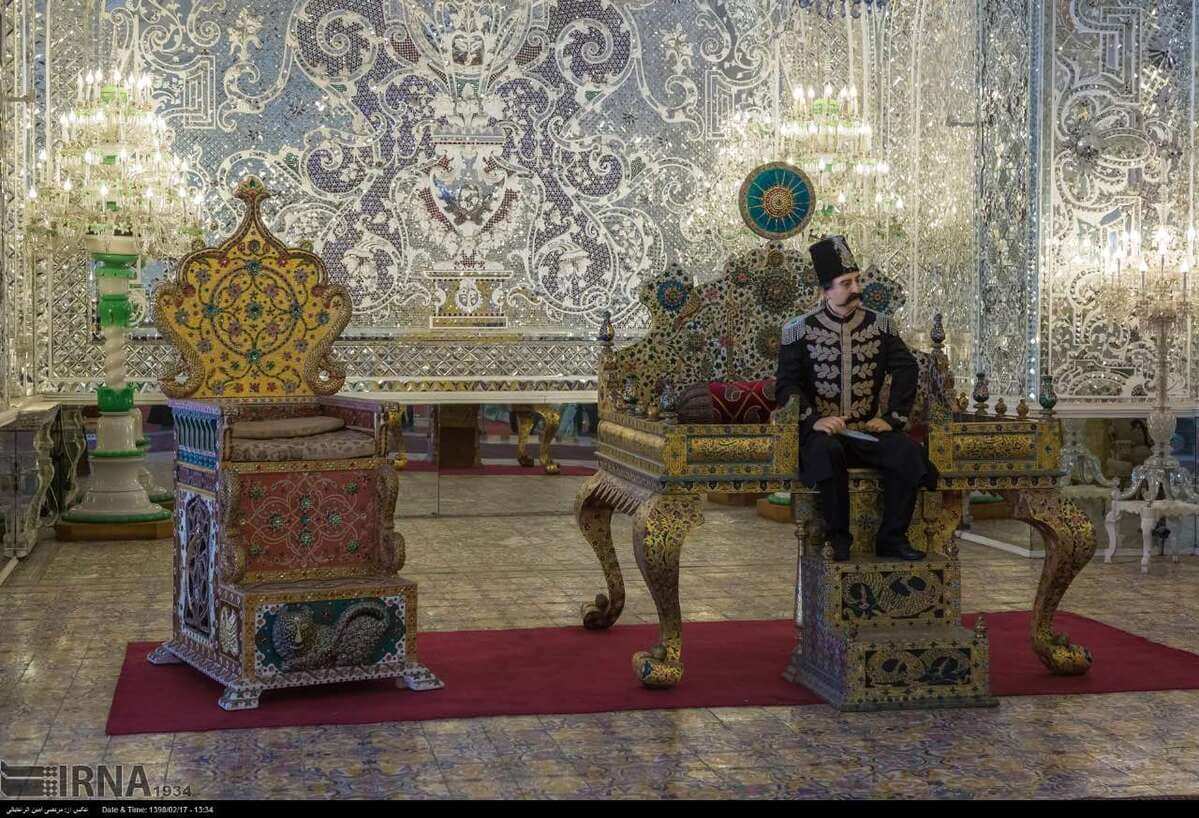 Greeting Hall (Museum Room)
After his first visit to European museums, Naser al-Din Shah, set up a museum in his palace to showcase some of the exquisite pieces Iranian government had collected. Later, the coronation ceremonies of the founder of Pahlavi dynasty and his son (last Shah of Iran) were held here.
Mirror Hall
In addition to the type of embellishment and the location of the hall, its reputation is more in debt to the famous oil-on-canvas painting masterfully created at this hall by Kamal-ol Molk Ghafary in 1930.
Ivory Hall (Sofreh Khaneh)
It is one of the most beautifully decorated tangible cultural heritage site of Iranians, which was later converted to a museum. At this hall, the gifts presented by foreign kings and rulers were kept. During Reza Shah, the founder of Pahlavi dynasty, it turned into a reception hall for foreign guests.
Abyaz Palace (Anthropology Museum)
Inspired by European buildings, it was built and decorated in white on the exterior walls using plasterworks. The objects of the Museum of Anthropology (opened in 1935) were transferred to this building in 1968. It reflects customs, rituals and traditional scenes of Iranians' lives in two floors.
Emarat-e Badgir
This building has been covered by magical embellishments including beautiful paintings and enchanting mirror works. The reason to choose this name for this palace is the four wind catchers constructed into it ornamented by blue, yellow and black tiles together with mosaic works and gold sections. Badgir is wind catcher in Persian.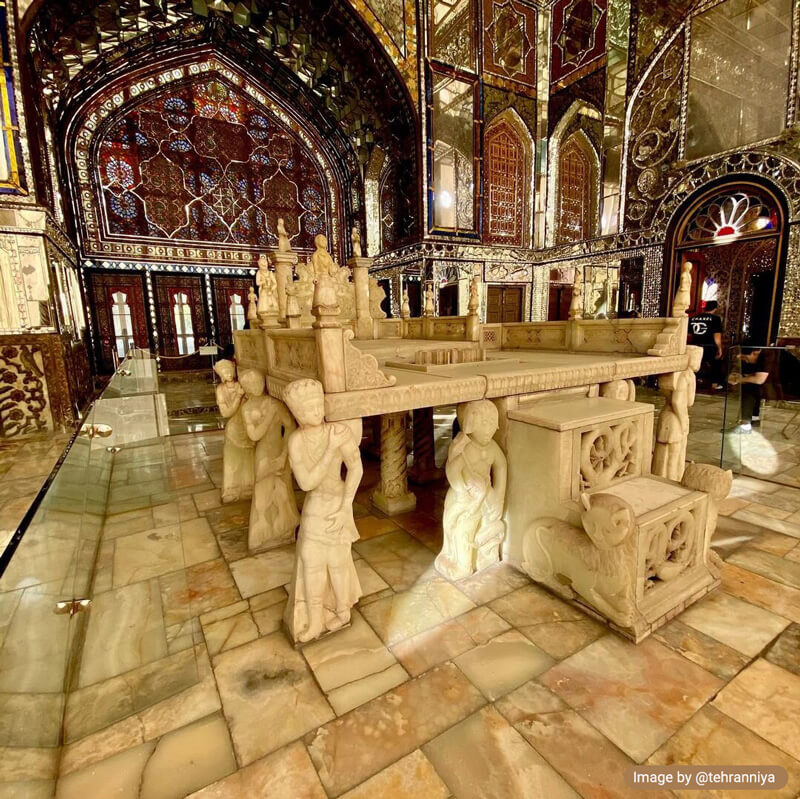 Eyvan-e Takht-e Marmar
It is the portico decorated by a marble throne built with 65 marble pieces in various sizes. It has been built by Shirazi artists and transferred from Shiraz to Tehran (approximately 950 km) in 19th century. It was initially the seat of Naser al-Din Shah, who received audience in the garden facing this portico, creating a breathtaking scene.
Negar Khaneh: It was considered part of the Hoze Khaneh of the Greeting Hall. The works of Iranian artists of Qajar era are kept and displayed there today. They include works of Kamal ol-Molk too.
Golestan Palace Compound, a Witness to Historical Events
This compound is an Iranian tangible cultural heritage in UNESCO List that has witnessed various historical events including the following:
Qajar kings have ascended to the throne there including Agh Mohammad Khan.
Iranian National Council inaugurated and held its first session there in 1945.
The council of the founders was held in Tekyeh Dowlat after the fall of Qajars and the beginning of the Pahlavi dynasty.
Reza Shah ascended to the throne in 1925 on Marble Throne and had his coronation ceremonies at Greeting Hall in 1926.
Mohammad Reza Shah Pahlavi held his coronation ceremonies in Greeting Hall too.
Pahlavi kings used Golestan Palace Compound to hold official ceremonies and accommodate special guests and particularly the heads of other countries.
This Iranian tangible cultural heritage has kept part of the living history of Iran in itself. In addition, it has been the center of some political developments during the Constitutional Revolution too. Golestan Palace Compound hosts several Iranian and foreign visitors every year due to its unique architecture as well as historical and artistic values.
For more World Heritage sites, go to: