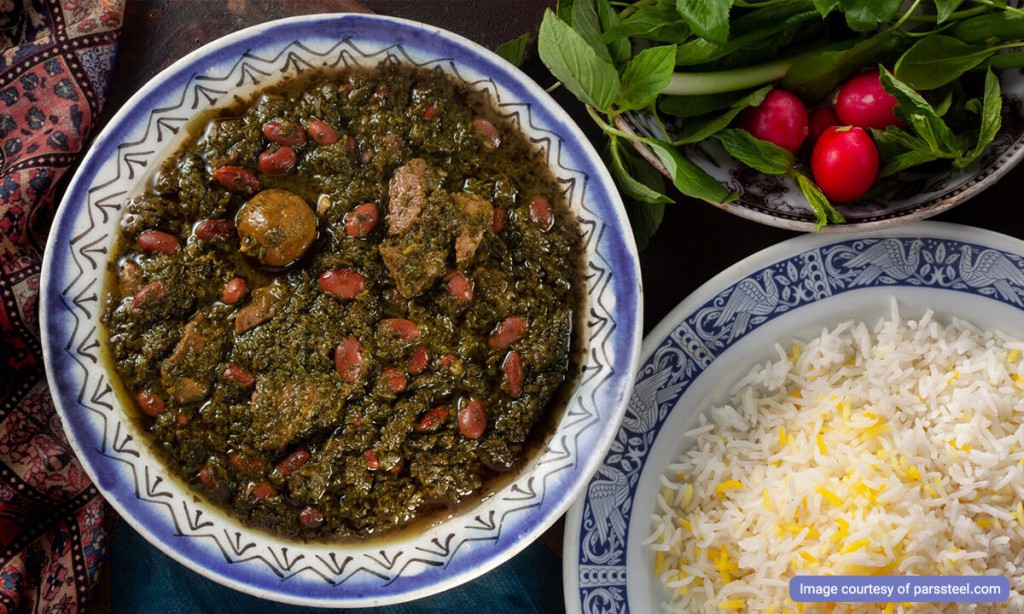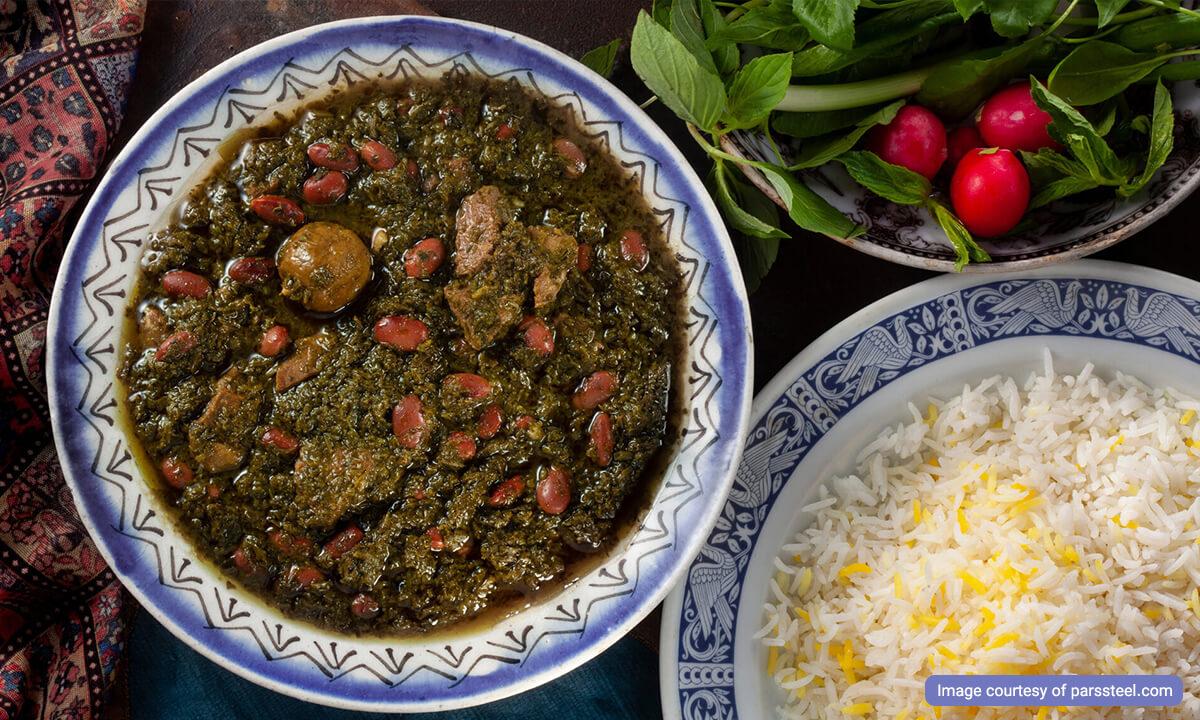 Among all Iranian dishes, there are a few ones experiencing no major changes throughout their history. Ghormeh Sabzi is one of them which is a particular favorite of almost everyone in Iran. What makes this Iranian food unique is the aroma attracting every food lover.
Hundred years ago, it was prepared and cooked in almost the same way as today by Nomads. The meat would be provided from their sheep and prepared by animal fats and oils. The herbs would be collected from mountains and plains, and soar grapes or lemon juice would be used for flavoring.
Ingredients for Cooking Ghormeh Sabzi:
2 cup finely chopped parsley
2 cup finely chopped chives
1 cup finely chopped dill leaves
1 cup finely chopped spinach (when not available, use chard's leaves instead)
1 cup finely chopped cilantro
1 tbsp. dried, crushed fenugreek leaves
½ cup red kidney beans, pre-soaked over night
500 g stew meat (lamb)
1 big onion, finely chopped
1 tsp. turmeric powder
4-5 Dried limes
Cooking oil
Salt and hot pepper powder
Directions to cook Ghormeh Sabzi:
1- Mix the prepared herbs. Fry them over medium heat with 2 tablespoon oil in a nonstick pan for about 10 minutes.
2- Add dried, crushed fenugreek leaves to the pan. Continue heating just for 5 minutes, and then set the pan aside.
Note:
The amount of fenugreek leaves and the time of heating have to be less than the other herbs, otherwise, it gives a bitter taste to your stew.
3- In a stewpot, fry finely chopped onion with 2 tablespoon oil over medium heat until golden.
4- Add turmeric powder and fry for a few more minutes.
5- Add the meat and increase heat a little bit. Stir until the meat cubes get brown.
Notes:
Some people use chicken or ostrich meat rather than lamb.
You can also use bone-in meat.
6- Add pre-soaked beans, fried herbs, and 3 cups of boiling water. Increase heat for the mixture to start boiling. Then, reduce heat to medium, and let it simmer gently for about 3 hours with the lid on.
Note:
If you need to add some more water before the end of cooking time, use boiling water.
7- At the last 30 minutes, add salt, hot pepper powder, and dried limes.
Note:
In Iran, dried lime is called "Limoo Amani". It's available in two varieties, black and yellow. Black dried limes are better to be used in Ghormeh Sabzi. Before adding them to the mixture, pierce them with a fork to give its sour flavor to your stew while simmering.
You have to add salt and dried limes when meat and beans are tender, otherwise they don't get cooked properly, and it will take much more time for the stew to get ready.
You can substitute dried limes with lemon juice, or use both together if you like it to taste sourer.
8- Get the lid off and check the stew. If you can see a thin layer of oil floating on the top, it's ready to serve.
Different Areas and Slight Differences in Cooking Ghormeh Sabzi
The followings are some minor manipulations usually done in the recipe of this Iranian dish:
Northern Iran: without fenugreek leaves, and using rose coco beans rather than red kidney beans.
Southern Iran: larger amount of cilantro, and sometimes adding tomato paste to the mixture of herbs and meat.
Fars province: adding medium diced potato to the mixture at the last hour of cooking process.
Azeris: They don't fry the herbs, use black eyed peas rather than red kidney beans, and add tomato paste to the mixture of herbs and meat.
How to Serve Ghormeh Sabzi Stew
This stew is served with rice, in a big bowl or small ones for each person. Everyone should take a spoonful of the stew, put it on their rice and take a mouthful of both in a spoon with the help of a fork until finishing with their meal. The most common side dishes with Ghormeh Sabzi are Doogh (Iranian yogurt drink) and Shirazi salad (a kind of cucumber and tomato salad flavored with sour grape juice or lemon juice).
This Iranian dish is even one of the favorites of visitors who come to Iran from all over the world. If you try it once, you'll be one of the fans, too.