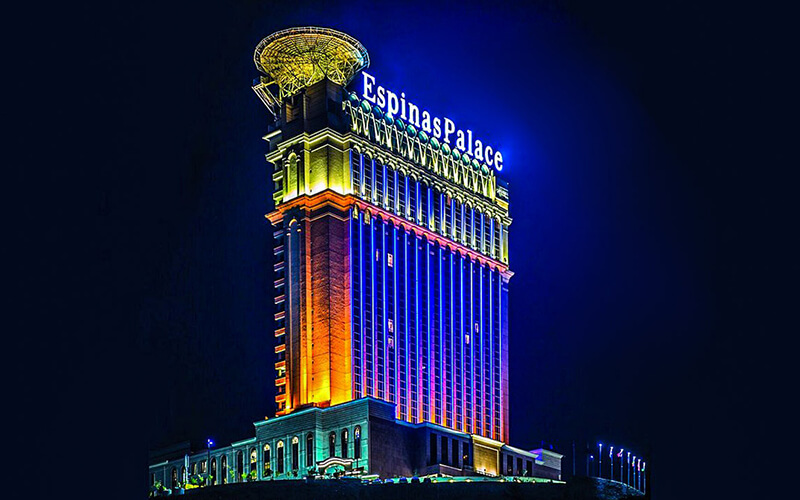 According to "Destination Iran" and following "Safarbazi" website, if you intend to travel in style and look for an exclusive accommodation in Tehran, This Espinas Palace Hotel review is for you to read. You will certainly find it attractive.
In the modern era, traveling has become a significant part of people's lives. We like to visit as many cities and countries as possible to know other people's cultures, lifestyles, and more. One of the main destinations of people who travel to Iran is the Tehran city.
As you may know, Tehran is the capital of Iran and has a population of around 9 million. In this article, we review the Espinas Palace Hotel, one of the most luxurious hotels in Iran. This hotel is located in Tehran.
If you are searching for one of the best 5-star hotels in Tehran, look no further than the Espinas Palace Hotel. The hotel was opened in 2015 and built with artistic and magnificent architecture. Visit the hotel and you will see what great architecture looks like. You will really feel that you are stepping into a royal palace.
Everything about the Espinas Palace Hotel
Known as one of Tehran's most luxurious buildings with great architecture, Espinas Palace Hotel started its accommodation services in 2015. It has 400 attractive rooms and suites combining modern facilities and amenities with traditional decor accents. One of its outstanding features is its breakfast buffet, because it serves different breads, snacks, juices, fruits, jams, pancakes, and so on.
The rooms in this hotel give you a spectacular view of Tehran's mountains.
This hotel has three restaurants and one cafe. You can try different Persian and international food there and be sure you will never forget their taste. Espinas Palace Hotel has a modern wellness center with multiple sections and good facilities. It has a sport club, two beauty centers for men and women, and a spa. To relieve stress and anxiety, you can use their modern and traditional wellness services.
The History of Espinas Palace Hotel
Espinas Hotel Group is a large company that opened its first branch, Espinas Hotel, in 2002. It was built in Astara, a city in Gilan province. Later, this group started building one of the most luxurious hotels in Iran, namely Espinas Palace Hotel in northwest Tehran. Finally, in 2015, the hotel opened its doors and began providing accommodation services to all visitors and tourists.
What Distinguishes the Espinas Palace Hotel?
If you want to experience a new trip with comfortable accommodation, then Espanias Palace Hotel is a great choice. It is a 400-room hotel in the heart of Iran's capital that benefits from stylish decorations with great amenities. The design combines modern elements with traditional Persian art seen in ancient city attractions.
If you look around while you are sitting in the lobby, you will notice that everything is exactly how and where it should be. This place offers guests great shops, a relaxing spa, and high-quality dining. They can benefit from free daily buffet breakfast and hotel-wide Wi-Fi as well. In a word, everything you can dream of about staying in Tehran is offered to you when you choose the Espinas Palace Hotel.
Espinas Palace Hotel's Location
The Espinas Palace Hotel is located northwest of Tehran in an area called Saadat Abad. The area has great clean air compared to other parts of Tehran.
The mountains can be seen from most of the rooms. If you want to know more details about the address and location, it is good to know that the hotel is near some historical buildings.
Rooms and Suites in the Espinas Palace Hotel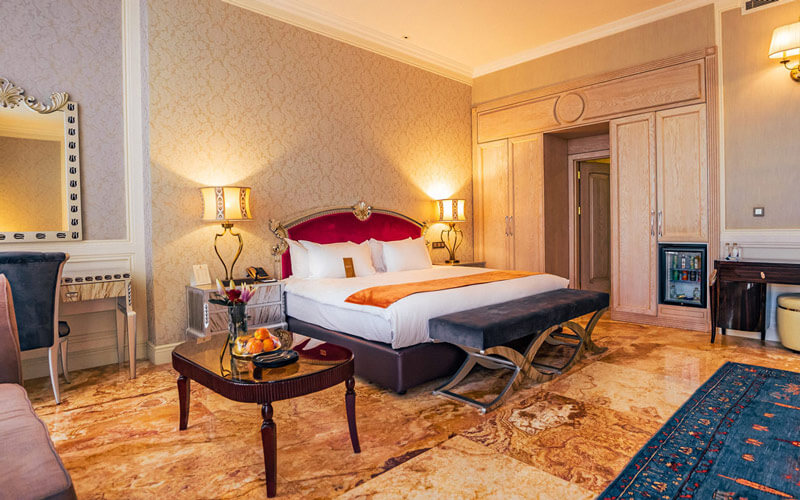 There are Standard Double Room, Standard Twin Room, Royal Family Room, Junior Suite, Signature Suite, Royal Suite, Signature Palace suite, and Sky Suite in Espinas Palace. All guest rooms at this hotel are designed stylishly. Amenities include decent-sized desks, TVs, phones, free Wi-Fi, safes, a refrigerator with minibars, coffeemakers, slippers, and 24-hour room service. The interesting point is that you can choose between smoking or non-smoking rooms for a better experience.
In general, there are noble rooms in tranquil colors, some of them with private balconies, which you can choose to have an unforgettable experience. These rooms and suites are completely quiet and all of them will offer you a free buffet breakfast that would become one of the most delicious meals of your life.
Meeting Rooms and Wedding Halls
The hotel's halls, meeting rooms, and venues are more magnificent and luxurious than you can imagine. Couples can celebrate their wedding ceremonies or anniversaries in Espinas Palace Hotel's big halls to create an everlasting memory with their loved ones. The halls are Palace Hall, Borna Meeting Room, Parsa Meeting Room, Parseh Hall, Eyvan Hall, Amiran Hall, and Grand Hall in this hotel. Events managers in the hotel are committed to providing guests with the best Persian and international options.
Discover the Hotel's Restaurants and Cafes
There are multiple restaurants in Espinas Palace Hotel which serve delicious cuisine. Laton restaurant in Espinas Palace serves international and modern Iranian dishes for those who like to experience new types of food. Diba restaurant cooks traditional Iranian food like Kebab. Sky Lounge and Sunset café are available in the hotel for people who look for fusion cuisine, salads, appetizers, and tasty drinks.
Espinas Palace Wellness Center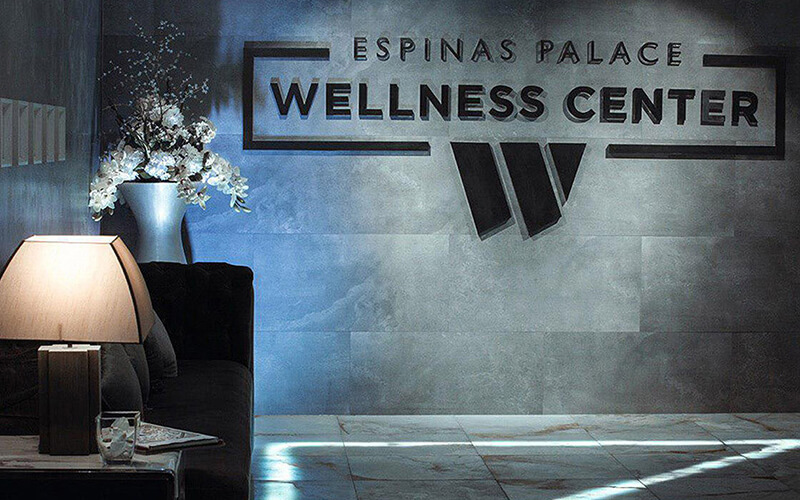 The hotel's luxury health services offer a sense of relaxation and rejuvenation which everyone wants to experience. There are sports clubs, beauty centers for men and women, a spa, sauna, pool, and other services and facilities in the Wellness Center. The hotel's team will ensure your stay is as enjoyable and relaxing as possible, which helps you have a healthy lifestyle without stress or fatigue.
How to Book a Room in the Espinas Palace Hotel?
These days, the internet has become one of our most fast-growing and transformative technologies. It is hard for us to imagine our lives without it. One of its best influences on our lives is the possibility of searching for anything we need at any moment. It can benefit us when we want to book a room in a hotel and need to make the best decision. Because of easy access to the internet, people are now able to book an ideal hotel totally online.
You can book a hotel in Iran through an online travel service and have a memorable trip. This way, you can get the lowest price, and also read unbiased reviews on hotels.
"Safarbazi" is a professional and up-to-date website in Iran that helps you build your perfect trip on any budget.
Once you have selected your desired room in Espinas Palace Hotel, you can reserve it online through the mentioned website. You will need to provide basic information for the booking, such as your full name, number of guests, and your travel dates.