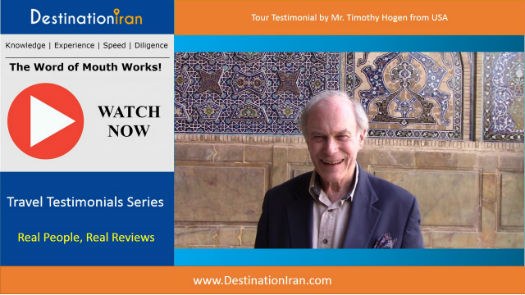 Americans visit Iran and enjoy it very much. Most of the non-Iranians who visit Destination Iran website are US citizens and sometimes they ask me, "How can Americans pay a visit to Iran given the political situation between the two countries?" Well, the good news is you can travel to Iran if you follow few easy rules I'll explain here.
These rules apply for the visa and traveling style, period! The rest of the travel experience (accommodation, transportation, sightseeing, domestic flights, guidance, restaurants, roads, etc) are all the same.
Visa Arrangement for Americans
First of all, I must mention that I've already explained "Visa Application Support" service! Tourist visa for Americans isn't very different. As I'm particularly going to explain how it's different for the American travelers, I will introduce the steps Americans should be aware of while planning their trips to Iran:
Make sure you have enough time before you decide on your journey date. As of today, it takes around one month to get the authorization number for US travelers. In other words, from the day an Iranian tour operator applies for your visa to the day the Ministry of Foreign Affairs (MFA) approves the visa and provides the Iranian tour operator with the authorization number, it will take this much time.
Make sure you include all the sights you'd like to visit in your itinerary. You won't be able to change the itinerary and add new routes and cities once your visa is approved. Therefore, work diligently with your tour operator explaining to them where you want to go, what you want to see and what you'd like to do among anything else you're planning for this trip. Such carefully prepared itinerary will be given to the MFA before a tourist visa is approved.
If there are other concerns and interests you want to include in your list, keep in mind, they must be mentioned at the stage before tourist visa is applied for Americans. Based on the official rules, a tourist comes to Iran on a tourist visa to do what a tourist is supposed to do:
Follow the itinerary,
Visit sights, cities, museums, etc,
Stay in the hotels already chosen,
Even if you're not an American citizen and violate these rules, you will create a complicated situation for yourself and your tour guide and your tour operator. For instance, if you meet with some officials, politicians, activists (social, political, etc) to talk about certain topics you're curious about, this won't comply with the rules. If this makes one of the main reasons why you want to travel to Iran (either as an individual or as a group member), please make sure you put it forward at the stage of discussing your itinerary. Of course, you can discuss your itinerary if you travel individually/privately, not in a group.
I've seen cases where someone from the US has been interested in particular arts and mentioned the name and address of specific art schools and artists before applying for a visa and the visa has been granted to him/her. Therefore, such a person can visit Iran's tourist attractions, museums and other places as well as the places and people he'd already mentioned. However, prior to visa application stage, such points must be referred to.
The last recommendation is that you'd better leave the visa application support to an Iranian tour operator. In short, tourist visa for Americans is possible, but because an authorization number is required, it's better to ask a tour operator to arrange for your tour including the visa. In addition, they are the professional local people who know how to handle such tasks as they're doing this part of the tour service all the time.
Americans Visit Iran Their own Style
Before I get into this part, I must mention that many ask for this style of traveling and it's not a structured style depriving you of the pleasure of exploring Iran. I have several American friends who have traveled to Iran several times. If they suffered the first time, why should they bother to torture themselves for a second journey?!
Now, here's the rule applied to Americans visiting Iran: "They can travel individually or in a group, but they are obliged to be accompanied by a guide who is in charge of showing them to all the details mentioned at the itinerary." Don't get me wrong! You can cross out anything already in your list, but you cannot add to them. So, if you've already approved the itinerary and agreed to visit all those places and see all those attractions and there's a tour guide showing you to all of them according to the itinerary, it shouldn't be a burden.
If you look at this traveling style from another viewpoint, I must say, yes you cannot travel independently now as an American. You aren't supposed to go away from the group, hotel, etc on your own to explore things for yourself. As there's no US embassy in Iran, it'll be a great headache for yourself, the tour operator, the tour guide and other co-travelers if you are caught in a problematic situation. Apart from the embarrassment, everyone's time will be wasted because of you.
It will be great to know how many German, French, Italian, Spaniard, etc travelers register for such tours months ahead of time to make the best of their time visiting Iran. Americans visiting Iran should know Iran is a big country with lots of things to see, which isn't possible in a short time, specially without a guide. Tour guides make it extremely convenient for you to see more and learn more about Iran. I invite you to search this website for "tour guides" and find some useful information in this regard!
What's in It for Americans Traveling to Iran This Way?
It's more than 3 decades Iran has entered a new era after the 1979 Islamic revolution. The political situation between the two countries of Iran and USA has caused certain restrictions imposed on the nationals of both countries visiting the other side. It's a lot more difficult for Iranians who want to travel to the States as tourists than Americans willing to visit Iran. Therefore, it's a privilege for US citizens to take the opportunity to travel to Iran and learn more about the nation and its cultural heritage.
The negative tone of the media in the past few decades has envisaged an ugly dangerous nation out of Iran, which is totally wrong. It's going to be a highly view changing trip of your life when you visit Iran and rediscover it for yourself. I invite Americans to plan to visit Iran and make their own judgement of who Iranians are and what type of a country it is. I don't want to brag about it. I'd rather leave it to you to find out.
Americans visiting Iran have a lot to tell you about their experiences. I've included some of their words in testimonial page of Destination Iran. I can connect you to them to talk directly to these people.
I will be here to help if you want. Just drop me an email and we take it from there.
You can also check out some of the top tour packages of Iran here!