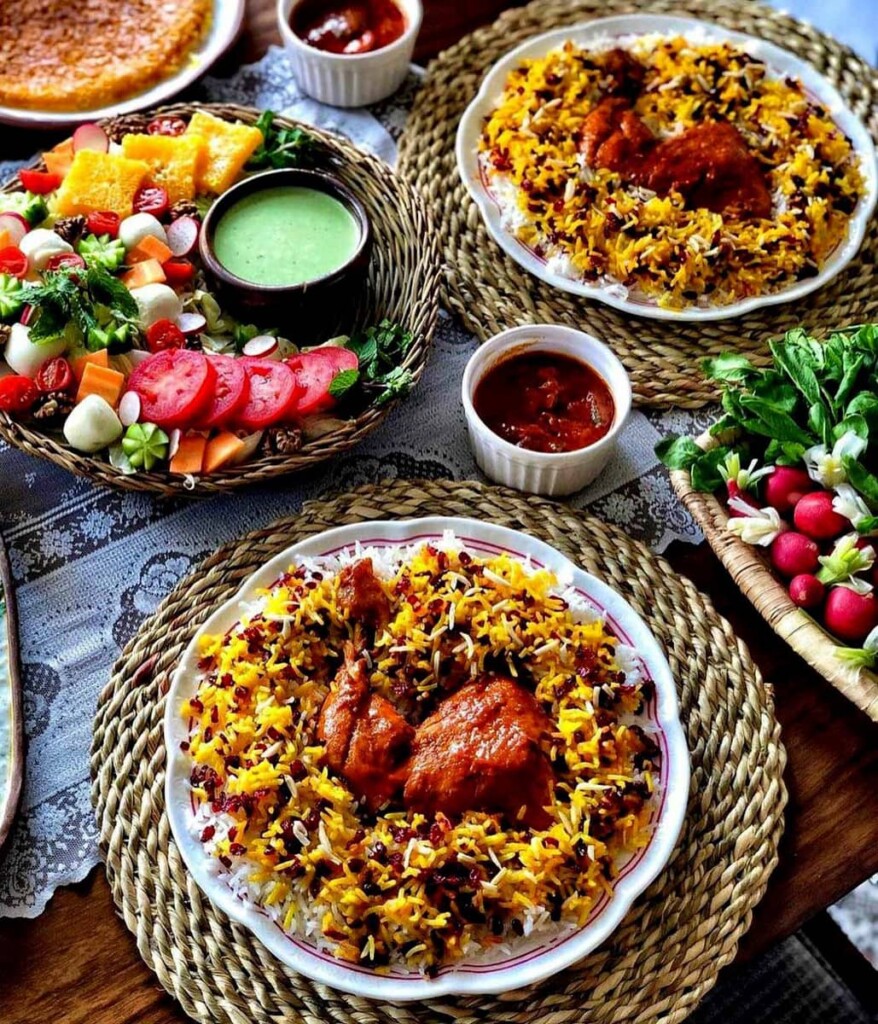 Zereshk polo ba morgh is a very tasty Iranian dish that is quite popular in every home and even at parties. According to "Destination Iran", the "MealsCook" website everyone can cook this food if the following instructions are diligently taken into consideration.
Zereshk polo ba morgh is an original and festive food for Iranians. This dish is one of those special Iranian foods that with the combination of different flavors and having a special smell and nostalgia will definitely make anyone hungry. Zereshk polo ba morgh is one of the delicious and very healthy dishes that always has a place on every table whether for lunch or dinner. This food seems to never intend to become repetitive and always keeps its fans interested.
It doesn't matter where you are, a restaurant, home or a place where you are invited or where you are going to be a guest, zereshk polo ba morgh is a staple food that is present everywhere and is extremely popular. This dish is a delicious combination of rice, barberry, chicken and saffron.
There are different ways to cook zereshk polo ba morgh majlesi; you must know one completely. But if you want to get acquainted with a standard method and of course a very delicious taste of this special food, stay with us.
The method we are teaching you is a great way to cook this dish at parties and gatherings. While preserving the flavor of chicken meat we use far less oil and compared to other methods the cooking time for a colorful and glazed food will be much less.
So, let's learn how to cook this delicious and popular food together. Stay with us until the end of the article with mealscook site.
Zereshk Polo ba Morgh Ingredients: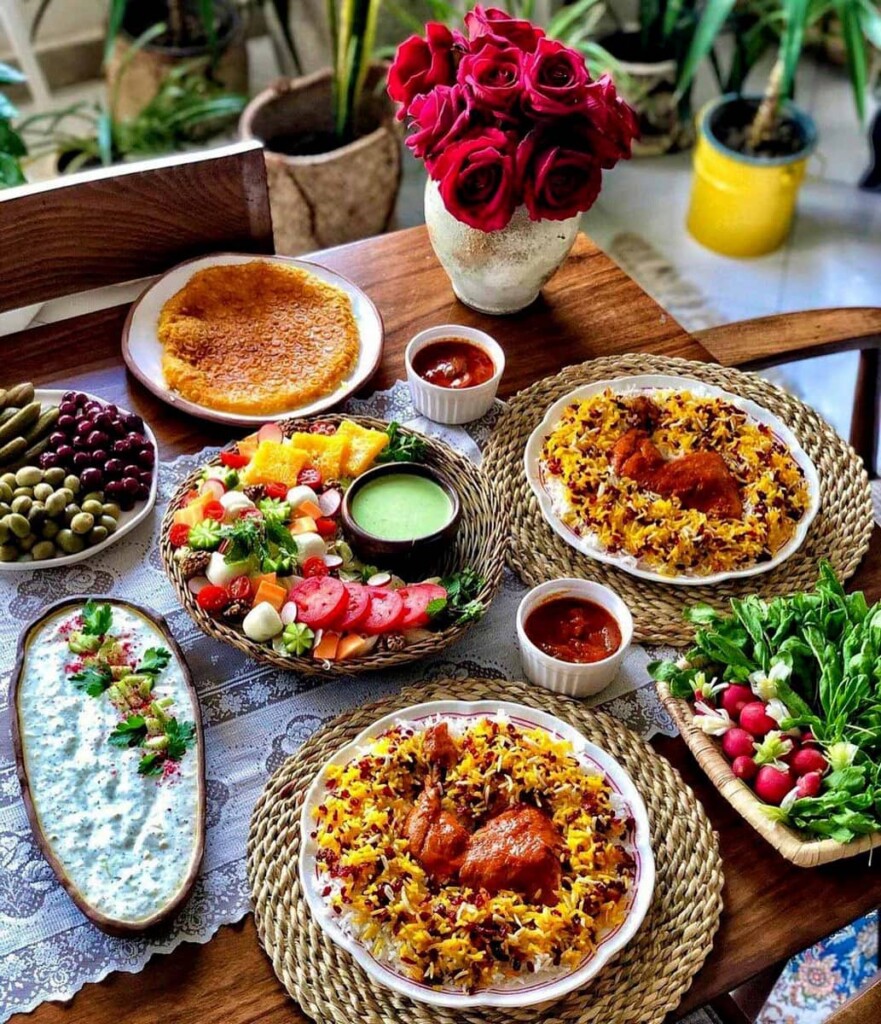 | | |
| --- | --- |
| Iranian rice | 6 and a half cups of |
| Chicken | 6 pieces |
| onions | 2 medium |
| carrots | 2 |
| Barberry | 2 cups |
| Sugar | 2 tablespoons |
| pistachio slices | Half a cup |
| Garlic | 1 large clove |
| Brewed saffron | 1 cup |
| Tomato paste | 2 tablespoons |
| lemon juice | 1 to 2 tablespoons of |
| Rose water | 1 tablespoon |
| green bell pepper | 1 |
| bay leaves | 2 |
| Salt, turmeric, black pepper and cinnamon | as needed |
Zereshk Polo ba Morgh Recipe: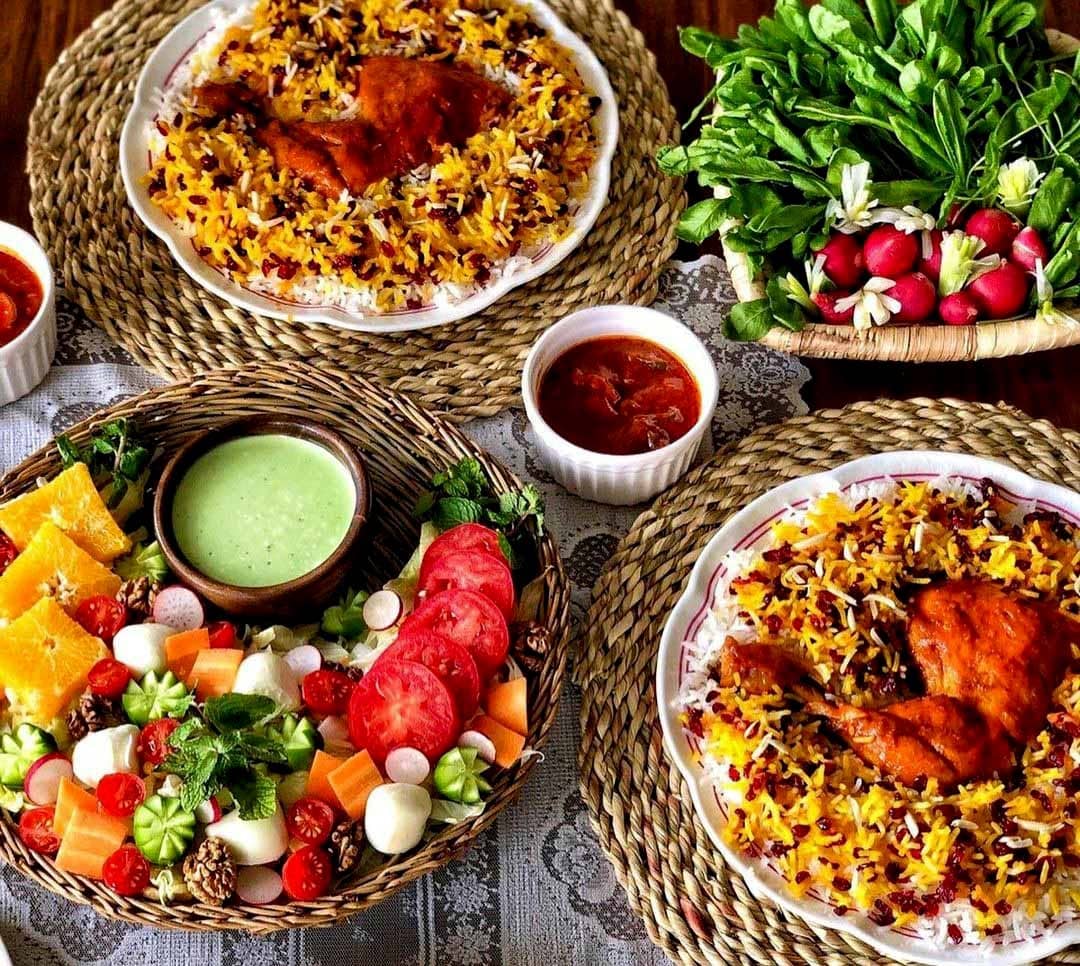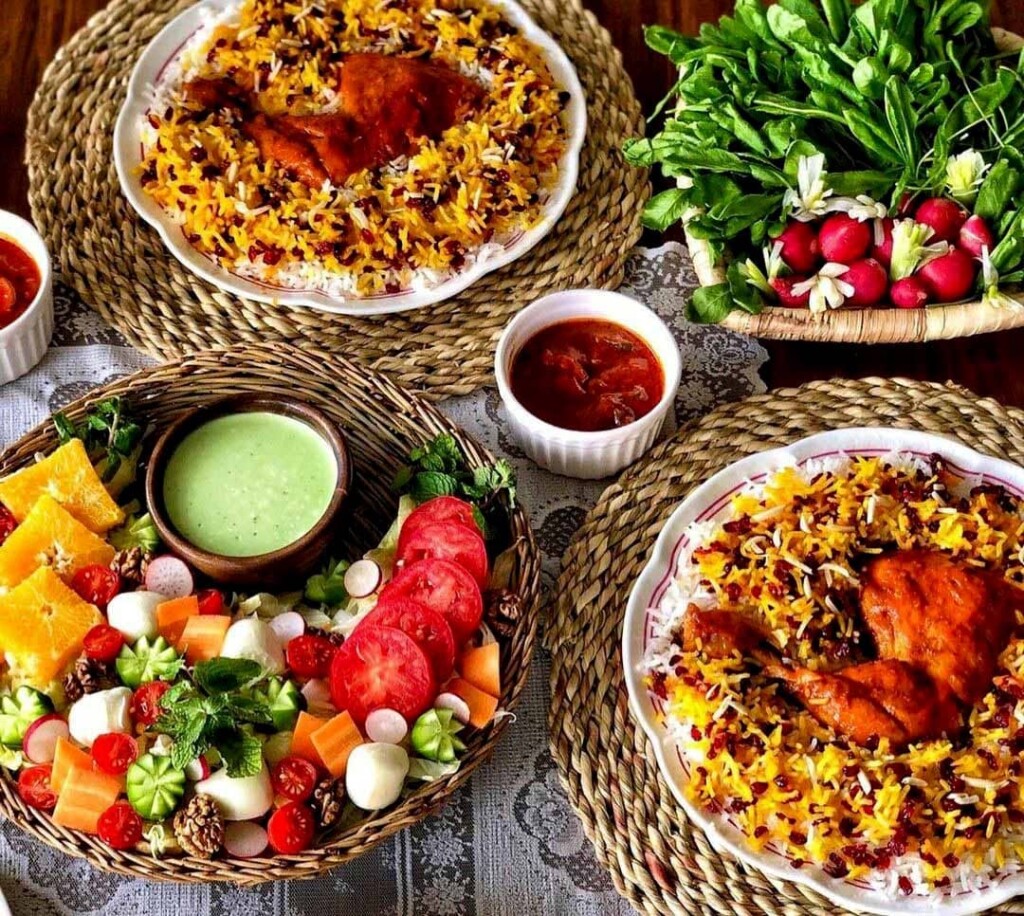 First, wash the rice and let it soak for 30 minutes to 1 hour in the bowl with some water and salt.
Then wash the chicken breast or thigh pieces and place them on the textile to drain the water.
In this step, you should also wash the barberries and let them soak for 15-20 minutes in a bowl with some water.
Chop the onions very finely and fry them in a pot with some oil. When the onions become light and golden pour some turmeric on them.
After the onions are golden it's time to add the chicken pieces. After frying a little grate 1 clove of garlic and add it to the previous set.
Add some tomato paste to the pot and try to cover the whole chicken. You can use half a cup of water to mix the ingredients better.
Then pour a little cinnamon powder and black pepper on the ingredients and stir again.
Peel the carrots and cut them in half.
Then add 4 glasses of water along with carrots, bay leaves, and salt to the pot. Also coarsely chop the bell pepper and add it. Now cover the lid of the pot and let the ingredients boil together.
Fill another pot with water and let it boil.
Then discard the rice water and add it to the boiling pot. Use some oil and salt to prevent the rice from sticking together.
Pay attention that high-quality Iranian rice does not need much time to cook. So after about 10 minutes drain it and run some cold water over it.
Then put the pot on low heat until the water dries. To heat the pot pour oil into the pot and pour some rice along with a part of brewed saffron in the bottom. Then add the rest of the rice to the pot. Likewise, you can use a piece of bread or potato for tahdig instead of rice.
In this step, the chicken is boiling slowly and the rice is steaming with a gentle flame. So it's time to prepare the barberry. Wash the barberries and saute them in a small pan with some sugar, oil and a little rose water until light. Then, add the pistachio slices and continue sauteing for another 30 seconds.
Now remove the carrot pieces from the chicken pot (We don't want to see mashed carrot pieces in the chicken broth. But if you want to serve the carrots with the chicken add the sliced carrots to the pot of boiling chicken a little later than we said.)
In this step when the chickens have almost reached the limit of cooking you should add a little brewed saffron to them. Then, taste the chicken broth and adjust the spices or salt if they are lacking.
Take a spoonful of brewed rice and mix it with the rest of brewed saffron. Finally in the serving dish using this saffron rice and barberry and pistachio slices along with the chicken and its extract to decorate zereshk polo ba morgh. (To prepare zereshk polo ba morgh you can also take the chicken out of the pot and shred it with a fork. Then, decorate it with barberry on the rice.)
This food is served with salad shirazi, mast o khiar and zeytoon parvardeh.
Tips for having a perfect zereshk polo ba morgh: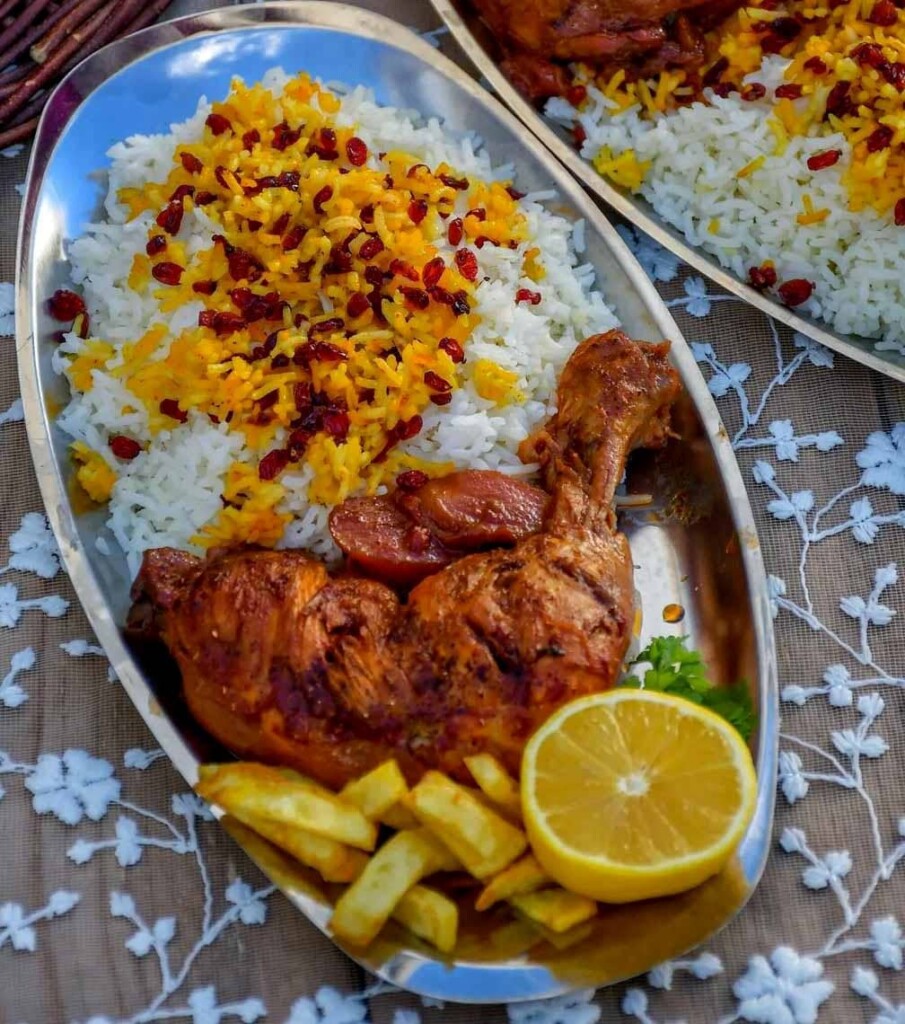 There are always some tips for cooking food better and more professionally which we only realize by cooking food many times. But to save your time these tips are collected in the following section:
Using Gilani rice will make your food taste much better.
To get the smell of chicken guts be sure to remove the skin and avoid spilling the dark and dead parts. In addition, it is necessary to fry both sides of the chicken.
While frying the tomato paste be careful not to over-fry the paste. Frying the tomato paste too much will make it taste bitter and take on a dark color.
Avoid adding too much cinnamon powder in the way of preparing zereshk polo ba morgh so that the food has a mild color.
In the preparation of this food avoid pouring the carrots with the skin and be sure to chop them coarsely so that you can pull them out of the pot if you want.
If you buy barberry in a box make sure there are no stones in it before use. Also, remember to soak the barberry in water to soften it.
To ensure that the rice is cooked it is enough to soften the outer part of the grains because the kernels will be cooked during brewing.
Although you can use lavash bread or potatoes for tahdig we suggest you also use saffron due to the wonderful aroma and taste of saffron.
For a better aroma, you can saute barberry with butter. Also because barberry is fried quickly be careful not to burn the barberry.
If you like the sour taste of barberry, you can fry it without sugar but be aware that barberry will taste very sour. In addition to creating a pleasant taste the use of sugar along with barberry also creates a pleasant taste.
Although rose water has a pleasant aroma add it in moderation.
Pay attention to the sufficient cooking time of the chicken. For example just as the chicken should not be hard it should not be cooked so much that the bones fall apart in the pot.
We hope you enjoyed zereshk polo ba morgh majlesi. Do try it at home and have it with your loved ones. This recipe was inspired by the meals cook website. If you are looking for various types of recipes, check the website out.
Source: https://mealscook.com/recipes/zereshk-polo-ba-morgh-recipe/