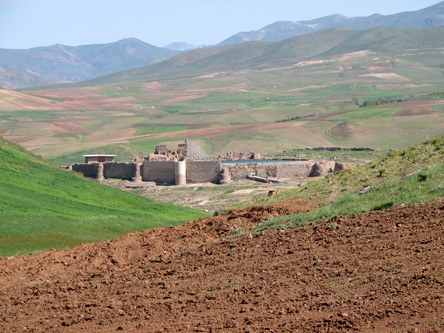 Take the Western Iran Tour and you will learn about the life and history of the people living in The Zagros Mountains. It makes you familiar with ancient history, Kurdish culture, farmers and countryside, etc. In fact, this can be an extension of your main tour inside Iran for more exploration.
Check out the detailed itinerary for more information:
Detailed Itinerary of Western Iran Tour
Here is the route of this tour:
Tehran, Hamedan, Kermanshah, Sanandaj, Takab, Zanjan, and Tehran.
Day 01: Overnight in Hamedan.
Drive to Hamedan (ancient city of Ecbatana). En route, stop at Saveh to visit:
Then, proceed toward Hamedan to visit:
Ganjnameh Inscriptions
Tombs of Esther & Mordechai
A walking tour of Hamedan city center
Transfer to the hotel.
Day 02: Overnight in Kermanshah.
Inside the city, visit:
Ancient City of Ecbatana
Alavian Dome
Drive to Kermanshah. En route, at Kangavar, visit:
The ancient temple of Anahita
Before Kermanshah, visit:
Kurd nomads (if in proper season)
Taq-e-Bostan Sassanian reliefs
Bisotun relieves, inscriptions, caravansary, etc
Transfer to the hotel.
Day 03: Overnight in Kermanshah.
Moaven-ol-Molk Tekieh (mourning building)
Kermanshah bazaar
Transfer to the hotel.
Day 04: Overnight in Sanandaj.
Drive to Sanandaj. Visit:
Khaneqah (gathering place) of Qadery dervishes
Kurd House
Transfer to the hotel.
Day 05: Overnight in Zanjan.
Drive to Zanjan. En route, visit:
Karaftoo Caves
Takht-e-Soleyman
Proceed to Zanjan. Transfer to the hotel.
Day 06: Overnight in Tehran.
Visit:
Zanjan Bazaar
Soltanieh Dome
Proceed to Tehran. Transfer to the hotel.
More Tour Packages
The Western Iran Tour you have read above is one of the extended tours of Iran for those who order an Iran tour package and want to explore our country a bit more. Therefore, it is highly recommended to take an extended tour like this to enrich your experience in Iran.
---
More about Iran Tours!