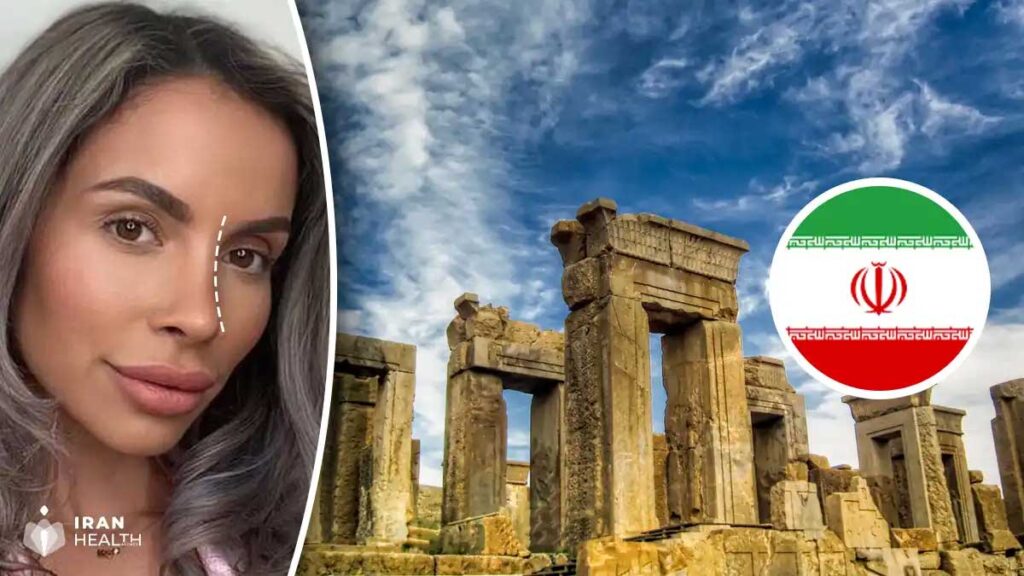 Iran boasts of a convenient and inexpensive rhinoplasty procedure in the world. According to "Destination Iran", "Iran Health Agency" has explained the reasons for excellent nose job procedures offered in Iran to global need.
With the rise of medical tourism, many people are turning to Iran for their cosmetic surgery needs. Rhinoplasty is a popular procedure, and many people are curious to know if Iran is an excellent place to have it done. In this piece, we will explore the advantages and disadvantages of having an Iranian rhinoplasty.
There's something extraordinary about Iran with its history, culture, and medical facilities. In addition to its advanced technology and highly skilled surgeons, Iran is a popular destination for medical tourism, and Rhinoplasty in Iran is no exception. In addition to its excellent healthcare, Iran is also a beautiful and cultural place to have rhinoplasty.
Advantages of Iranian Rhinoplasties
Low cost: In Iran, nose surgery is much more affordable than in Western countries. Surgeries can cost anywhere from $1,500 to $3,000, compared to $5,000 to $10,000 in the US.
High quality: Iran has many experienced and skilled plastic surgeons, especially in rhinoplasty. Iranian surgeons perform hundreds of rhinoplasties every year.
Wide choice of surgeons: There are many qualified surgeons to choose from in major Iranian cities like Tehran. Patients can find a surgeon that is the right fit for them.
Short waiting times: Appointments can usually be booked quickly, within a few weeks. Patients don't have to wait months for surgery dates.
Cost of Surgery on the Nose in Iran
The cost of nose cosmetic surgery in IRAN can range from $1,500 to $3,000 on average. It includes the surgeon's fee, hospital charges, anesthesia, and medications. Additional costs may include hotel accommodation and travel.
For comparison, rhinoplasty costs between $5,000 to $10,000 on average in the US. The much lower prices in Iran make it an attractive option for medical tourists.
A Look at Iran's Rhinoplasty Procedures
There are a few standard rhinoplasty procedures performed in Iran:
Nose job (nose reshaping): modifying the shape and size of the nose
Nose tip plasty: altering the shape and projection of the nasal tip
Alar base reduction: decreasing the size of the nostrils
Revision rhinoplasty: correcting or modifying a previous nose job
Skilled Iranian surgeons can perform all of these procedures with natural-looking results.
Top Persian Rhinoplasty Surgeons
Many highly skilled and experienced rhinoplasty surgeons in Iran offer a wide range of rhinoplasty procedures:
Dr. Hamidreza Nori
Dr. Alireza Mohebi
Dr. Ahmadreza Rajaei
Dr Amin Amali
Dr. Payam HaghPanah
Professor Ehsan Khadivi
These surgeons have decades of experience, thousands of procedures completed, and expertise in complex revision rhinoplasties.
Best Cities in Iran to Get Rhinoplasty
Iranian cities that offer the best rhinoplasty services include the following:
Tehran: As the capital, Tehran has the highest concentration of specialists and clinics—over 200 qualified surgeons.
Isfahan: It is a historic city with a high number of talented rhinoplasty surgeons—lower prices than Tehran.
Shiraz: Known for its skilled nose surgeons, this destination is a major medical tourism destination. Competitive pricing.
Mashhad: Leading plastic surgery hub in the northeast region with expert surgeons.
Is Iran the Rhinoplasty Capital of the World?
With Iran's unique combination of experienced surgeons, low prices, and advanced surgical facilities, many consider the country the "nose job capital of the world." Iran does more rhinoplasty procedures than anywhere else globally, especially for medical tourists.
So, for patients wanting quality work for an affordable price, Iran remains a top choice for rhinoplasty and other cosmetic surgeries. The country's surgeons have earned a reputation for excellence in this field.
There's Terrible News about Iran's Safety, But What about Its Security?
Iran is generally considered a very safe country to travel to, especially for medical tourists coming for procedures like rhinoplasty. Here are some key points about safety in Iran:
Crime levels are shallow, especially violent crime. Iran has strict laws and vigorous law enforcement.
Terrorism risk is minimal. Iran has high security and does not have the insurgent issues of some Middle East nations.
Healthcare is of international standards. Hospitals and clinics take safety and hygiene very seriously.
Doctors are highly qualified. Surgeons must complete rigorous training and be board-certified.
Taxis and drivers arranged through hospitals are licensed and professional.
Iranians are very welcoming to foreigners. Locals are eager to help tourists.
Solo female travelers have visited Iran safely, though conservative dress is required. Some precautions are advised.
The political climate is stable currently, with significant unrest.
Iran is geographically distant from conflict zones in the region. Borders are tightly controlled.
While every country has some risks, Iran has proven to be an exceptionally secure destination for medical tourists. Essential precautions like arranging airport pickup and reputable accommodation are advised. Overall, travelers can feel at ease visiting Iran for medical care.
So, If I want to travel to Iran, what is the process for applying for a medical visa? In the next section, we will answer the question.
What Are the Steps for Medical Visa Treatment?
Here are the typical visa steps for foreigners traveling to Iran for rhinoplasty:
Apply for a medical visa. Specifically for medical treatment, you can enter Iran with this visa.
Submit required documents like a passport, application form, proof of travel medical insurance, a letter from your Iranian surgeon, and payment.
Pay the visa fee, which is around $100-200 depending on your nationality.
Get a visa authorization number. After you apply, this will be emailed to you within 1-3 business days.
Schedule an appointment at your nearest Iranian embassy/consulate with your authorization number. Submit passport and documents.
The medical visa will be issued within 5-7 business days usually. It is valid for 1-3 months.
Book your flight to Iran. Inform your surgeon of your travel dates.
Arrive in Iran. Show a passport, visa, and letter from the surgeon at immigration to be allowed entry.
After completing treatment, exit Iran before the visa expiry date.
Depending on your nationality, visa rules might be different. Confirm requirements with the Iranian embassy for your country. Plan well in advance, as the process takes several weeks.
A final Thought about Iran's Rhinoplasty Practice:
Getting medical treatment abroad can be challenging when trying to coordinate everything independently. Using medical tourism in Iran makes the process much simpler for patients.
Arranging surgery overseas involves many steps – choosing a clinic, getting visa approval, booking travel, scheduling appointments, etc. Handling all the logistics alone can get complicated quickly.
Working with an established agency like Iran Health Agency is extremely helpful here. They take care of all aspects of medical travel for you:
Connect patients to accredited hospitals and vetted surgeons in Iran
Assist with visa requirements, paperwork, and government formalities
Make travel arrangements, including flights, airport pickups, lodging
Schedule all medical appointments and translate conversations
Provide 24/7 support before, during, and after procedures
Arrange tours or sightseeing activities during the recovery period
With an agency overseeing the details, patients are relieved of coordination headaches. They can focus on their rhinoplasty surgery and recovery while the agency manages the process. This streamlined care makes undergoing cosmetic treatments like rhinoplasty abroad much more accessible.
So, for those seeking plastic surgery options in Iran, a reputable medical tourism agency proves invaluable by simplifying the entire experience.
FAQ about Plastic Surgery in Iran
What are the most popular procedures in Iran?
Rhinoplasty (nose jobs), breast augmentation, and liposuction are the top surgical procedures performed in Iran. Rhinoplasty is especially popular.
Are the surgeons in Iran board-certified?
Yes, surgeons must complete extensive training and pass rigorous exams to be board-certified in plastic surgery by the Iranian Medical Council. Iranian surgeons must adhere to the same safety standards as surgeons in any other country and must also meet the exact requirements in terms of experience and qualifications.
How long is the recovery time after surgery?
For rhinoplasty, expect around 1 week of rest needed. For more extensive body procedures, plan for 2-4 weeks of limited activity to allow proper healing.
What are the facilities like in Iran?
Major cities have modern hospitals and clinics with the latest technology and equipment. Standards match or exceed those in Western nations.
What is aftercare provided?
Your surgeon will schedule follow-up visits to monitor your progress. They are available for consultations during your recovery stay in Iran as needed.
In addition, your surgeon will provide you with detailed instructions on post-operative care, such as wound care, medication, and activity restrictions. They will also provide contact information in case of any questions or concerns.
Is there a way for me to pay for my treatment?
Most facilities accept payment by credit card, bank transfer, or cash. Your medical tourism agency can advise on the best payment options.