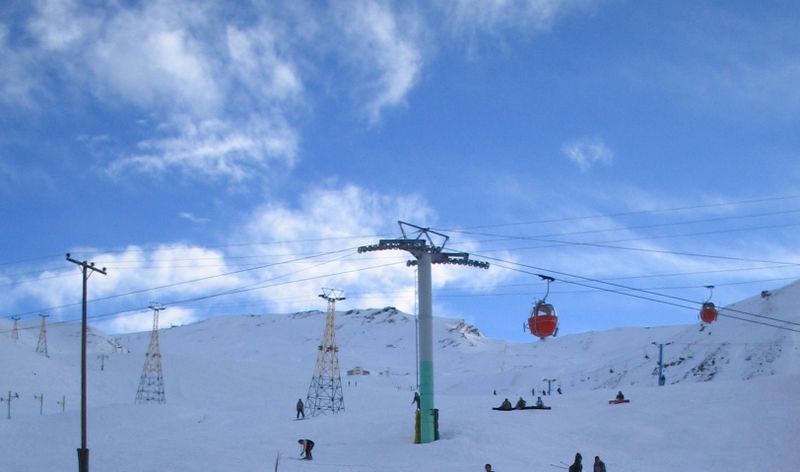 Iran is quite a different country in the region when it comes to the possibilities of skiing in the Middle East! There are lots of huge mountains with high peaks and appropriate slopes for different types of skiing. As a result, ski resorts have been built for the skiers who love this sport. This type of terrain makes Iran a unique location for the people interested in skiing in the Middle East.
Ski Resorts for Skiing in the Middle East
The highest peak of Iran is Damavand with 5671 m above sea level. It's located in the North East of Iran on the Alborz range and can be seen from inside Tehran on Sunny days.
You will find snow on top of this burned-out volcano almost all year round. Along with the same mountain range and close to Tehran, there are possibilities of skiing at different ski runs. Dizin, Tochal, Shemshak, and Darbandsar are such places for Iranians as well as foreign enthusiasts.
Dizin Ski Resort
Photo Courtesy of Wikipedia Website
If you're looking for a unique possibility of skiing in the Middle East or you're living in a neighboring country, why don't you consider going to Dizin? It's the largest skiing field in the region. This resort is in a fantastic geographic location, near Tehran. So, you can drive directly from the International airport to Dizin and get there in a couple of hours.
One of the advantages of the Dizin skiing field is that it has different ski runs, for beginners and professional skiers, so that you can ski in different styles one after another.
The ski lift will take you to an altitude of 3600 m above sea level, making it one of the top 40 high ski resorts in the world. There are several villas, hotels, cottages, restaurants, etc at Dizin.
Tochal Ski Resort in Iran
Tochal peak is right in the north of Tehran. It's at an altitude of 3964 m above sea level and in perfect condition for those who love skiing in the Middle East. Access to the location is possible by cable car that starts from the north of the Velenjak district in Tehran. A modern hotel has recently been constructed up at the peak for the skiers so that they can stay in well-equipped accommodation.
You can combine Tochal with Dizin during your stay in Tehran so that you can ski at both places. Also, you can keep it on your list as an alternative for the second time you go skiing in Iran.
Other Ski Resorts in Iran
Alvares is the second standard ski resort in Iran after Dizin. Its altitude is 3200 m above sea level and located 24 km away from Sarein, near Ardebil. At Dizin, you can ski from December to May, longer than the resorts in Europe.
You can also opt for skiing in other parts of Iran like Mt. Alvand in Hamedan, Mt.Zardkooh near Shahr-e-Kord, Mt.Dena, etc where local ski resorts are available too.
Ski Gears for Winter Sports
It's up to you to bring your ski gear or rent them here in Iran. Usually close to the ski fields, you can find some stalls where you could rent all types of ski equipment and ski-wears like Alpine skis snowboards, mono boards, cross-country skis, etc.
Of course, this doesn't mean that you can find them at any corner of Iran where people go skiing. On the other hand, you may feel better at your own gears. So, brings yours if you feel better. At major ski resorts like Dizin and Tochal, you would usually be able to find what you want to rent.
A more important fact is, if you're living in the region, Iran has got the best resorts as far as skiing in the Middle East is concerned.
Wild Skiing in the Middle East
Mountains in Iran have got the huge potential for fans of skiing in nature. There are several peaks higher than 3000 meters on the Zagros Mountains, Alborz mountains as well as other local mountain ranges. You can contact some local tour operators to make sure the required services like accommodation, transfer, equipment, etc are provided prior to your trip to Iran.
Many professional skiers come to Iran from all around the world to go wild skiing. If the season is right and you arrange for everything before your arrival via a local company, you will enjoy doing this sport here. Iran offers the best opportunity for skiing in the Middle East. Nowhere else all these factors are available to plan and travel for the purpose of skiing.
To order a skiing tour in Iran, you can visit the Iran Skiing Tour page and ask for an unforgettable experience to be arranged for you.
Also, you can check out some of the top tour packages of Iran here!