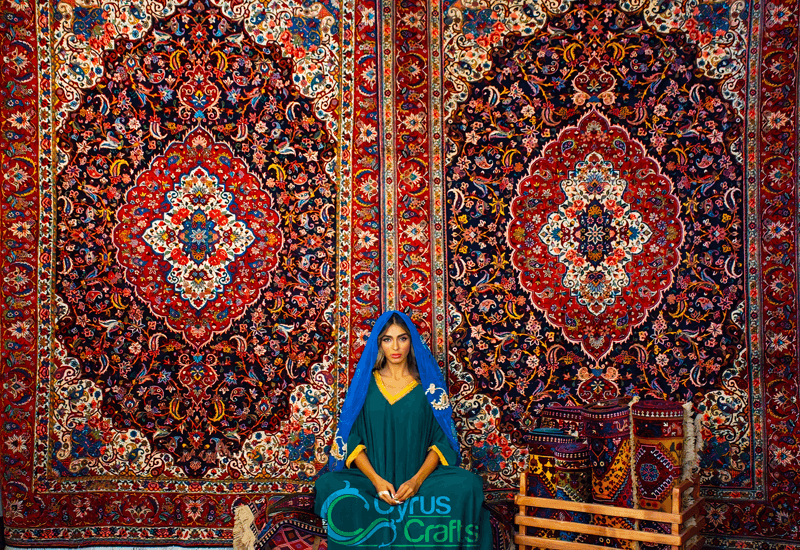 According to "Destination Iran" and following the "CyrusCrafts" website, area rugs are very much in demands these days. You can choose to purchase hand-woven rugs and carpets or go for Persian machine-made ones. Here is some information about both.
Throughout history, Persian rugs and carpets have been the most valuable and magnificent manifestations of art and originality. Area rug and Carpets in the Orient, especially among Persians, are not merely a floor covering but an artistic compilation of taste and an instrument to pour the spirit of art, pattern, and color of life into homes.
As every country and nationality has a unique symbol, it can be boldly said that handmade rugs are one of the essential symbols of Iran. People who are passionate about rugs and weaving believe Iran produces the best carpets, the most beautiful with the highest quality!
People may have a misconception that because handmade carpets are more expensive than machine-made ones, they pay a lot of money to buy them. But this idea is entirely wrong. As you know – and you may be – many families change their machine-woven carpets every few years. In fact, the money they spend each year on machine-made carpets has not only not grown, and it has been completely consumed. In contrast, buying a handmade rug, its price increases over time. Handmade area rugs are a family commodity investment.
Carpets and Rugs are among the most critical items in any original home. A beautiful, well-proportioned, high-quality carpet can add essential meaning to your home's decor. It also attaches spirit, color, and energy to the environment.
Different Kinds of Persian Carpets at CyrusCrafts Online Store
Persian Handmade Rugs
Persian handmade carpets are among the most expensive and exquisite rugs in the world. A variety of colors and designs make it appealing to a wide range of tastes. Because of their premium quality, an incredible delicacy in texture, use of natural and non-chemical raw materials, as well as their unrepeatable originality, Persian hand-woven area rugs and carpets are relatively expensive. This carpet's price and value consistently increase over time and can be considered a guaranteed asset.
The value of Cyruscrafts rug and carpets is increasing so buying a handmade rug is not a cost but an investment; buying exquisite handmade carpets can turn your cash into a safe investment. If your income is insufficient to cover your whole house with handmade rugs, you can carpet the parts that are high traffic with small handmade rugs.
Here at Cyruscrafts, you can buy exquisite Persian handmade rugs at the best price and unparalleled quality, as well as fast and safe worldwide delivery. Also, by membership to the CyrusCrafts online store, you can be informed about news related to exceptional discounts, seasonal promotions are special offers.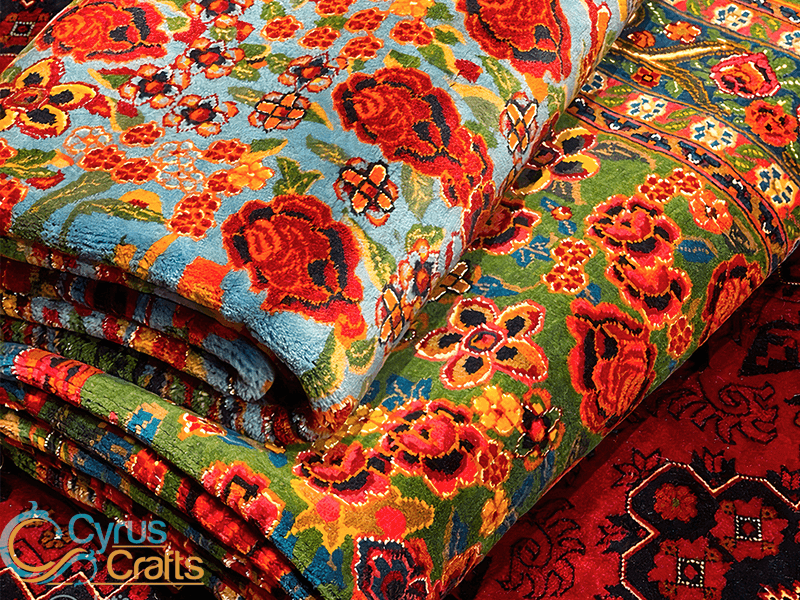 Persian Silk Rugs
The handmade silk carpet is one of the most exquisite and valuable manifestations of original Iranian art, which is world-famous. When it comes to silk rugs, the first thing that may subconsciously come to our mind is its high price and luxury, which has led the order to buy this type of Persian carpet on the CyrusCrafts online store is always high, not only because of its exceptional quality and delicacy but as a future investment.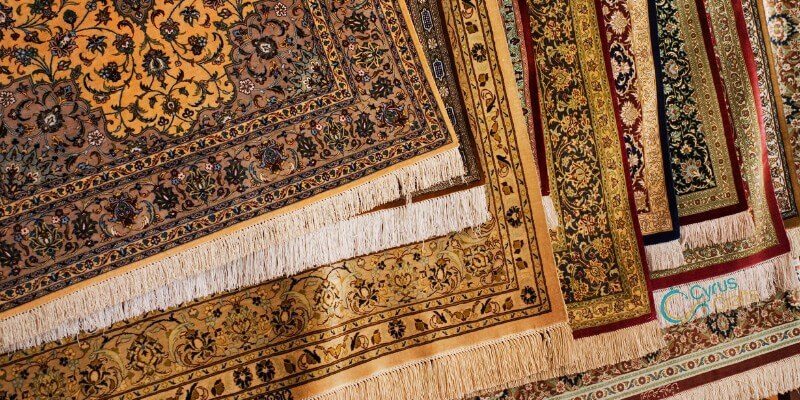 Persian Machine-Woven Rugs
Various machines are used in the production of cheap and Affordable carpets. These carpets can be acrylic or BCF (Bulked Continuous Filament) or a mixture of them, or new synthetic silk fibers (polyester). Carpets made of synthetic silk fibers are currently considered the best flooring in the world markets because they do not shed lint, are easily washed, and have high stability and glitter.
Additionally, machine-woven carpets have a much lower price than hand-woven carpets despite having the same quality and great variety. The reasonable cost of these carpets allows Persian carpet enthusiasts to buy area rugs similar to hand-woven rug designs at a much lower price and enjoy the beauty and quality of Iranian machine-woven carpets.
Persian Kilim Rugs
Kilim rugs are recognized for their simple and bold geometric designs. Wool is the primary material used in most Kilims. Cotton may also be included in the warp in some cases.
Wool is an excellent choice for rugs. It is widely available, hardwearing, and easy to handle, and the vegetable dyes take to it ideally.
The main reason Kilim rugs are lower in cost is because of the amount of time, effort, and skill that goes into their making of them. They are brilliant and beautifully crafted, but due to how they are made (flatweaved), they do not take as long as hand-knotted rugs and do not require the same skill level to complete.
Persian Gabbeh Rugs
Gabbeh is one of the few original Iranian rugs that has been popular in many villages since ancient times, especially among the nomads. Today, rugs are one of the essential elements in interior decoration and play an important role in revitalizing the interior of the building. Gabbeh rugs, like other Iranian rugs, have beautiful designs and unique patterns that you will not find anywhere else in the world!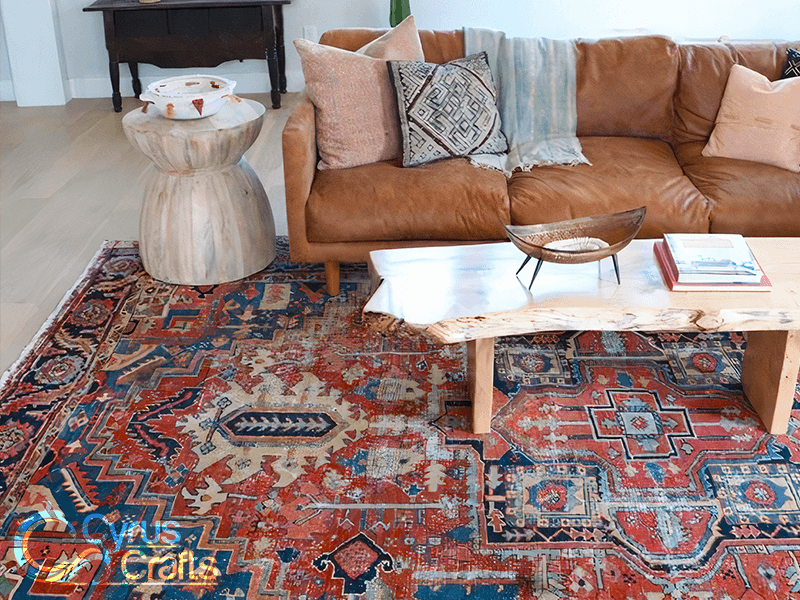 How To Buy an Original Persian Rug?
With so many machine-woven and Persian-look-a-like rugs available in the market today, if you have not done your research before, it may be difficult to distinguish between an authentic Persian carpet and one that simply appears to be Persian in style.
Sometimes the similarities are so close, especially if they are hand-knotted, that it is almost impossible to tell them apart without a proper inspection.
It is crucial to ensure that the Persian carpet you buy is original, considering that it has a very high price. The importance of buying from an authentic store is that reputable stores such as CyrusCrafts, with the support of years of specialized activity in the field of exporting high-quality and original Persian rugs all over the world, always consider themselves responsible for customer trust and provide them with the highest quality, best price and most responsible after-sales service.