Because of its ancient roots in human settlements and agriculture, Iran could be very big in agritourism (or agrotourism). Iran is a country where the high potential of such kind of tourism is already there. In recent years, the rural tourism activists have also prepared ecolodge accommodations for Iran agritourism fans. More organizations will certainly lead to successful businesses in this field.
By definition, agritourism is a subset of rural tourism providing a range of services for travelers who look for agriculture-related activities. These experiences include:
Rural lifestyle (fishing, farming, animal husbandry, etc.),
Agriculture education to learn about various crops,
Rural accommodation in farmers' houses,
Recreation such as horse-back riding, donkey-back riding, etc.,
Animal husbandry to learn about breeding and raising livestock,
And so on.
Of course, it could include other interesting experiences that mainly fall into rural tourism activities like:
Shopping for rural products (fruits, handicrafts, etc.),
Participating in crops festivals (grapes, pomegranates, etc.),
Trekking to headsprings or the farms' sources of water,
Wildlife watching, which could be adventurous if not dangerous,
Learning about the rural lifestyle and culture (local clothes, dishes, etc.).
And so on.
Iran Agritourism Potentials for World Travelers
As Iran has got several different climates, one may find different types of agricultural products here and there. Although the general presupposition about Iran states that it is a dry country without agriculture, the facts show the opposite situation. In fact, there are various agricultural products in semi-arid and arid areas of Iran that are the most amazing ones.
The potentials you may find on Iran agritourism packages could invite you to explore and discover crops like saffron, dates, barberries, pomegranates, rice, pistachios, etc. In addition, other products of the areas with more water resources can be found in Iran including apples, apricots, walnuts, cherries, melons, citrons, etc.
Another amazing experience for the fans of this type of Iran tourism could be traveling to the areas where vegetables, herbs, spices, etc grow. Iran is well-known for such products and the exportation of such agricultural products as dried herbs, distilled rose, mint, etc. They have been on Iran's top list for decades if not centuries. The diversity of such products implies fascinating local cuisine, herbal medicine, etc to learn about.
One more fascinating element that world travelers will find here is the setting in which Iran agritourism packages will take place: the ancient and traditional culture of the rural areas! The visitors will be blown away by the level of hospitality and authenticity of the rich culture they encounter with.
Accommodation for Iran Agritourism Travelers
Several ecolodge places have emerged in Iran in recent years in reply to the high demand of Iranians, particularly the youth and those who are looking for authentic experiences. Some are restored houses and some are built in the same style as the traditional buildings of that area. Generally, these accommodations are the type of houses that farmers live in.
Once you set off for agritourism in Iran, you will have such options in most of the rural areas in Iran. They are called "Boomgardi" in Persian. To stay in such places, obviously, you will not have the same standards of hotels. However, the sound pollution of the cities isn't around, there will not be huge crowds at your accommodation, you will be able to eat your breakfast in a very much quiet place, etc.
Most importantly, you will learn about:
The farmers' lifestyle and how they live in such buildings,
The hardship of being farmers in their circumstances,
The efforts local people have to make a living,
The challenges farmers face to breed and raise animals,
And so on.
If you are looking for genuine Iran agritourism experiences, the good news is you will find it easily everywhere you travel to inside Iran. There are still many people earning a living by traditional farming. You will experience the situations and facts that are real and part of people's lives.
Potential Areas for Agritourism in Iran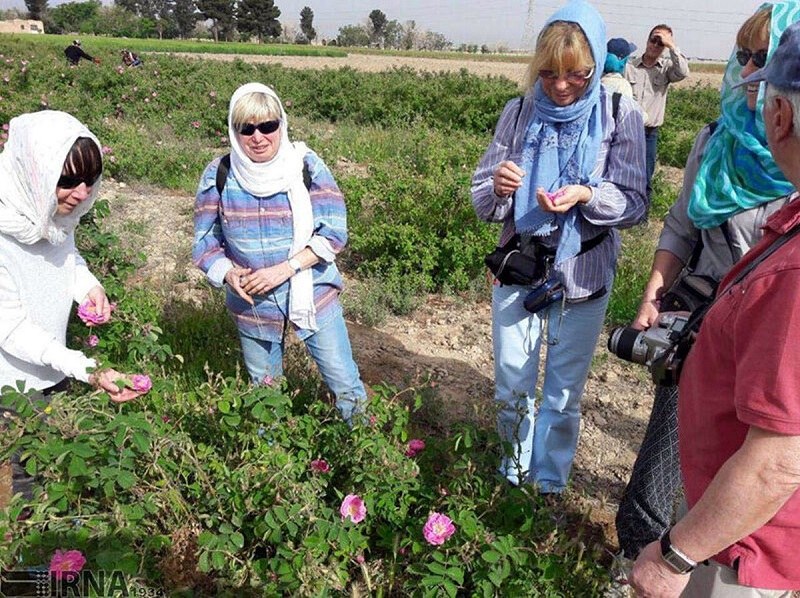 You may find some agricultural products or animals traditionally produced, bred, etc in most places in Iran. Therefore, you may go to any part of Iran and find it. For instance, you can see how sheep and goats are raised by shepherds in north, west, central Iran, and the areas in between. You may find wheat and barley grown in west, northwest, central Iran, etc.
However, if you are looking for particular experiences, then you should take an Iran tour package focusing on agritourism to explore:
Southern Khorasan Province for Barberries and saffron,
Yazd, Kerman, and Semnan Provinces for pistachios,
Yazd, Fars, Esfahan, and Kerman Provinces for pomegranates,
Kerman, Khuzestan, Bushehr and Hormozgan Provinces for dates,
Gilan, Mazandaran and Golestan Provinces for rice,
Mazandaran and Alborz Provinces for flowers,
And so on.
Of course, you may find rice in Fars or Esfahan provinces. Similarly, other crops may be found in other parts of Iran as well. However, the above list is a general indication of what can be found where.
Iran agritourism could be a great magnet attracting several world travelers who are searching for the roots of the present industrialized and developed lifestyle in the world. It indicates how hard, but sweet and healthy life used to be before the traditional lifestyle had been transformed into a modern one.
You can check out some of the best Iran tours here!