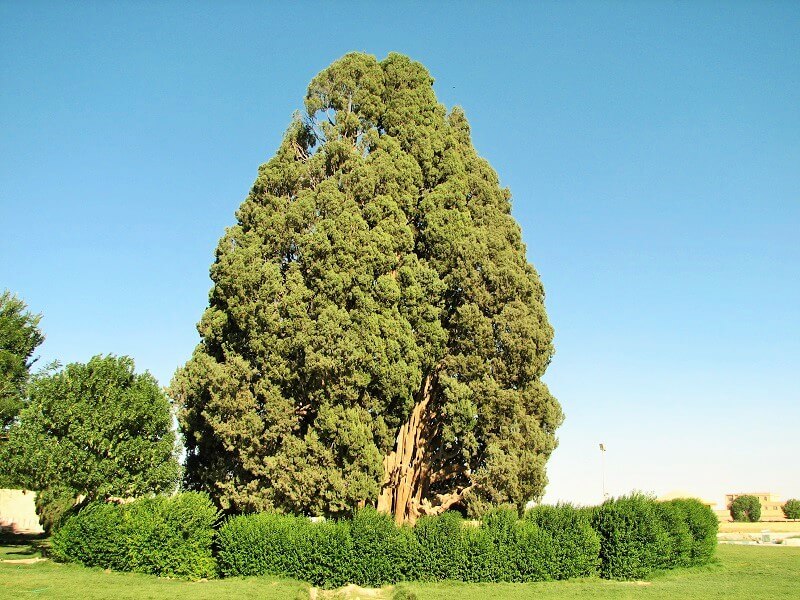 Although the central part of Iran is mostly desert, many historical monuments and tourist attractions are located in this part. Among all the provinces of this region, Yazd province has been one of the targets of domestic and international travelers. One of the most important natural attractions of Yazd province is the Abarkuh Cypress tree. This tree is located in the west of this province, between the three historical cities of Yazd, Shiraz, and Isfahan, and 30 km from Fars province.
The Abarkuh Cypress tree is one of the largest late-living trees in the world, which has a trunk with a diameter of 4.5 meters to 5.11 meters, a stem circumference of 18 meters, and a height of 25 meters. This natural attraction always welcomes thousands of domestic and foreign tourists. Abarkooh city has several other long-lived trees.
The age of only 26 trees in the world dates back to the era before Christ, among which the Aberkuh Cypress tree is the 9th oldest tree in the world. The presence of such a tree in the heart of the desert deserves attention. In Iranian culture, the cypress tree is a symbol of steadfastness and strength, and Abarkuh Cypress is a unique symbolic example in the heart of the desert.
Characteristics of Abarkuh Cypress Tree
This 4,500-year-old tree is the oldest living thing in Iran, the second oldest tree and living organism in the world, and the third natural work registered in Iran's national heritage list. Cypress is one of the evergreen trees and is considered a national symbol in Iran.
The Abarkuh Cypress tree, also known as Parsik, is located in the southwest part of this city and has given the city its fame and historical importance. The age of this tree is estimated to be 4,500 to 4,500 years.
The 4,000-year-old Cypress of this city can be called the oldest living thing in the world. Although it is said that there is a tree in Sweden (Old Tjikko) that is older than our cypress tree, there are now only its roots remain from the old Swedish tree. This is while the old tree of Abarkuh is alive and green in the heart of Iran.
Do not Miss Visiting this Natural Attraction
The customs of the people of Abarkouh are different from other parts of Iran. They prepare for Nowruz Festival at the beginning of March. After dusting the house, they throw away the old jars and replace them with new ones. In addition, they believe that food should be cooked on natural firewood.
Iran tours can introduce you to this ancient city, which has many natural and historical attractions. During such a trip, you can also visit the oldest and strongest tree in the world, Abarkuh Cypress.