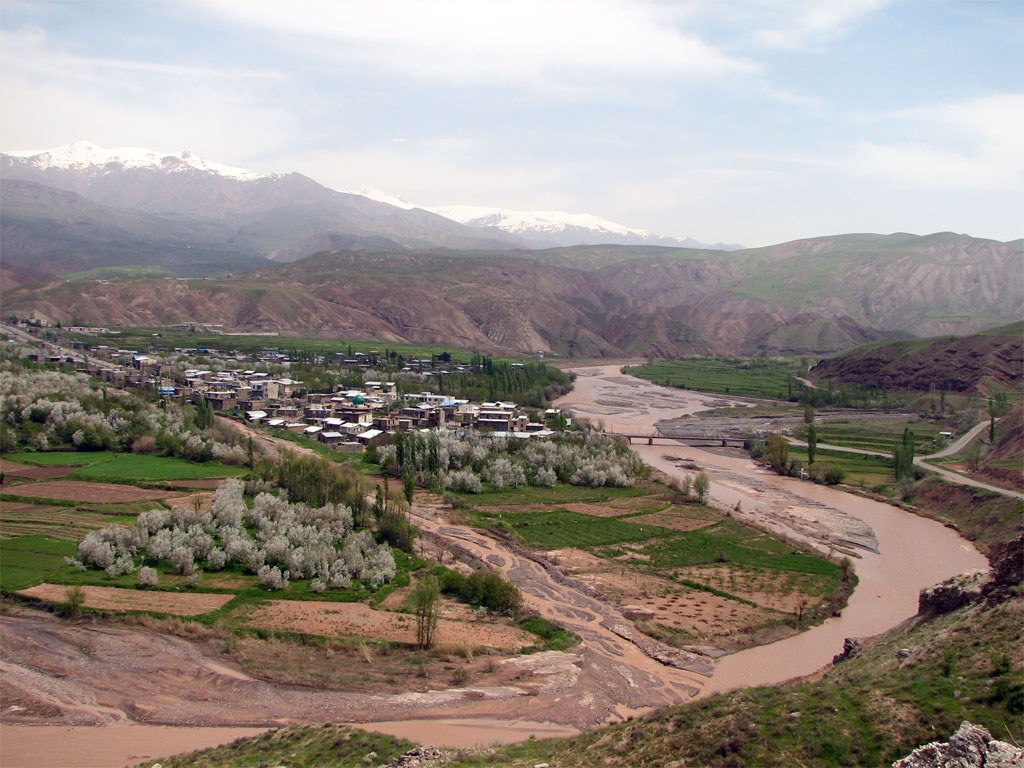 The rivers of Iran make up a vastly extended network most of which seasonally is filled with water. Some permanent rivers run from the Alborz or the Zagros to the Caspian Sea, the Persian Gulf, and the Oman Sea.
Some temporary rivers either run into a body of water or get dried before reaching any watershed. Here are the watersheds of Iran and the rivers emptying into each of them:
Rivers of Iran Emptying in Caspian Sea Watershed
The major rivers running into the Caspian Sea in Iranian shorelines flow from the northern Alborz attitudes like Aras, Sefid Rud, Chalus, Haraz, Se Hezar, Babol, Talar, Tajan, Gorgan, Atrak, Qarasu, and Neka.
Aras runs as long as 950km inside Iran before getting to the Caspian Sea. It also irrigates many areas like the Moghan Plain at the NW of Iran.
Sefid Rud is said to be one of the longest rivers of Iran, 600-780km long from where it originates, Kurdistan Mountains. Gilan plain is a fertile area thanks to Sefid Rud. Fish is farmed in this river.
Chalus River is another important river in the north of Iran for fish farming.
Haraz is a 150km long river irrigating a large plain in Mazandaran province before getting to the Caspian Sea. Trout is the major fish there.
Se Hezar irrigates Tonekabon plain.
Babol is a very suitable river for fish to spawn and breed.
Talar is 150km long and irrigates a plain called Shirgah in Mazandaran province.
Tajan is 120km long that passes by Sari, the capital of Mazandaran province, and gives life to its banks all the way down to the sea.
Gorgan is approximately 300km long irrigating Gorgan plain before getting to its watershed.
Atrak is 500km long and does not always reach Hosein Qoly Bay in Mazandaran province, because it sometimes does not get adequate water from other rivers.
Qarasu is 80km long and originates from the east of Gorgan.
Neka is approximately 100 km long originating from Savad Kuh in Gorgan.
Rivers of Iran Emptying in The Persian Gulf & Oman Sea Watersheds
The Zagros serves as the main originating headspring of the rivers running into the Persian Gulf & Oman sea watersheds. Among all these rivers, the major ones are Arvand Rud, Gamasb, Karun, Jarahi, Zohreh, Dalaki, Mend, Shur, Minab, Mehran, and Naband.
Arvand Rud is formed as a result of two rivers joining in Iraq called the Euphrates and Tigris. It is from 500m to 1000m wide and brings a larger amount of water to the Persian Gulf than any other river.
Gamasb is another long example of the rivers of Iran that flows from the Hamedan Mountains and joins another river, which is called Seymareh in Luristan. Finally, its name is changed to Karkheh in Khoozestan before emptying into the Persian Gulf.
Karun is 850km long and irrigates many areas in the west of Iran. It is navigable and the best time of the year for navigation in it is from December to June.
Zayandeh Rud splits from Karun and runs toward central Iran.
Dez joins Karun too.
Zal and Marun join and form Jarahi, which finally empties into Karun.
Zohreh flows from Kohkyluyeh at the north of Khuzestan province.
Dalaki originates from Arzhan plain in Fars province and runs into the Persian Gulf near Bandar-e-Abbas.
Mend flows from the NW of Shiraz and runs into the Persian Gulf near Bandar-e-Abbas.
Shur empties into the Persian Gulf after running into marshy and sandy lands at the strait of Hormoz.
Rudan and Jaghin form a river called Minab that empties into the Persian Gulf north of the strait of Hormoz.
Mehran and Naband flow from Larestan Mountains in the south of Fars province and empty into the Persian Gulf near Bandar-e-Khamir.
Central & Lateral Watersheds
The following rivers of Iran empty into this watershed:
"

Uromiyeh

" is the watershed for the following rivers: Zarineh Rud (240km long), Talkheh Rud (160km long), Simineh Rud, Safi Rud, and other minor rivers.
"

Masileh

" at the east of Qom, is the watershed for the following rivers:  Jajrud, Karaj, Shur, and Masileh.
"

Hoz-e-Soltan

" & "

Hoz-e-Mareh

", at NW of Masileh, are the watersheds for the following rivers: Masileh, Shur, and Hableh Rud.
Gav Khoony Marshland Watershed
"Gav khoony" marshland, at SE of Esfehan, is a 700km long watershed filled with water coming from Zayandeh Rud.
Central Fars Watersheds
There are three watersheds in this region:
"Neyriz" (filled with the water coming from Kor river),
"Maharlu" (filled with water coming from Qarabaq river,) and
"Parishan" (filled with water coming from two springhead: Famur and Pol-e-Abgineh).
Hamun-e-Jazmurian Watershed
Halil Rud and Bampur are the two rivers emptying into this lake. The lake itself is situated in SE of Iran.
Kavir-e-Lut Watershed
This desert is a watershed into which some rivers of Iran empty. Also, some rivers subside and disappear into the ground before reaching their watershed. The rivers are:
Shur (permanent river), Shur Gaz, Tah Rud, Rud posht, Nesa, Rigan, Derakhtangan (a permanent river), Siraj, Andujerd, Joftan, Kahnoaj, Keshit, Pashooyeh, Nakhl Ab, Ab Khazan, and Chah Nely.
Dasht-e-Kavir Watershed
Most of the rivers emptying into this desert, which is also served as a watershed, are seasonal and subside into the ground before emptying into the pit. They are:
Kalimoor (500km long), Kal Shur (250km long), Hableh Rud, Damghan and Mojin.
Sistan Watershed
Only %40 of this large watershed is in Iran and the rest is in Afghanistan. It consists of several freshwater lakes that are a series of pits with no specific borders. The most well-known lakes in this region are "Hamun-e-Sistan", "Hamun-e-Sabery" and "Hamun-e-poozak".
When adequate rain falls, they get the main portion of water from a river called Hirmand originating from Afghanistan. It passes through 1200km of mountains and lower lands. Other minor rivers in the area are Farah Rud, Har Rud, and Khash from Afghanistan and Bandan and Shur from Iran emptying into Hirmand.
Namakzar Watershed
It is a pit north of Hamun-e-Sistan. Namakzar is a small lake getting water from all the rivers running from its western side.
Mashakal Watershed
Situated in the north of "Hamun-e-Sistan", it gets water from these rivers: Mashakal, Simish and Rootak.
Qaraqom Watershed
It is situated at the NE of Iran inside Turkmenistan territory getting water from the following rivers:
Hari Rud (coming from Afghanistan, irrigating Sarakhs Oasis, and running to Qaraqom sand land) and other rivers joining it like Kashaf Rud, Jam, and Bakharz originating from Iran.
Therefore, although plenty of Iran rivers were introduced here, water has always been a vital issue. Many of the rivers of Iran contain salty water. Many of them are seasonal. This makes fresh drinkable water even more valuable.