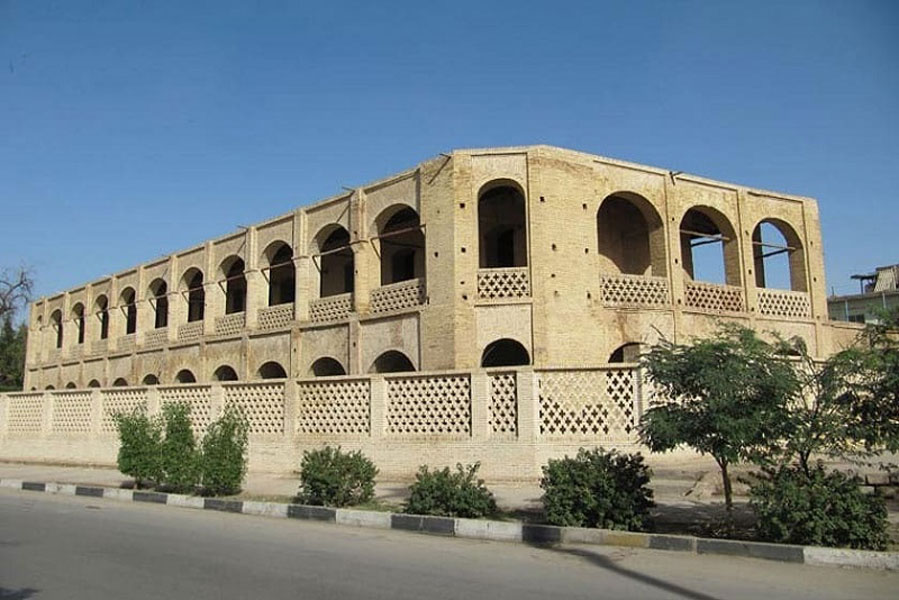 Ahvaz is one of the big cities of Iran, which is known as the city of nights. This beautiful city was chosen as the capital of Khuzestan province in 1924. Ahvaz is famous for its bridges, but most of its historical buildings have deteriorated. One of its buildings, which played an effective role in the prosperity of the city, is still standing: Moein Al-Tojar Caravansary of Ahvaz.
Sometimes, Moein Al-Tojar Caravanserai is confused with a palace named after Sheikh Khazal, while these are two different buildings in the city of Ahvaz.
History of Moein Al-Tojar Caravanserai of Ahvaz
Until the Qajar period, Ahvaz was an abandoned city. Although this city has a river like Karun, which used to be a center of trade between Iran and other countries during that era, another city called Shushtar was chosen as the capital of Khuzestan province. Finally, for the economic development of the city of Ahvaz, during the Qajar era and during the reign of Naser al-Din Shah Qajar, the Moein Al-Tojar Caravanserai was built in Ahvaz.
This house was built by a famous businessman named Haj Mohammad Taqi Moin al-Tojar and with the cooperation of Mohammad Hassan Khan Sa'ad al-Doulah in Karun banks. With the construction of this palace, trade prospered in Ahvaz. Moin al-Tajjar started a company called Naseri Company in this palace. This company was established for shipping in Karun.
Ahvaz has two parts, which are called new and old Ahvaz. Its new or modern part is the place where Naseri company was established. Moin al-Tojar, who was a nice and wealthy person, built a series of structures in Ahvaz (Naseri Port at that time). Among them, we can mention the bath, bazaar, garden, and mosque.
Moin al-Tojar's actions to support domestic trade are numerous, which cannot be all mentioned here, but it is necessary to mention these two points that he was originally from Bushehr and represented the people of Bushehr in the parliament. Because of several contributions, he was nicknamed the spiritual father of the Persian Gulf.
The Use and Commercial Role of Moin Al-Tojar House in the Past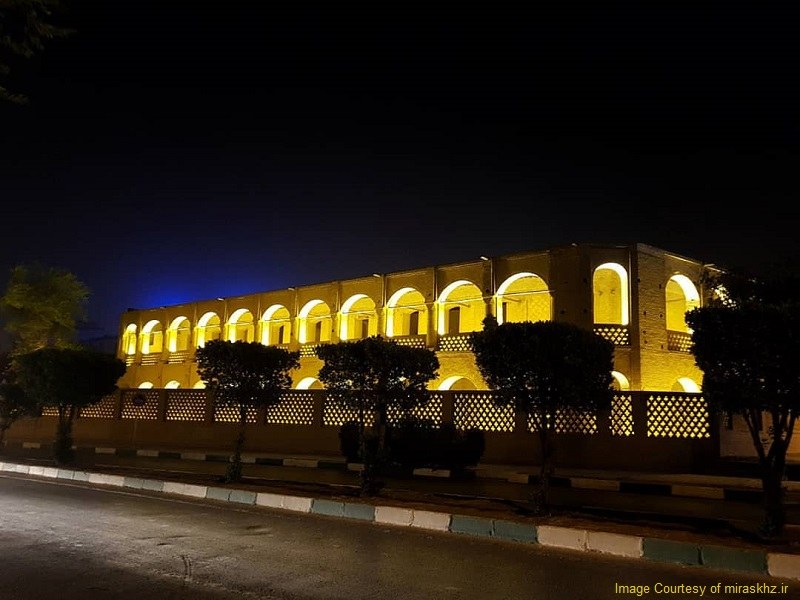 Since the Karun River is unnavigable from end to end, ships' loads were unloaded in this palace. In fact, goods were transported from Khorramshahr to Ahvaz port. Then, with wagons attached to horses, they were transported to the non-rock bed of the river.
From 1928 to 1953, for 25 years, commercial loads were unloaded in this palace. About 21 ships unloaded their cargo in Moin al-Tojar every day. Then, the cargo of those ships was transferred to Shushtar.
After Moin Al-Tojar House lost its use as a clearing place, it became a caravanserai. It was converted into a caravanserai from 1979 onwards, i.e. after the 1979 revolution and the Iraq-Iran war. At this time, Ahvaz was considered the most populated city in Khuzestan.
In 1995, the columns and roof of Moin al-Tojar House were severely damaged due to fire. In recent years, this house has been used as a warehouse, but an attempt is being made to restore it and return it to its original use. In 1998, Moin al-Tojar Caravansarai was listed among the national monuments of Iran.
Architectural Style and Features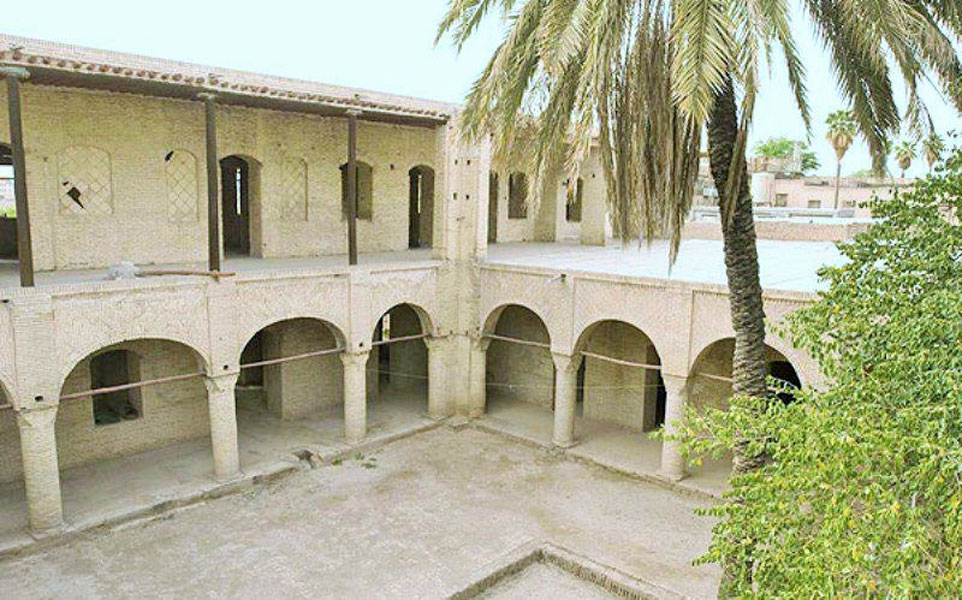 Moin Al-Tajjar House, which is built as a two-story building, has simple and beautiful brickwork. Also, the arches and Islamic motifs on the walls and the big columns are unmatched.
From the top of the second floor of this building, the Sabats of Ahvaz can be seen well. The Sabats of Ahvaz are roofed alleys in this city that have given it a special beauty. Also, this mansion has a view of the White Bridge.
In the center of this caravanserai, there was a garden, of which nothing is left today except for a few trees. Inside this house, there is a side tree, which is known as the holy tree because of its beauty and uniqueness.
This caravansary is famous for its interior lighting. These lightings have made it look beautiful in the darkness of the night.
The Current State of This Attraction for Visitors
Unfortunately, most of the old buildings in Ahvaz have been destroyed, and Moein Al-Tojar Caravanserai is not suitable for visiting now. It seems that plans have been made to use this house as a temporary craft market in the future.
If you plan to travel to Ahvaz on your own or order an Iran tour package, you can watch Moein Al-Tojar Caravanserai from afar. We hope that in the near future, Moin Al-Tajjar will be restored and its doors will be opened for you.