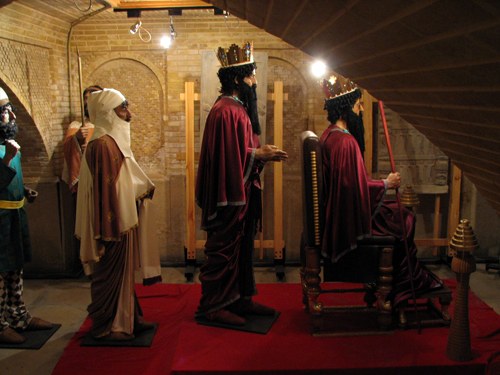 If you visit Shiraz, make sure you visit Fars Dignitaries Museum. This museum originally started as a temporary exhibition a few years ago in an old house known as Zinat-ol-Molk House in Shiraz. It is at one side of Narenjestan e Qavam (Orangery) that used to be the court of Shiraz supreme judge in the 19th century.
As a matter of fact, the orangery was used like the exterior part of the house for public functions like tribunals and Zinat-ol-Molk house was the interior part used for the private like of the judge's family.
What's Inside Fars Dignitaries Museum?
At the entrance, you will see the first (out of many) wax statue of Zinat-l-Molk, the last descendant of the first owners of the house, who used to dwell here before it was converted into a museum. What you will see at this museum is a series of wax statues of the most famous Persians, some posters, pictorial plaster panels, etc together with captions written both in Farsi and English for the visitors.
Who Are the Most Famous Persians?
Fars province is located at the heart of present-day Iran. It has been where Persians first settled and established the first Empire administered by Cyrus the Great. The museum displays the statues of kings, rulers, influential politicians, Sufis, learned figures, religious leaders, patriots, etc.
So, it covers the major Fars dignitaries from first millennium B.C. till contemporary history. Here are some of the most outstanding ones quite well-known for all who have learned a little about Iranians and those who are the sources of pride for this nation:
Khashayar (Xerxes):
This Achaemenian emperor was the son of Darius the Great and Atusa, the daughter of Cyrus the Great. He was born in 521 B.C. In the beginning of his kingdom, he conquered Egypt and Babylon. After that he brought Greece under Persians which was the most historical event in Iran's history.
He continued building a few more palaces in Persepolis. A lot of bass-relieves carved at his time persuade people to do good. He was killed in 466 B.C because of a conspiracy by his commanders.
Shapur:
One of the most famous Fars dignitaries is the mightiest Sassanian king, Shapur, the son of Ardeshir Babakan, the founder of the dynasty. Shapur was born in 241. The earliest wars between Iran and Rome started at his time. Shapur defeated Valerianus, the emperor of Rome, and ordered this to be carved on the face of the rocks.
He made a lot of efforts to develop Persia in various aspects. Many foreign books in medicine, astrology, and philosophy were translated into Persian. The most famous Iranian university called Jundi Shapur was built by his order. Shāpur passed away in 273.
Hafez:
He is one of the world-class poets of Iran who was born in Shiraz in 1306. His father died when he was a child, he learned and memorized Qoran when he was young. That is why he has got Hafez as his pen-name. By word, Hafez means a person who knows something by heart. During that time he learned Arabic and became a master in commentary, philosophy, and literature.
Goethe, the famous German poet has been inspired by Hafez. This Iranian poet is the master of composing ghazals in Persian poetry and stayed above everyone else till now. He was buried in Shiraz cemetery. Even after his death, dignitaries like Rabindranath Tagore visited his tomb to show their profound respect.
All his lifetime, he had focused on the value of pure heart, love, and smartness in expressing his opposition to dominating politicians without getting into trouble. Therefore, his works are characterized by a figurative style.
Sa'di:
He was one of the outstanding and most powerful poets after Ferdosi in the way he used the Persian language. He was born in 1185. He had completed his primary studies in Shiraz before he went to Baghdad by the age of 20. While he was studying Arabic there, he started composing poems in Persian.
Afterward, he began traveling to learn more. So, he went to Syria, Arabia, Lebanon, Egypt, Rome, India, and China. He got back to Shiraz in 1234 and soon wrote his two famous books "Boostan" and "Golestan". He also wrote several other books and finally passed away in 1269. Sa'di was buried in his convent where he had several followers.
Karim Khan-e-Zand
Another famous figure in the Fars dignitaries museum is the founder of Zand dynasty who was very well-respected by all the people of Zand tribe. They supported him well in his military campaigns. He occupied Isfahan and showed his military might during a few other battles.
He governed all parts of Iran except Khorasan. The only war during his kingdom was the war of Basre and 2 revolts. He chose Shiraz as his capital and developed the city's economy by building Vakil-Bazar, Vakil-Mosque, Vakil-Bathhouse, etc.
He shows a lot of respect to some of the previous Persian dignitaries through a series of projects like putting new stones on the tombs of Shah-Shoja, Hafez and Sa'di's. He passed away in 1193 and was buried in Kolah Farangi (Pars museum). His oldest son preceded him.