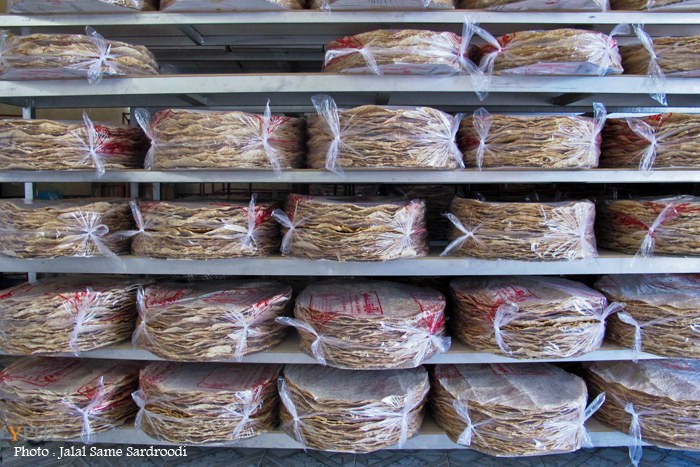 As an intangible cultural heritage, the culture of making Lavash flatbread and sharing it in Iran has been common and ongoing in different parts of the country for many years. Often times, they bake this flatbread inside an oven called "Tanur", but nomads bake Lavash on "Saaj", a metal or stone flat surface. Old Tanurs were generally made of stone or pottery and installed in the ground.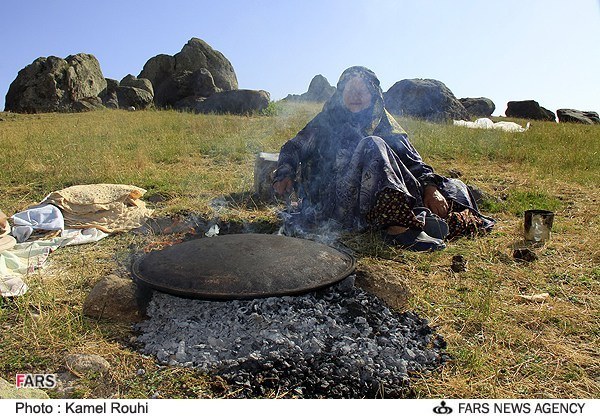 Nowadays, however, Lavash bread is baked inside ovens built into the walls. In its 11th gathering, UNESCO organization inscribed the culture of making Lavash flatbread and sharing it as an intangible cultural heritage of Iranians. Azerbaijan, Kazakhstan, Kyrgyzstan, and Turkey also share the same tradition with us. Iranians invite everyone from across the world to Iran to get acquainted with this cultural element and to experience the aroma of life in this bread.
Culturally speaking, Lavash has been made for regular meals. In addition, this flatbread has been shared at wedding ceremonies, birth times, funeral ceremonies as well as various holidays and sometimes during prayers.
The Word "Lavash" & Its History
It has roots in Middle Persian Language, Pahlavi. Of course, some researchers believe it had been derived from the Middle East in general and some are of the opinion that it belongs to Sumerians. In fact, the word Lavash and the flatbread Lavash belong to Iran. In addition, the tradition of baking it has been transferred as a skill and culture to our neighboring countries.
From the nutrition point of view, bread has had a significant place in the history of the humans. One may say the history of making bread goes back to the Stone Age. During that period, people learned to mix water with milled grains and make the paste. Then, they exposed the paste to fire in order to make bread.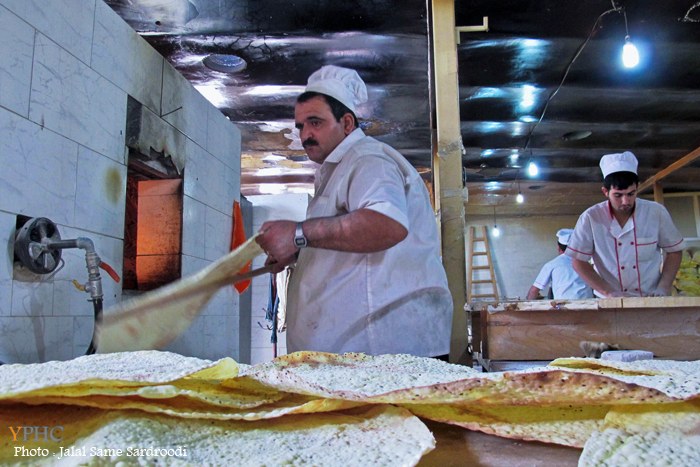 According to historical pieces of evidence, during the 1st millennium, bread had been the main food of the humans and it was used during religious rituals. In ancient Greece, one of the major parts of daily cooking was making bread.
Nevertheless, thin flatbread became popular after 1912 in this part of the world. In the beginning, it wasn't the favorite bread of many people. They thought it couldn't last long and would lose aroma and taste. However, it attracted more fans later. Of course, the method of preparing and baking bread and the ingredients have been somewhat varied among various nations.
Lavash Flatbread, an Intangible Cultural Heritage of Iranians
It's around 800 years that making Lavash Flatbread has become popular among people. Iranians pronounce it "Lavash", "Levash" and "Lebash" in different dialects. Others call it "Tanury" bread. In Armenia, they call it "Laavaash" and in Georgia, "Armenian Lavash". Another type of Lavash known as "Saaji Lavash" has long been made inside people's houses in Qazvin, West of Tehran.
Features of Lavash Flatbread
There are certain features that distinguish Lavash from other types of bread in Iran:
It's thin and crispy, a maximum of 3 millimeters thick, and one of the traditional types of bread in Iran.
It's made of slightly fermented dough in particular ovens or on Saaj.
Usually, white flour from wheat (bran-free) is also used in making Lavash.
Recently black wheat, bran flour, barley flour, oatmeal, and corn are also used separately or in combination with wheat flour to make this flatbread.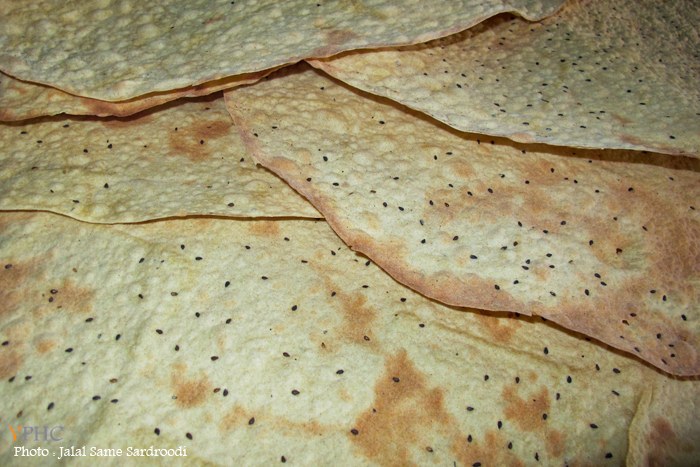 Bakers' Yeast in Lavash
As a matter of fact, yeast ferments flour. As a result of fermentation, bread becomes crispy, more aromatic and tasty. Also, it makes it more digestible and durable.
In some areas, bakers expose Lavash to the air right after they take them out of the oven. This is to make them dry so that they can keep them in the same condition for a long time, and to eat them with different local and traditional dishes. Then, when you want to eat them after several days, you may spray some cold water on them to make them softer.
How to Bake Lavash Flatbread and Its Ingredients
In order to make this traditional bread, you need:
Bran-free wheat flour,
Water,
A little salt, and
Bakers' yeast.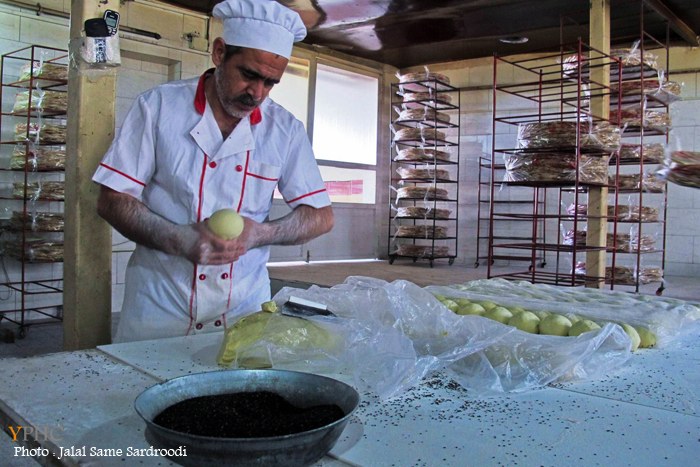 First, yeast is mixed with flour and water and kneaded completely. This dough is set aside in a warm environment for some time to get ready. After approximately one hour, the dough inflates and increases in volume.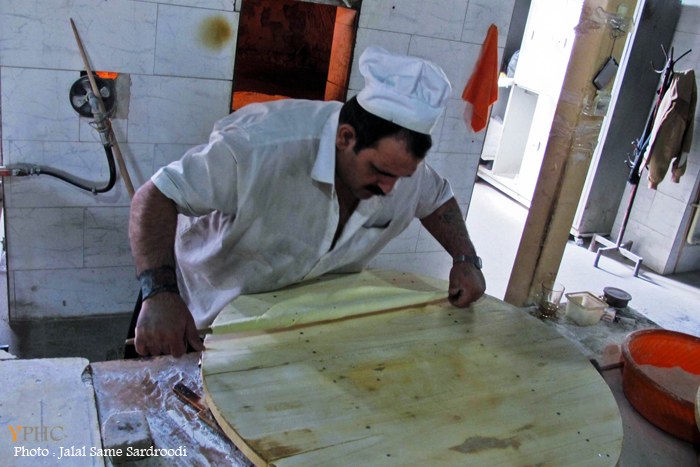 Then, a baker divides it into smaller pieces and flattens each piece using a rolling pin on a flat surface. Finally, the flattened dough (app 3 millimeters thick), is pressed hard to the oven's inner walls already heated. When flatbread is completely made, it easily comes off the walls with little effort.
Different Types of Iranian Bread
Some Iranian bread types belong to particular regions of the country locally baked in rural areas or towns. However, others are extensively baked on a daily basis everywhere in the country's bakeries. Lavash is one such type of bread, which is now a globally recognized intangible cultural heritage of Iranians.
In addition to this flatbread, there are some other types of Iranians' favorite bread such as "Sangak", "Barbary", "Taftoon", Naan Roghany", "Nan Khoshk", "Naan Shirmal", and "Fatir". As a traveler, you can taste all these types of bread when you visit Iran. Just remember not to forget this tasty experience as it remains with you for years.
For more articles on Iranian culture inscribed in UNESCO, go to: