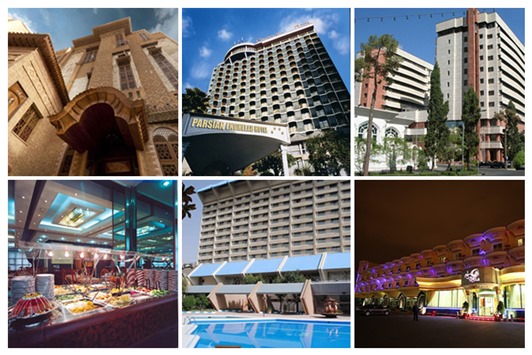 As Iranian hotels don't necessarily follow all the international standards, when you plan your trip to Iran, it would be very helpful to consider certain factors before you book a hotel in Iran. These factors relate to your possibilities, wishes, and interests. Therefore, you can mention them as your criteria while asking for the best accommodation matching your ideals.
Affordable Hotel Rates
Some of you are looking for budget hotels as affordability is your main concern. There's nothing wrong about this criteria. It can be sought after in various levels. Some compromise on hotel standard levels so that they can spend their money somewhere else. At the same time, you certainly have some minimums in mind that form your definition of acceptable accommodation. Make sure you mention them to your agent too.
I must mention that I've not seen any 3-star hotels in Iran without a private bathroom, refrigerator, TV set, air-condition, etc. I've even seen a top 2-star hotel in which all these could be found too. Yet, I just wanted to mention that if these are the basic facilities you require, rest assured that 3-star hotels have them all.
Least-Hassle Stay
If you're trying to book a hotel in Iran with the least hassle possible, high-end hotels can be your chosen accommodation to stay in. The level of responsiveness and preparation of the room facilities for your comfort at such hotels are the best in the country. Obviously, 5-star hotels and in some cities lower available hotels, 4-star ones, are the ones you have to pick up.
Generally, one thing is the main criteria in these hotels: Things work the way they are expected to work. However, in several 5-star hotels of Iran, I've seen that when you need something to be done in your room, it is usually taken care of as fast as they can.
Nevertheless, compared to the other hotels in Iran, if you want the least headache with the room amenities, high-end hotels, generally 5-stars, should be your choice hotels.
Book a Hotel in Iran with Less Payment & More Functionality
Sometimes, you don't want to spend a lot of money just on your accommodation. Instead, you prefer to spend that budget on something else. Therefore, you choose 4-star hotels. Personally, I recommend a combination of 3 and 4-star hotels as some top 3 stars and ordinary 4 stars are very close to one another in terms of facilities, service and even rates.
On the other hands, there are some very good 4 stars in Iran that in 5-stare 5 stars and in terms of rates are very close to them. It could be the least number of hotel room availability in a city or lack of enough 3-star hotel rooms that causes a tour operator to shift to such hotel.
In general, when you're beginning to book a hotel in Iran, it's always good to know there are some 4-star hotels with acceptable quality in a city when you need them as an alternative to 5-stars, of course, at lower rates.
Hotels Close to Certain Spots
You may prefer to stay somewhere close to the museums, bazaar, shops, etc. If this is of high importance, you may have to compromise on the quality of hotel amenities, services, etc so that you could easily have access to those places in the vicinity of your place of stay.
In some cities, most good hotels are scattered around the outskirt of the city, meaning quite far from the city center where usually most of the things are happening. Of course, such hotels have got their own benefits, quietness.
Accommodation with Character
Many have heard of certain hotels with a character in Iran. They are usually old buildings converted to hotels like caravansaries, private houses of merchants, etc. If you're trying to book a hotel in Iran that could fix exclusive memories in your minds for the years to come, this is the right path to take.
Depending on how the restoration and redecoration have been handled, some could be really attractive and fun to stay in. Some are quite elegant too. There's one thing in common in all these hotels: They remind the guests of the lifestyle in such buildings in the old times. The feeling of living in the past for a couple of days you could be so nice that you could close your eyes on certain things like the small size of the rooms, etc. They are, in fact, part of the charm of the hotels.
You can also check out some of the top tour packages of Iran here!